Tandoori Chicken Samosa is bite-sized parcel of spicy tandoori chicken filling encased in a crispy, buttery samboosa shell.
Samosa-Samboosa…Potayto-Potahto…it's all the same. But I am going to use the word samboosa today and not samosa for two reasons. First, obviously because of the shape. Traditionally Indian samosas are triangle shaped and this is not. The second reason is, I am adding butter into the pastry instead of oil or ghee. Actually there is a third reason too…and that is..I got the recipe for this pastry from an Arabic Food website and they called it samboosa..😄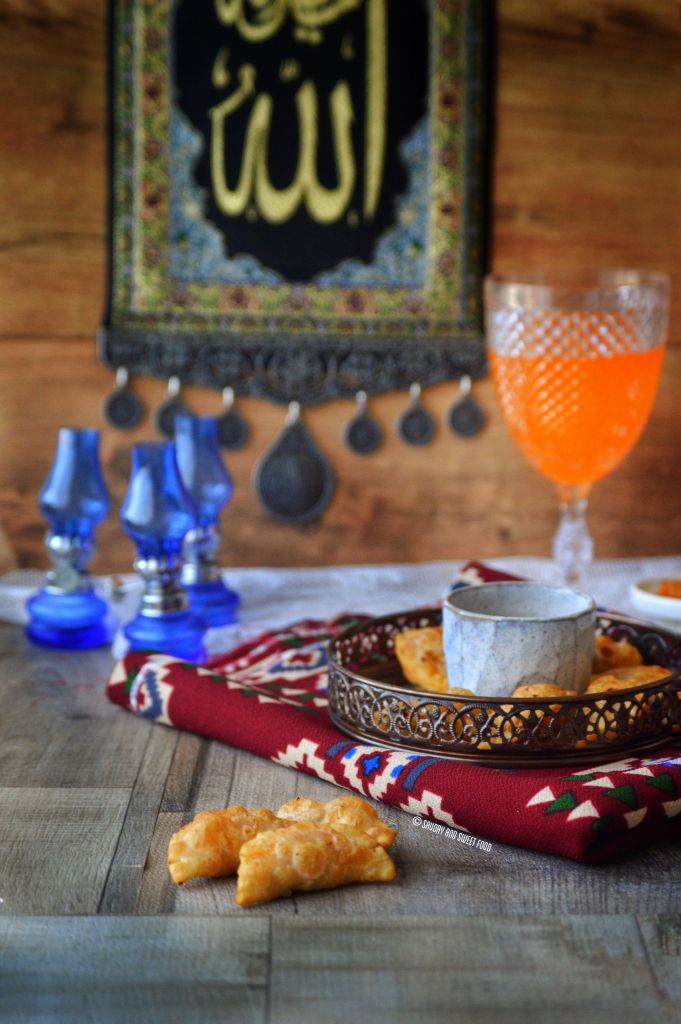 For us Iftar means, there should be a plate of samosas. I am sure it will be the same in most of your homes. There is another thing which is my favourite and looks exactly like this. It is called koyiada. It's a Malabar speciality.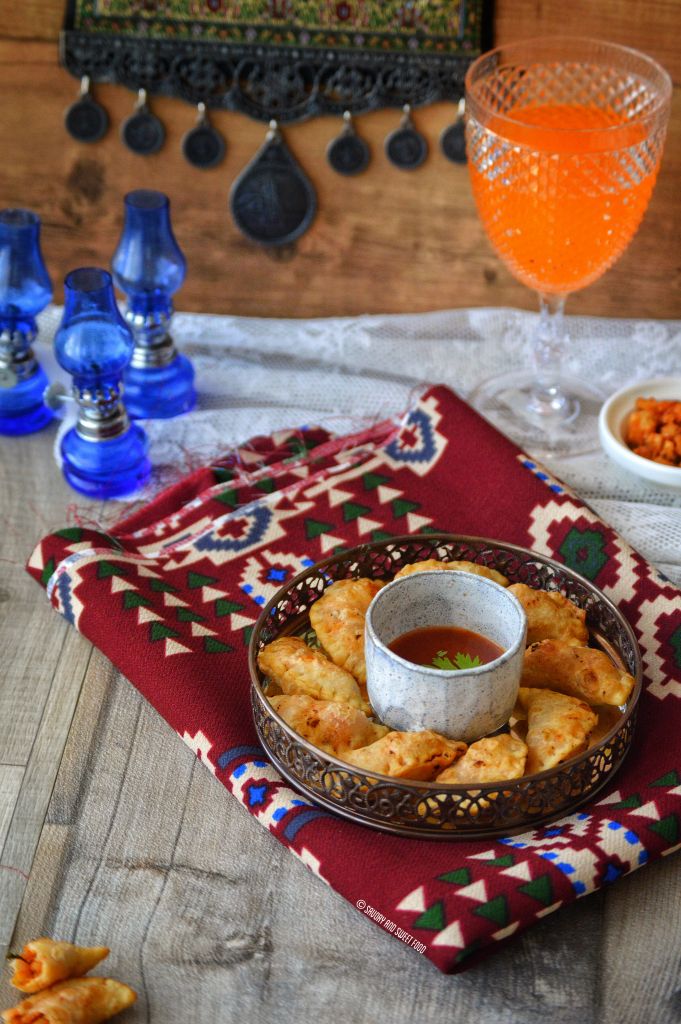 My mom makes the best koyiadas ever. For that, while making the pastry dough replace the butter with 2 tbsp ghee, that is, for 1 1/2 cups of maida (all purpose flour) you have to add 2 tbsp ghee, salt and water and makes a dough. Fill with whatever chicken filling you like and deep fry. Its the best. I made it for an Iftar party yesterday and everybody loved it. Wohoo! 😀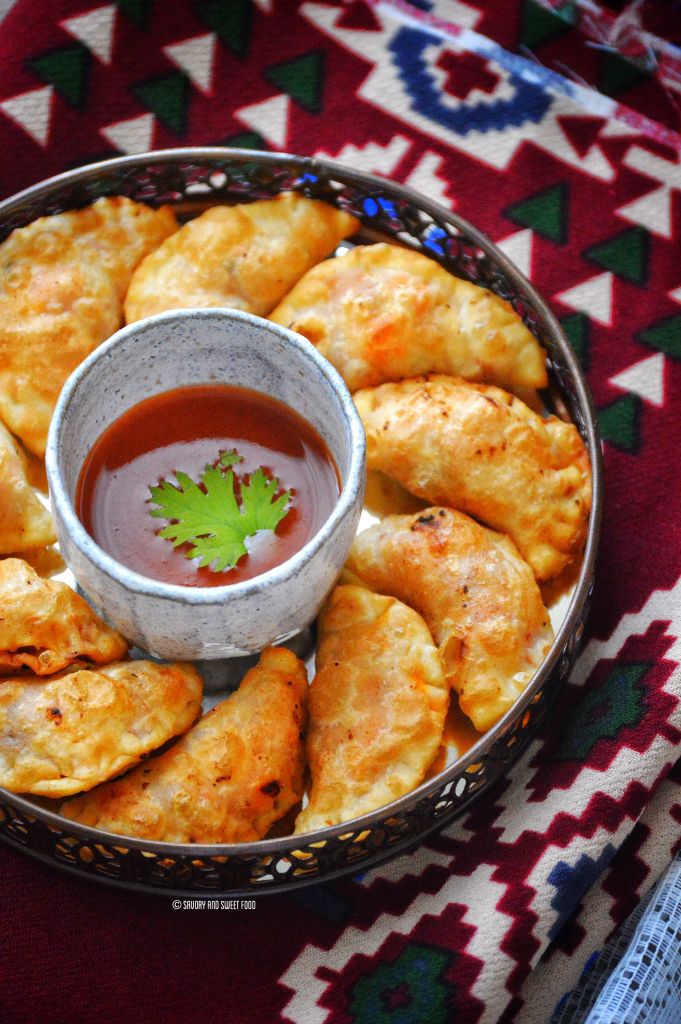 Now back to our samboosa, as you all know how much I love fusion dishes, I thought why not make a tandoori chicken filling in this arabic inspired pastry as I had an unopened pack of tandoori masala in my shelf. The filling came out really good. Perfect inside the samboosa. People, please do try this and let me know how you all liked it.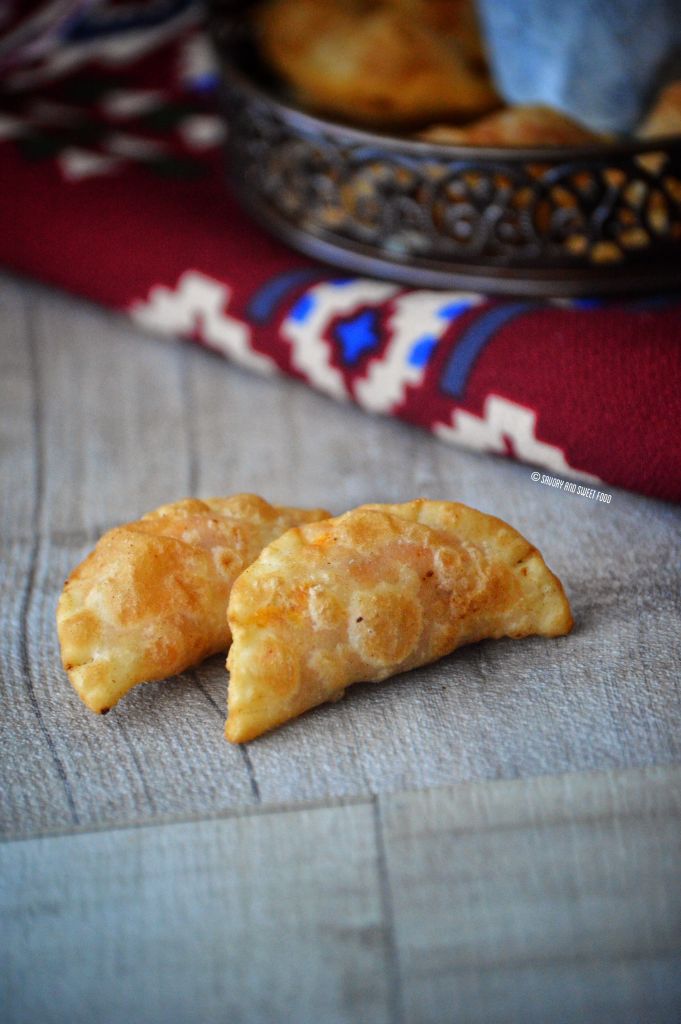 INGREDIENTS:
For the tandoori chicken filling:
300g Chicken breast cut into cubes
2 tbsp yoghurt
2 plus 1 tsp tandoori masala powder
1 tbsp ghee
1 large sized onion chopped
2 cloves garlic
1 inch ginger
2 tsp tomato paste
1/2 tsp lemon juice
a pinch of sugar
1/2 tsp kasuri methi
1/4 tsp turmeric powder
1/4 tsp garam masala powder
chopped coriander leaves
salt to taste
For the samboosa: (Recipe from Arabic Food)
1 1/2 cups plain flour
1/2 tsp sugar
3/4 tsp salt
55g butter (softened at room temperature)
95 ml water
Oil to deep fry
NOTES:
Make sure that the dough is rolled out very thin, only then you will get a crispy samboosa when you fry it.
The tandoori masala powder will have salt in it, so be careful when adding extra salt to the filling.
DIRECTIONS:
To make the tandoori chicken filling:
Marinate the chicken with 2 tsp tandoori masala, 2 tbsp yoghurt and 1 tbsp ghee. Keep for 1/2 an hour or more. Shallow fry it, till it is cooked well and charred on the outside. Cut it further into smaller pieces.
In a pan add few tablespoons of oil. Put the onions, ginger and garlic into it. Sauté till it turns soft and light brown in color.
In a small bowl combine the tomato paste, the remaining 1 tsp of tandoori powder, garam masala, turmeric powder, sugar and lemon juice.
Add this to the onion mix. Mix well and cook for few minutes.
Add in the chopped coriander leaves and then kasuri methi. Mix well.
Add the cooked chicken into this and mix well to combine.
To make the samboosa dough:
In a bowl mix all the dry ingredients together.
Add in the softened butter. Mix well with hand till it resembles fine breadcrumbs.
Gradually add in little quantities of water and mix until you get a smooth dough.
Cover with kitchen cloth and set aside for 30 minutes.
To assemble:
Roll out the dough into very, very thin pastry. Using a small sized cookie dough cutter or a small lid, cut out round pieces of the dough.
Place 1 tbsp of the filling in the center of each round piece and seal the edges very well with your fingers. Then press the edges with a fork.
Deep fry in hot oil until it turns golden brown in color. Remove and place on kitchen tissue.
[yumprint-recipe id='180′]