These chicken poppers are very easy to prepare, just mix up all the ingredients, make cute little balls out of it, bread it and fry. As simple as that.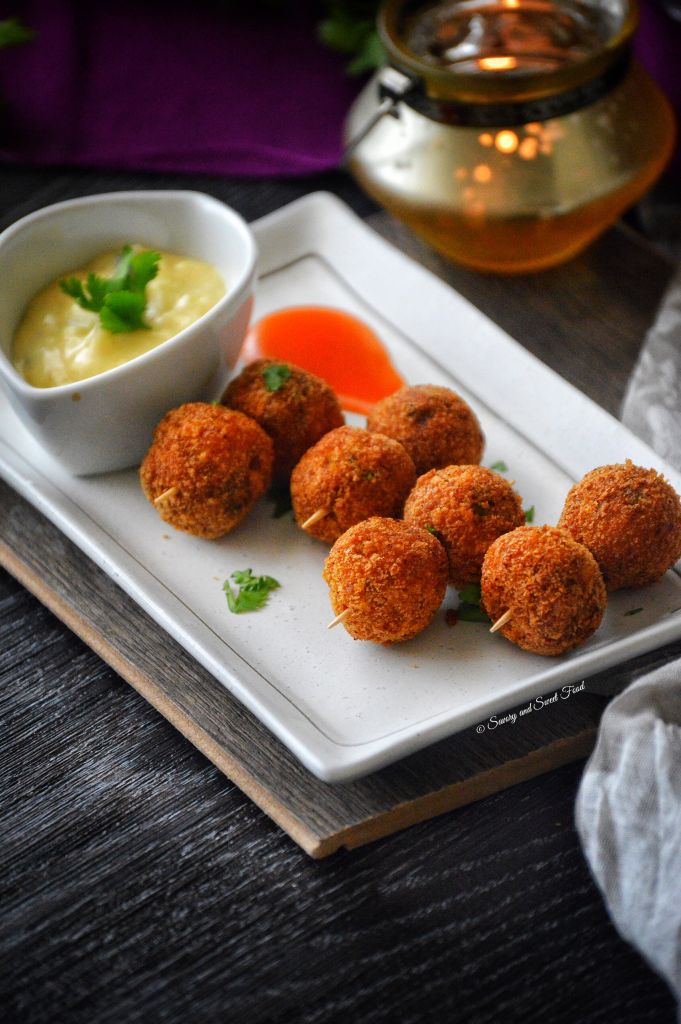 One week of Ramadan is over, and I am sure most of your interest to cook iftar is getting a little low. Hehe! Its like that for me, the first days I will be so excited that I would want to make a whole lot of things and fill the iftar table. Then as days pass the number of snacks on the table will reduce and reduce and at the end there will be mostly repeated usual boring stuff.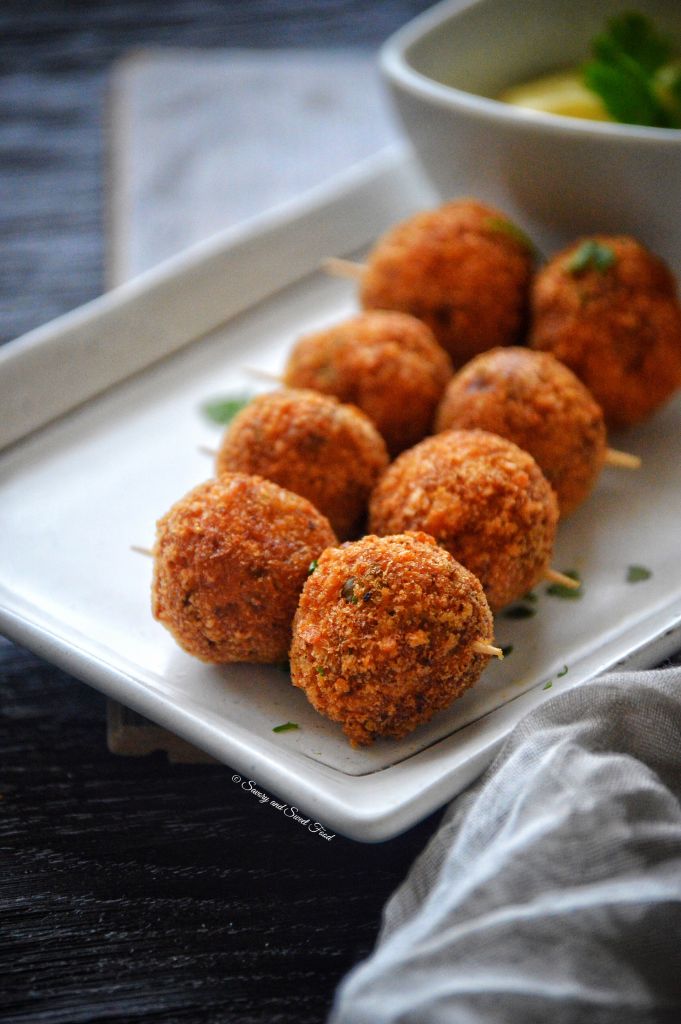 That's when you would really want to make simple fuss-free recipes. This one here, which is chicken poppers is one simple recipe. It tastes really nice and it looks very cute too. Don't you think? 🙂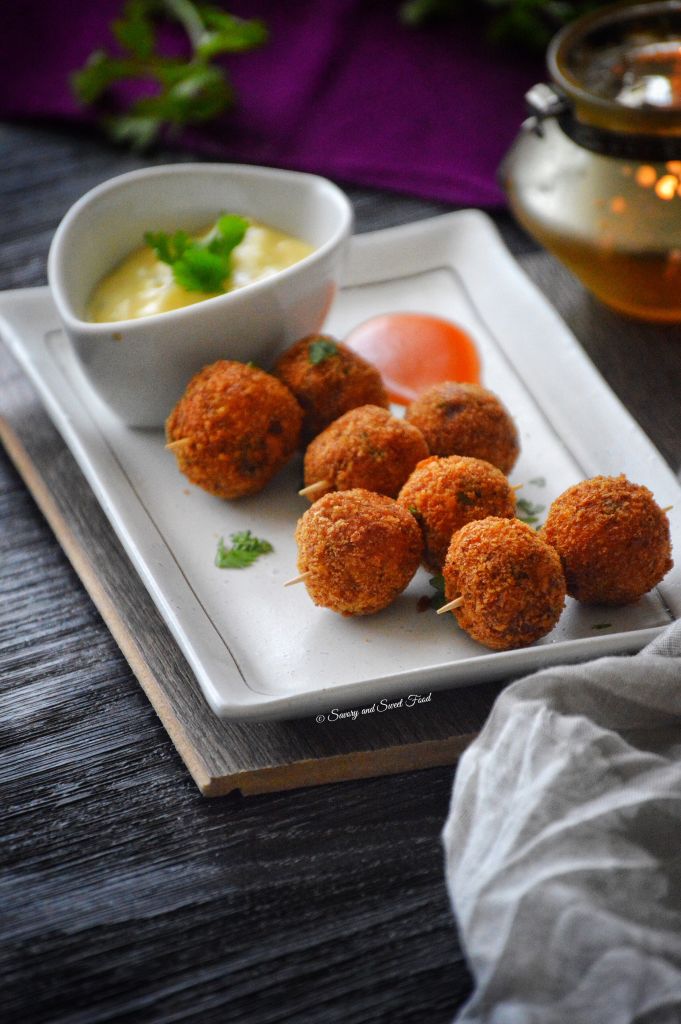 Few weeks back we had gone to Asha's Restaurant for dinner and we ordered Badami Murgh Shorbha, which is an almond chicken soup. It was yummy! Actually everything we ordered was so perfect and yum. They had served small little chicken poppers along with the soup and that was the highlight. It was looking so pretty as they had served it on toothpicks. My little baby, Hamad loved it too. He is such a fussy eater, such that he would only eat good food, like REALLY good food. On seeing him enjoying these itty bitty poppers with his cute little hands, I decided that I will try to recreate it at home.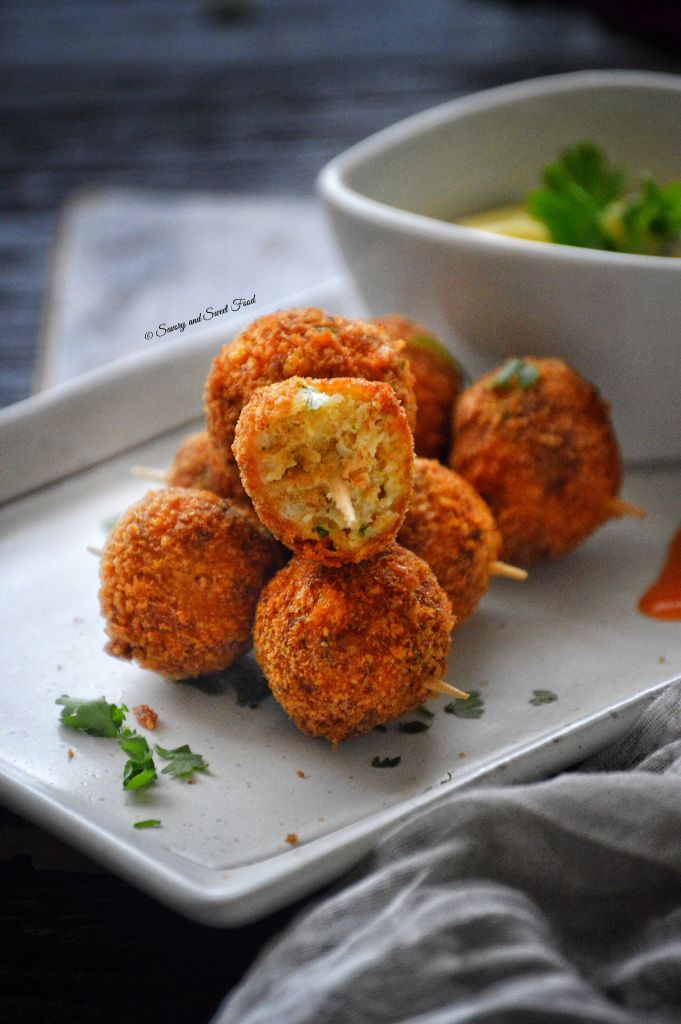 So I made it and even though it didn't taste exactly like the restaurant one, it was a hit here. I served it with Fadal's favourite honey mustard dipping sauce and so both baby and daddy enjoyed it. I liked it too. And I knew I would be making this in rotation during Ramadan. I think you guys should too. So grab the recipe, here it is. Enjoy!! 🙂
INGREDIENTS:
300g chicken mince
1 small red onion, finely chopped
1 teaspoon garlic, finely chopped or paste
1/2 teaspoon ginger paste
1/4 teaspoon garlic powder
1/4 teaspoon ground cumin
1/4 teaspoon dried oregano
1 teaspoon red chili powder
1 teaspoon paprika
1/4 cup fresh coriander leaves, chopped
1/2 cup dried breadcrumbs
1 egg
freshly ground black pepper
salt to taste
oil to for deep frying
For Breading:
1 egg for egg wash
Panko breadcrumbs or regular breadcrumbs
Tooth picks for serving
For the honey mustard dipping sauce:
1/2 cup mayonnaise
1 clove garlic
1 tsp honey
1/4 cup cilantro/ coriander leaves
1/2 tsp paprika
1 tsp lemon juice
1/4 tsp mustard sauce
salt if needed
NOTES:
While frying, make sure that the heat is maintained on a medium low. If the oil is too hot, then the outer part of the popper will get browned soon without the chicken getting cooked from inside.
Panko bread crumbs would be best for this. But regular bread crumbs will work too.
The oil will become very frothy while frying this, that is because of the egg wash.
DIRECTIONS:
Sauté onion, ginger and garlic paste in a small frying pan on low-medium heat until they start turning golden (approximately 3 minutes). Remove from heat and set aside.
Combine all other ingredients from garlic powder to salt in a large bowl and mix well with a wooden spoon. Add the onion mix to the bowl and mix until thoroughly combined.
With oiled hands, shape the mixture into small balls.
Dip the chicken balls in the beaten egg. Then roll the balls in breadcrumbs.
Deep fry on a medium low heat till chicken gets cooked through (about 10 minutes).
Serve these poppers on a toothpick.
To make the dipping sauce:
Chop the garlic in a food processor.
Add all the ingredients to it and puree till you get a thick sauce.
[yumprint-recipe id='177′]