This Spicy Chicken Chinese Noodles is made with Chinese egg noodles and a spicy and saucy chicken gravy.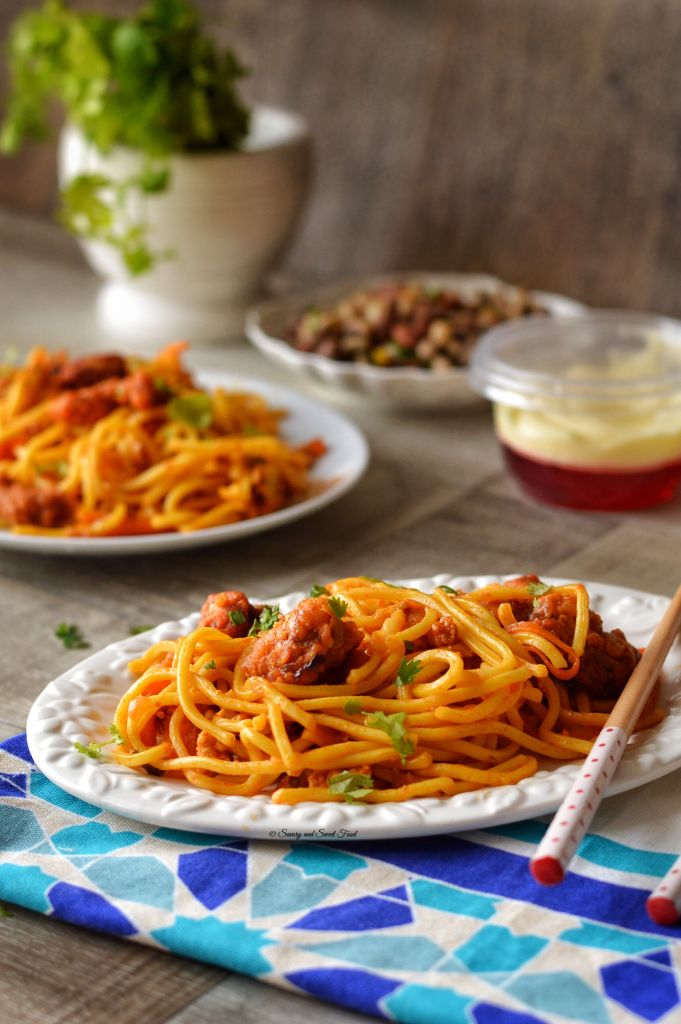 A couple of days ago, I was fasting and I made a visit to one of the hypermarkets here to buy some grocery. And as I was wandering through the aisles, I could smell some delicious food. The aroma pulled me towards the hot food section.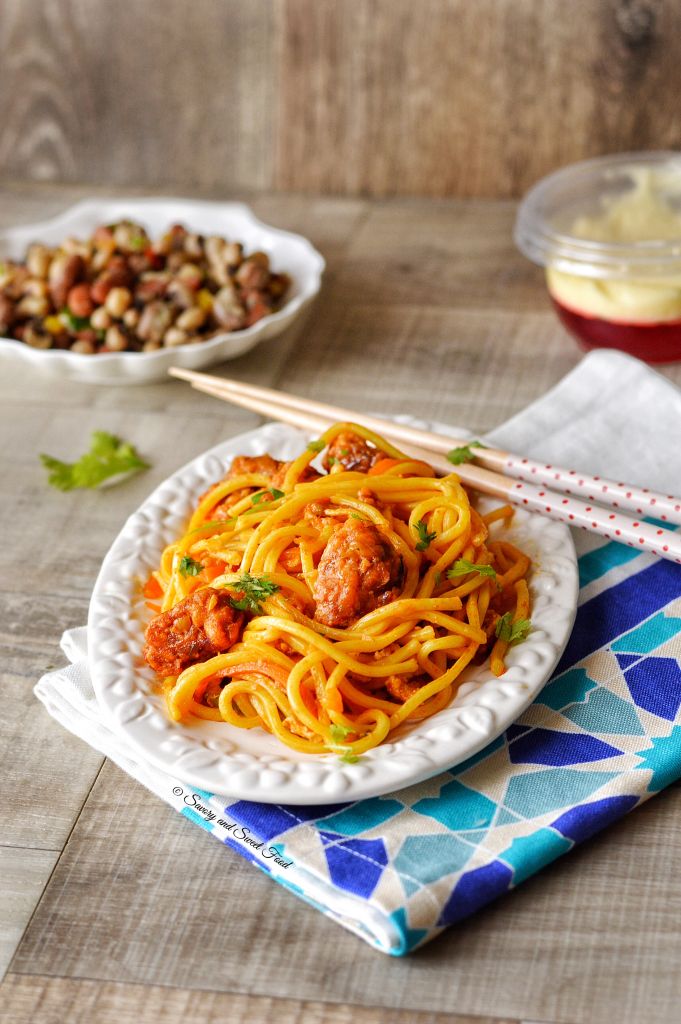 Everything looked so yummy there, that I couldn't choose which one to take. Husband was like take a little bit of all, hahaha! But I just wanted one dish, because soon after you break your fast, you drink a glass of water and eat one item and you'll feel full. Cant eat anything more.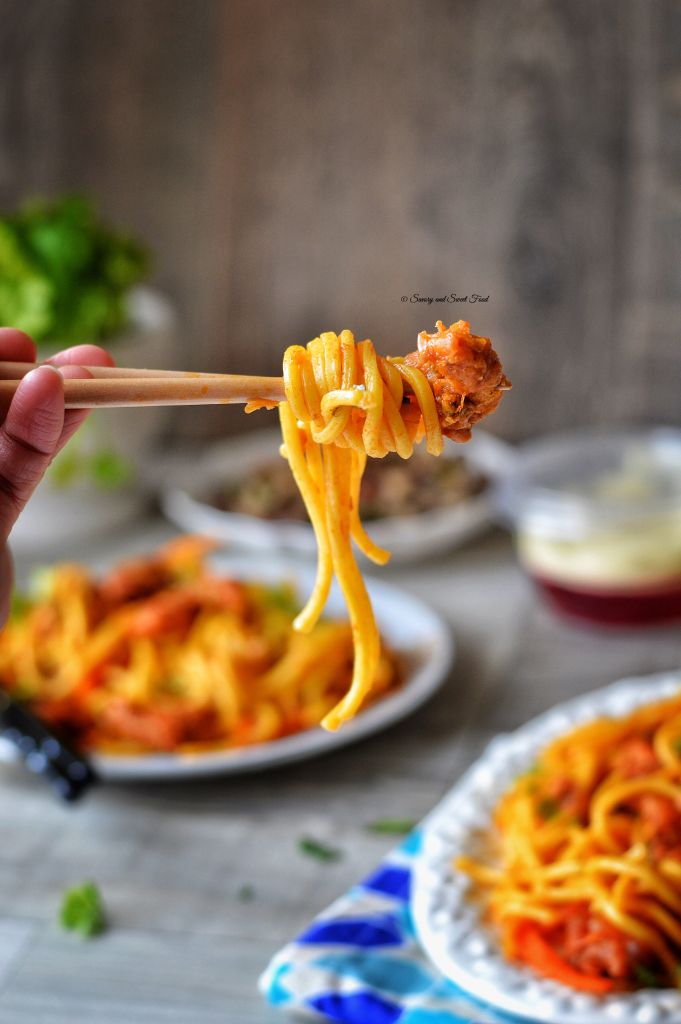 So I chose this beautiful chicken egg noodles, because it looked too tempting. And I was glad that I took it. It was just perfect. Fadal loved it and my little toddler enjoyed it too. 😀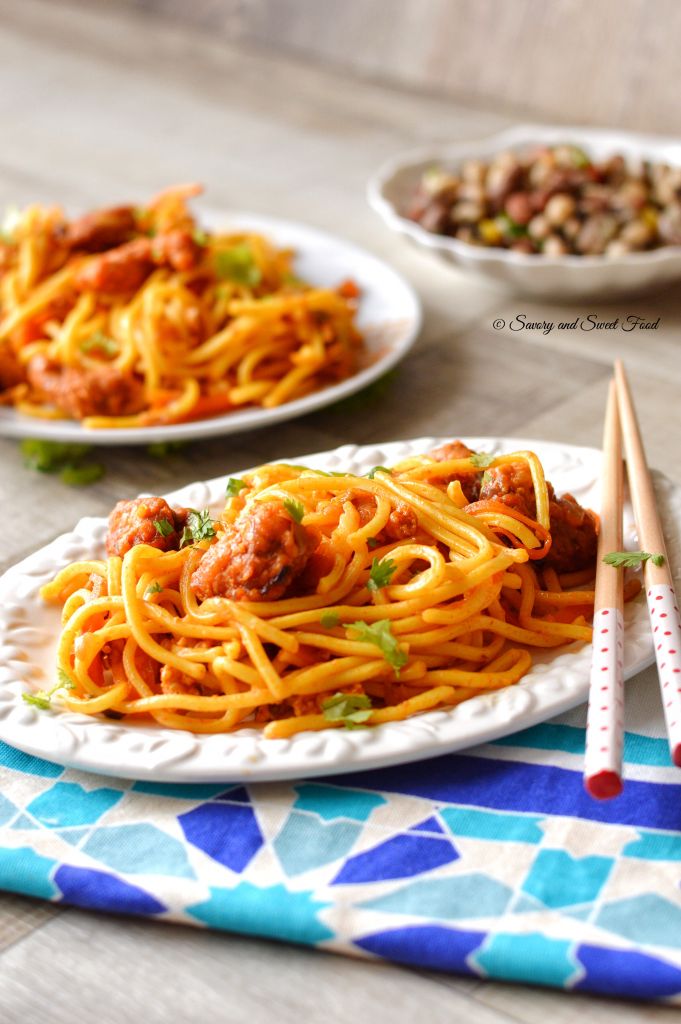 So I wanted to recreate it in my kitchen. So I made it and it tasted great. Not exactly like the one I bought, but somewhat somewhere it tasted alike. So I thought I should share this recipe with all my lovely readers too. So here it is. Enjoy!! 🙂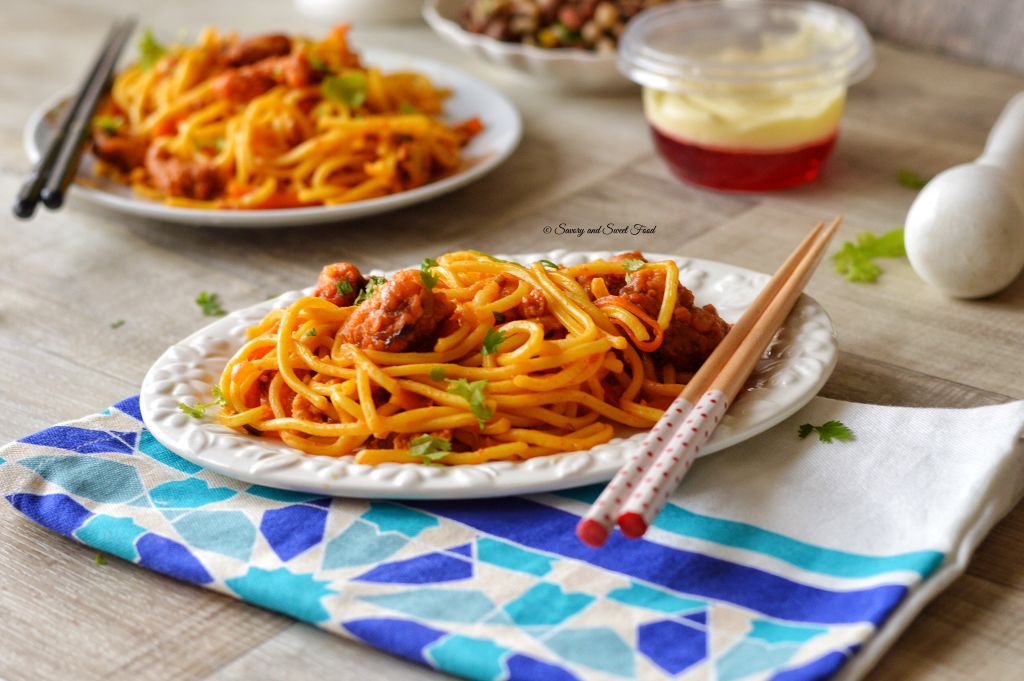 INGREDIENTS:
For marination:
250g bone chicken cut in strips
1/4 cup corn flour
1/4 cup all purpose flour
1 tsp black pepper powder
1 tsp soya sauce
1 egg
salt to taste
180g Chinese egg noodles
2 tbsp cashew nuts cut into small pieces
3 dry red chillies cut lengthwise
2 large onions chopped
5 cloves garlic chopped
1" ginger chopped
1 green capsicum sliced finely
3 tsp soya sauce
4 tbsp tomato ketchup
1 1/2 tsp Kashmiri red chilli powder
1/8 cup water
1 carrot cut thinly like matchsticks
coriander leaves chopped
oil
salt to taste
NOTES:
You can use the chicken gravy alone with roti or fried rice.
You can adjust the spice level as per your preference.
If the batter for frying chicken is too thick, you can add in few tablespoons of water.
Vegetarians can replace chicken with cauliflower, or paneer.
You can add eggs to the noodles too. I added it the second time I made.
DIRECTIONS:
Add all the ingredients for a marination to the chicken. Combine well.
Deep fry the chicken.
Cook chinese egg noodles according to package directions till done. Drain it and keep aside.
Heat oil in a pan. Add in the cashew nuts and red chillies. Fry till cashew gets golden colour.
Take that out of the oil and keep aside.
To same oil add in the onions. Sauté till soft.
Add in the ginger and garlic. Sauté for 1 minute.
Add in the capsicum and let it cook for about 2-3 minutes.
Add in the soya sauce and tomato ketchup. Stir and cook for 3 minutes till ketchup gets thick.
Add in the red chilli powder. Add salt.
Pour 1/8 cup of water. let the gravy boil.
Add in the cashew nuts, red chillies, chicken and carrots.
Cover and cook on low flame till carrots get soft.
Now mix the noodles in this chicken preparation. Mix well. Add in coriander leaves.
[yumprint-recipe id='155′]