Firstly, let me inform you that this is not the Chinese version of chilli chicken, instead this is CHICKEN CHILLI! Confused? 😀 This is a spicy dry dish made of shredded fried chicken with a rich and spicy onion tomato masala. This is an Indian version….to be precise..Kerala version 🙂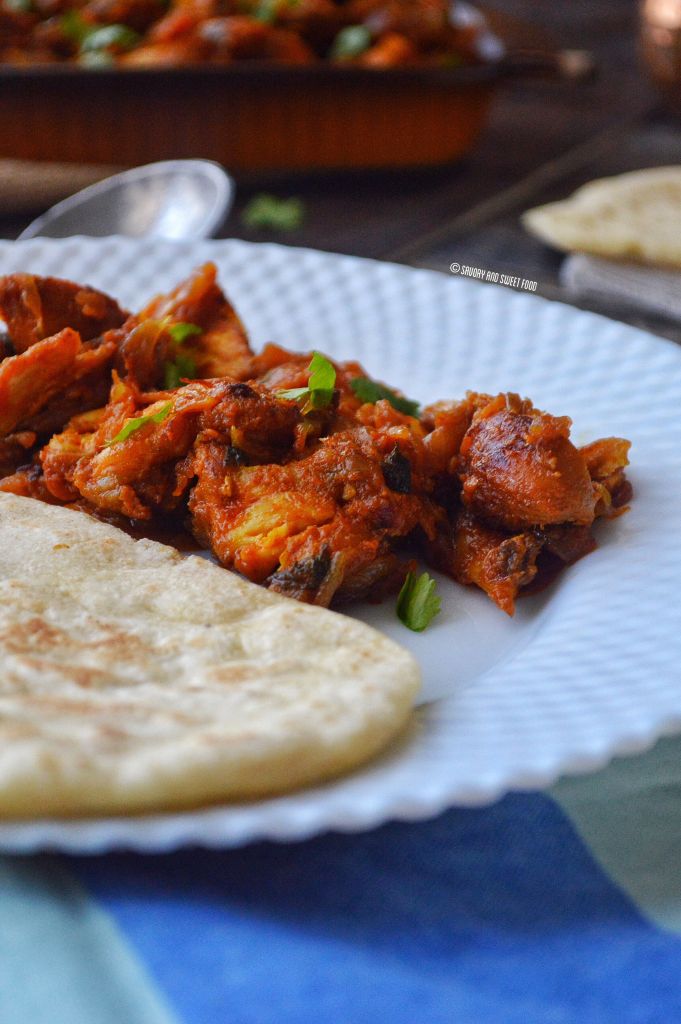 You can find this type of shredded chicken chilli in almost all malayalee restaurants. 🙂 I love this type of chicken preparation, used to order this at home frequently when I was a child. Have this spicy chicken with soft, hot and flaky malabar porotta and you will absolutely, definitely looove it. But it goes pretty well with chappathi, naan and puri too.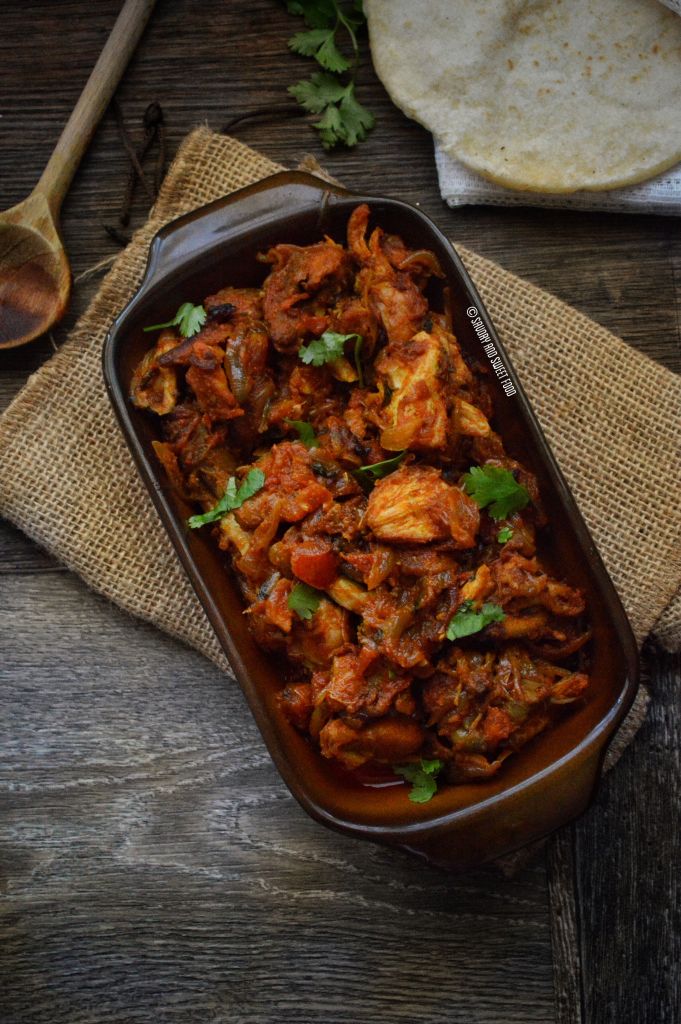 I got this recipe from my mom-in-law. My husband and his brothers love this dish a lot. They keep talking about this chicken chilli. No wonder! even I felt like clapping my hands in glee after tasting this dish. Exactly like the ones we get from those restaurants. Did you make easy 5 ingredient chicken masala ? That is a yummy contribution from my mom-in-law too. 🙂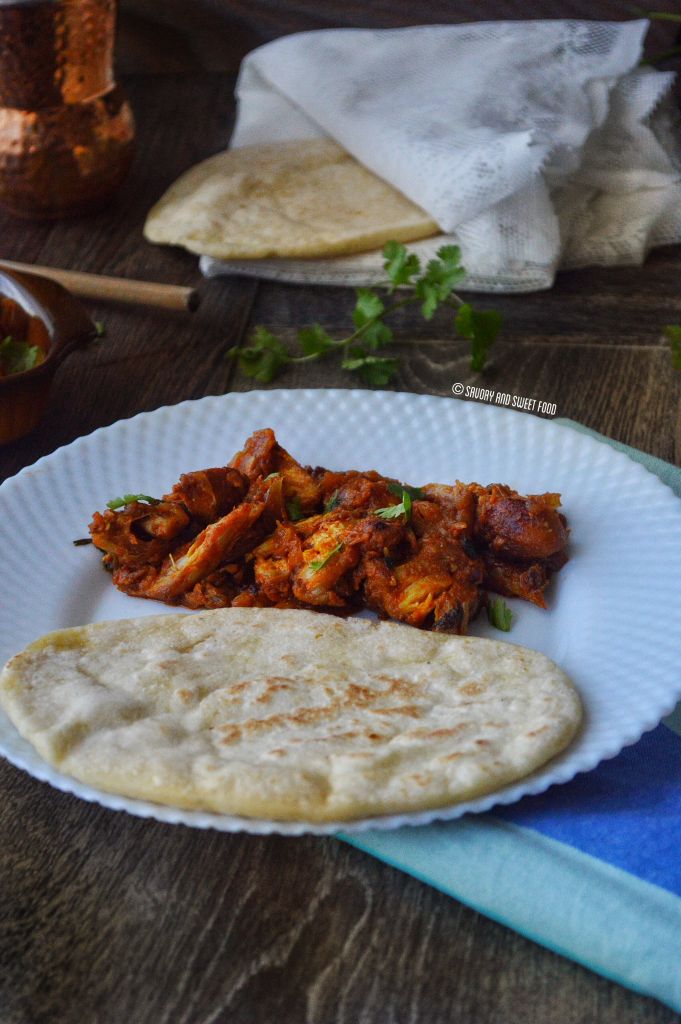 So here goes the recipe for you. Hope you all like it 🙂
INGREDIENTS:
1 full chicken cut into medium size pieces
2 tsp Kashmiri red chilli powder
1/4 tsp turmeric powder
4 medium sized onions sliced
2 green chillies
2 tsp ginger garlic paste
2 large sized tomatoes chopped
coriander leaves
salt to taste
5-6 tbsp oil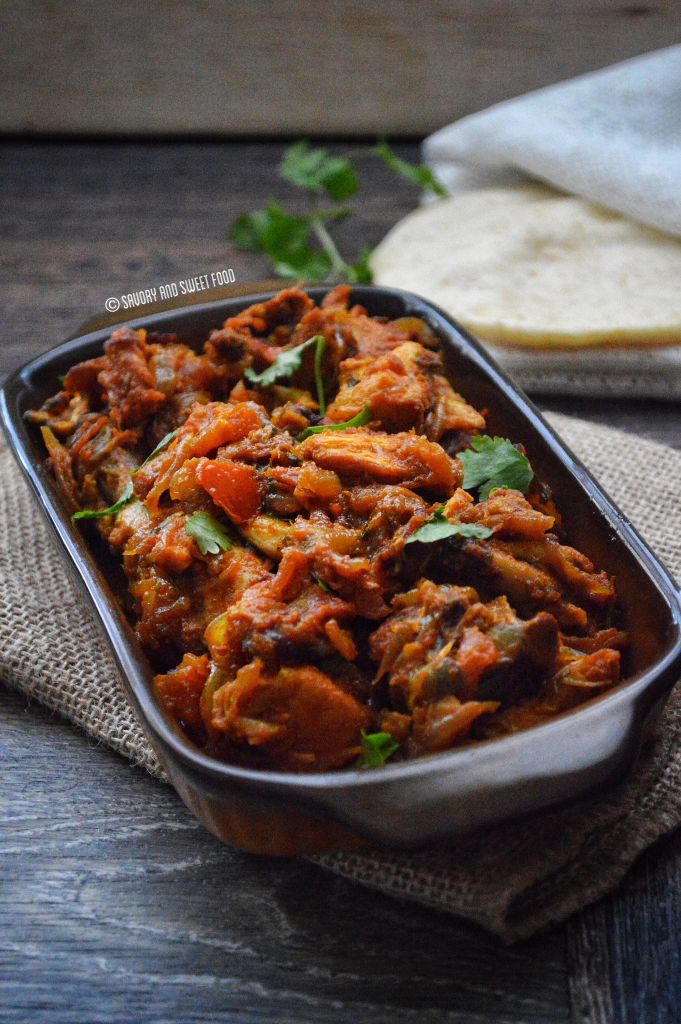 NOTES:
Do not shred the chicken very fine. You just have to pull the meat apart from the bones. Let some pieces of meat be there on the bone.
DIRECTIONS:
Marinate the chicken in red chilli powder,turmeric powder and salt.
Shallow fry the chicken till chicken is nice;y cooked and charred on outside.
Take out the chicken and shred it. (read notes)
In the same oil in which you fried the chicken, sauté the onions and green chillies till the onions are soft and slightly brown in colour.
Add in ginger and garlic paste. Cook for few minutes.
Add in chopped tomatoes. Cook or 10- 15 minutes till the tomatoes are nicely mashed and cooked through. Add salt.
Add in the coriander leaves.
Add in the chicken pieces along with the bones. Mix well. Cover and cook for 10 minutes on low flame.
Serve hot with malabar porotta, chappathi, naan or puri.
[yumprint-recipe id='148′]