Super simple and delicious creamy white sauce based pasta with perfectly seared chicken.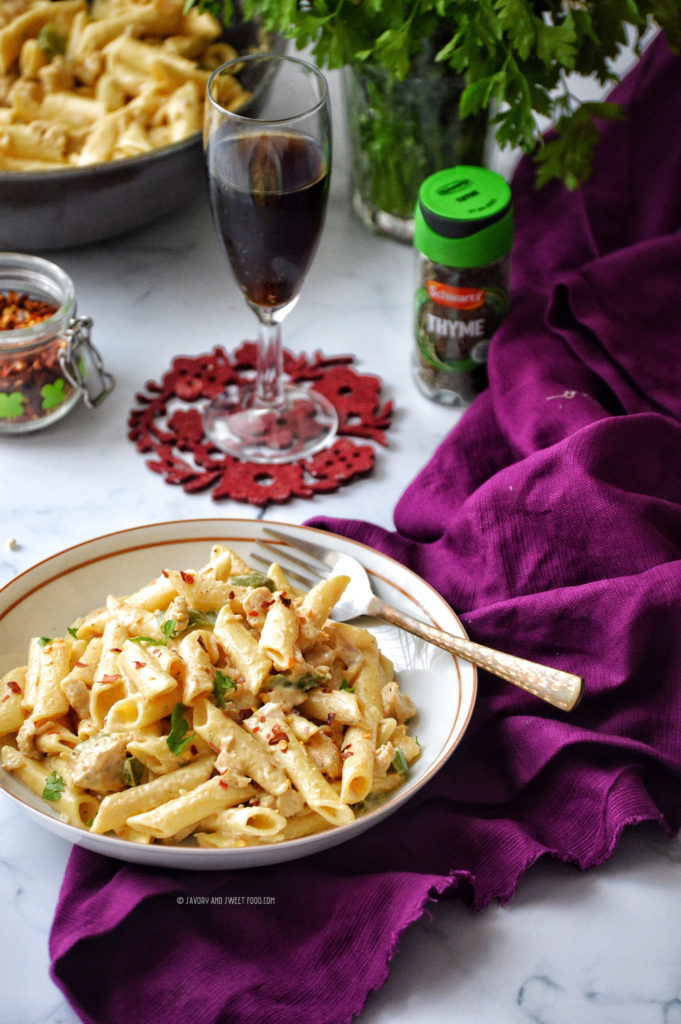 I made this on a lazy day without intending to post it in the blog. I just randomly made this pasta without following any recipe and so this is definitely not the authentic Italian pasta. I actually didn't think it would taste good but the end product was really good. So I decided to share the recipe with you guys but I do not have the step by step pictures.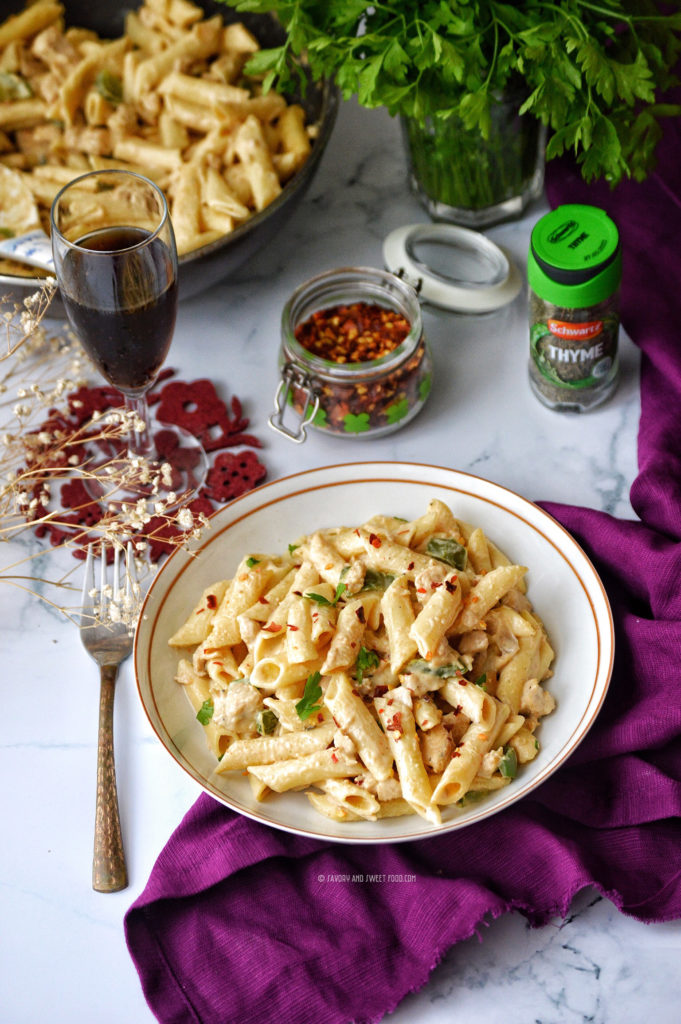 This is not a saucy pasta dish where the pasta will be swimming in the cream sauce, but here the sauce is thick and glossy so it clings lusciously to every single pasta. The good thing is that I didn't use cream in this dish so it is not a very rich pasta. So this is a "creamy but made with no cream" type of pasta. Enjoy!!
INGREDIENTS:
300g Pasta
For marination:
400g boneless chicken cut in small cubes or strips
1/2 tsp black pepper powder
1 tsp cajun spice or paprika
1 tsp onion powder
1/2 tsp garlic powder
Salt to taste
For white sauce:
2 tbsp butter
2 tbsp all purpose flour
2 cups milk
1 chicken/ vegetable stock cube
1/2 tsp black pepper powder
1/4 tsp thyme
1 tsp paprika powder
2 tbsp cream cheese
Salt to taste
For Chicken mix:
Olive oil

1/2 of medium sized onion
2 green chillies

2 cloves garlic chopped
1/2 of a capsicum cut in cubes
1 tsp soya sauce
1 tbsp red chilli sauce/sriracha sauce
1/4 tsp thyme
Parsley leaves
NOTES:
You can add broccoli, spinach, corn or anything into this pasta.

The sauce thickens as it sits. So before serving heat it by pouring a bit of milk to achieve the desired consistency.
DIRECTIONS:
Cook the pasta as per package directions till done and drain.

Marinate chicken with above mentioned ingredients and shallow fry in olive oil. Keep it aside. (You can cut it into smaller pieces at this point)
In the same pan, saute chopped onions till it turns soft and translucent. Add green chillies
Add garlic and cook for a minute.

Add capsicum and cook until it turns soft.

Pour soya sauce and chilli sauce. Mix and cook for a minute.

Add in the fried chicken and mix well.

Add thyme and salt, if required.
To make white sauce:
In a pan add butter.

When it melts add all purpose flour and cook for a minute stirring continuously.

Pour 1 cup of milk and mix well so that there won't be any lumps. Pour remaining milk and stir well with a whisk to avoid formation of lumps. (If there are lumps still, blend it in a blender till smooth and pour it back into the pan)
Let it come to a boil. Add crushed stock powder (I used a low sodium stock, which came under the brand named called Kallo, it doesn't contain msg) Mix well until it gets dissolved completely.

Add remaining ingredients for the sauce, stir and cook till the sauce becomes little thick. If the stock cube you are using contains salt, then be very careful while adding extra salt to the sauce.

Add the chicken mixture into the white sauce and mix. Cover and cook on simmer for 5 minutes.

Add chopped parsley.

Add cooked pasta into this and mix well.

Serve it with a generous sprinkle of red chilli flakes on top.