This is a cheesecake with a Middle Eastern makeover. It features a buttery digestive biscuit base, a rich cheesecake layer topped with a delicious basbousa layer. A drizzle with rose water scented sugar syrup ties the flavors together.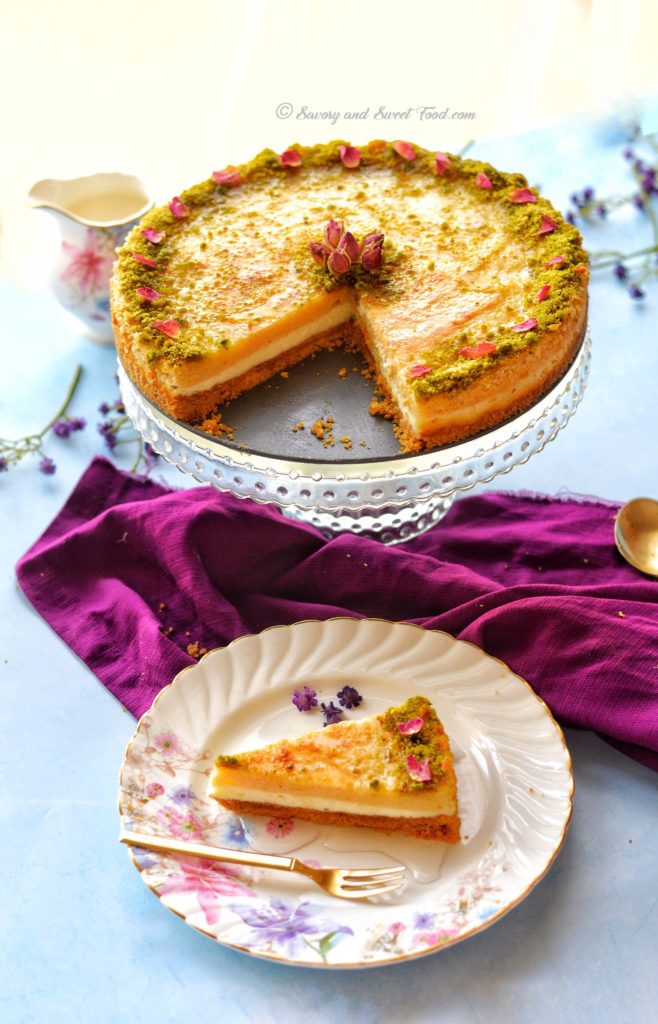 You all will know well by now that I love Middle Eastern desserts. There are so many recipes in my blog already. Just type for Arabic desserts in the search bar and you'll get it all. I think I should make a different category for Middle Eastern dessert, yeah?!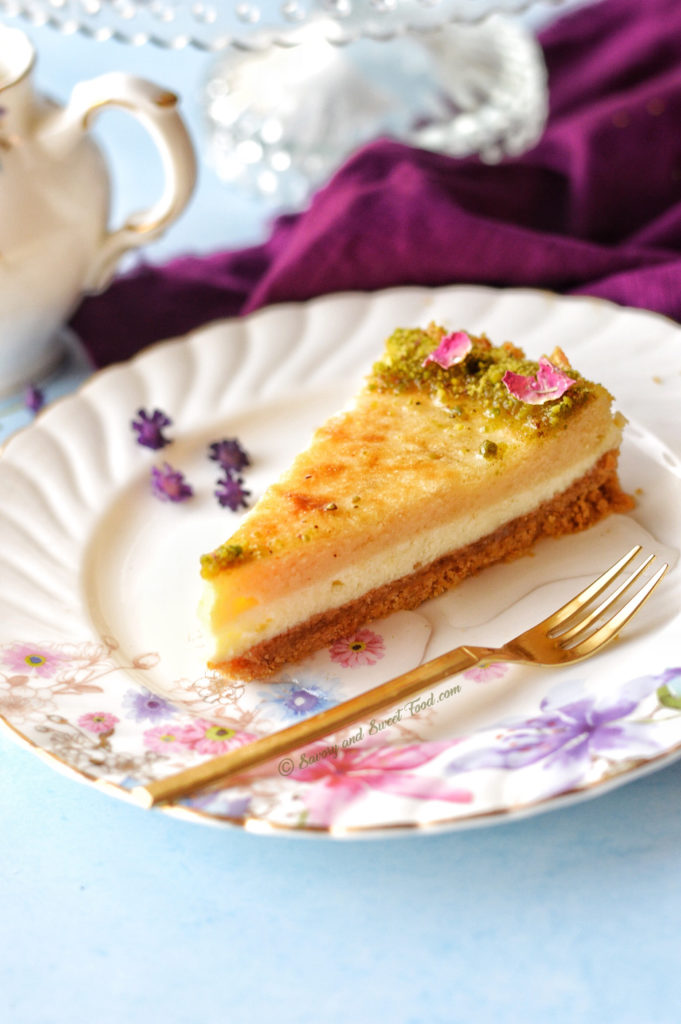 But this, my friends, this is the KING of it all. I personally am not a huge lover of Basbousa, but this one just won me over. It is so yummy, soo yummy that if I ask you to make one dessert from my blog, it would be this. I had made this last month and just couldn't wait till Ramadan to post it. And when the day was here, I was super busy to sit in front of the computer to prepare the post.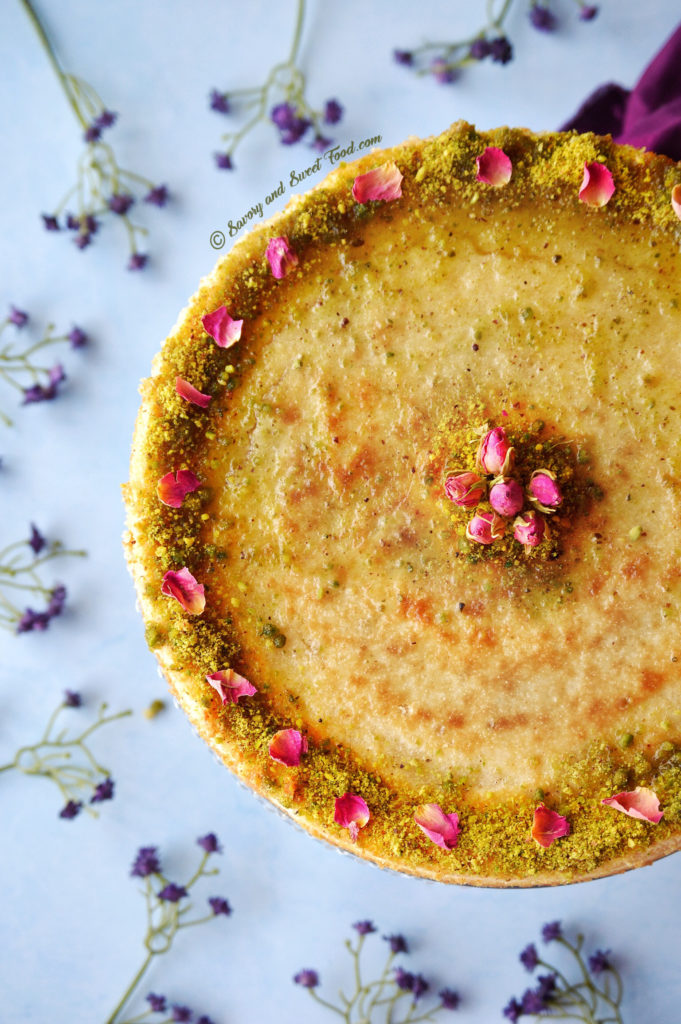 So finally I got to posting it today. Same as most of my recipes, this is insanely easy to prepare. Make this for a party or a get-together and be ready for the recipe requests you'll get and at that point please do share my blog address. That's how you can reward me for sharing this recipe with you guys. 🙂 This one was so kindly shared by my friend, Mariam. I can't thank you enough for sharing this deliciousness with me.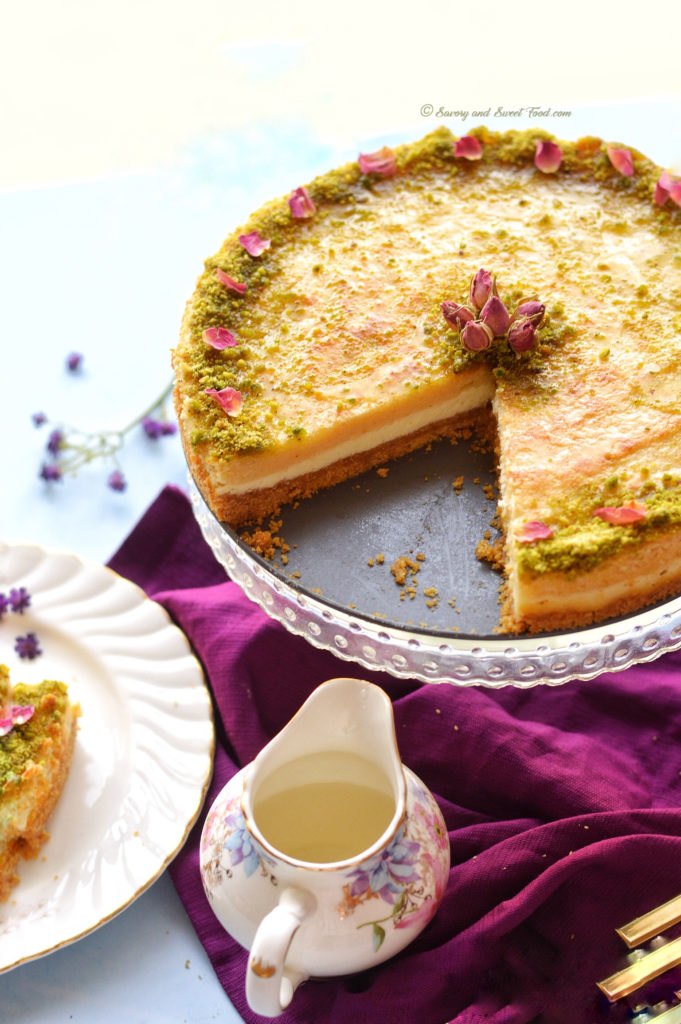 I made a YouTube video too. Here it is. Please do watch it in HD and do share with others.
INGREDIENTS:
For the base:
250g digestive biscuits(powdered)
100g butter(melted)
For the cheese layer:
4 cubes Kiri Cheese cubes/ 4 tbsp Philadelphia cream cheese
1/2 cup Sugar
1 cup Milk powder
170g yoghurt
For the Basbousa Layer:
1/2 cup semolina
1/2 cup milk powder
170g Nestle cream
1/2 cup sugar
1/2 tsp baking powder
1/2 cup oil
2-3 tbsp milk
For the sugar syrup:
1 cup sugar
1/2 cup water
1 tsp lemon juice
2 tsp rose water
DIRECTIONS:
To make the sugar syrup:
In a pan, add water and sugar. Heat on high heat for 5 minutes, stirring to dissolve the sugar.

Once dissolved reduce heat to low and simmer for 5 more minutes.
Pour lemon juice and rose water.
To make the base:
Mix together the powdered biscuits and butter together till well combined.
In a 9 inch springform pan, place the biscuit butter mix and press it well onto the base of the pan.
To make the cheese layer:
In a blender jar, add all the ingredients for cheese layer.

Blend till smooth.
Pour over the biscuit base.
Bake for 10 minutes in a 180C preheated oven.
To make the Basbousa layer:
Add all the ingredients, listed under basbousa in a blender jar and blend for a minute.
Pour this over the cheese layer. Spread evenly.
Bake for 15-20 minutes in a 180C till golden brown on top.
Once out of the oven, pour the sugar syrup all over.
Refrigerate for an hour.
Heat slightly for about 10 seconds in a microwave oven before eating.