A very creamy pudding with layers of cake, rich whipped cream, white chocolate cream and caramelized nuts. When all of these are combined, you sure do get a fantastic dessert.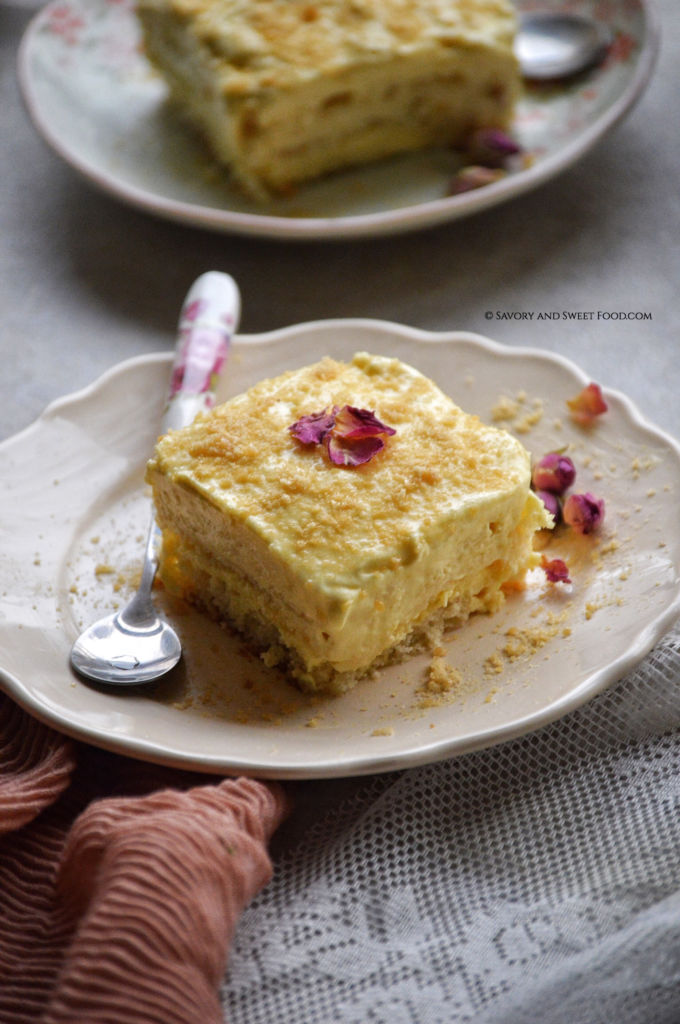 So it's that time of the year again where you all will be in search of good dessert recipes to prepare for Eid. Eid is just a few days away, I am very excited for it at the same time a little sad that Ramadan is getting over. But Alhamdulillah, I got to experience these beautiful days this year too.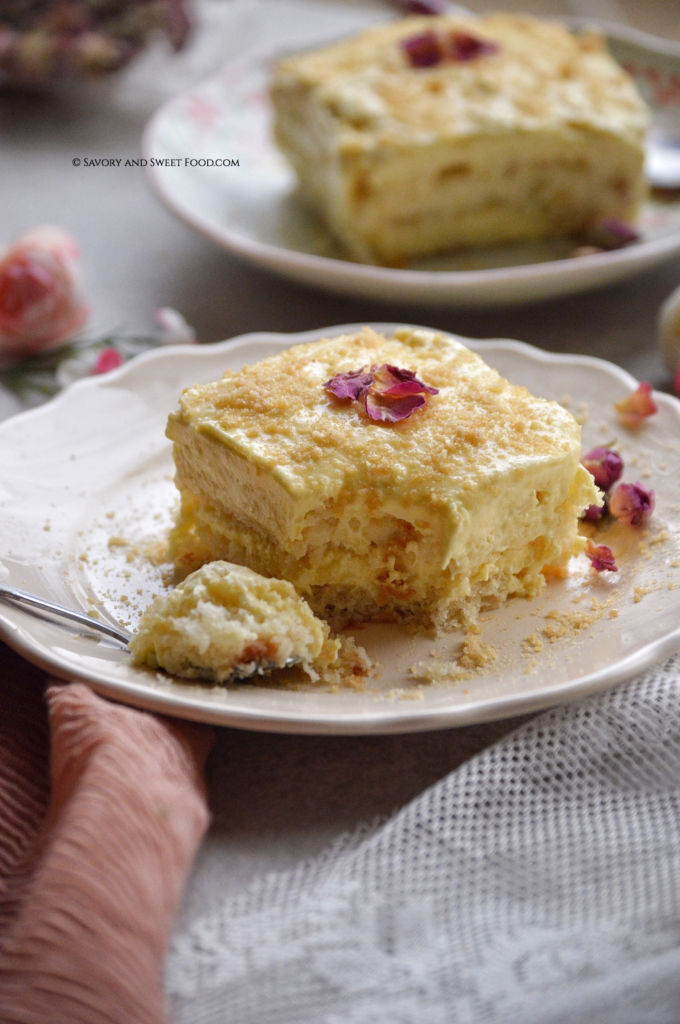 Thank you guys, for all the love and support you showed my blog during this month, even though I was lagging behind in posting regularly. So many of you prepared lots of dishes from the blog and all that pictures you sent me and the feedback…oh…I can't express how happy I am feeling. Thanks a lot. Hope all of this engagement will be there from you even after Ramadan gets over.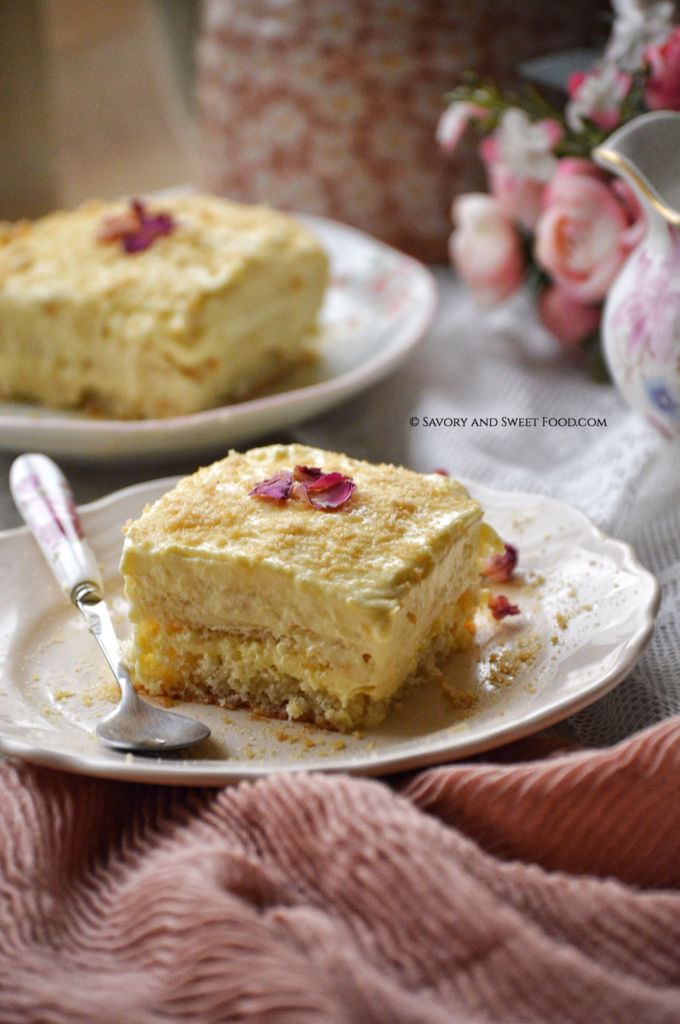 So I am wrapping up the Ramadan series with this insanely delicious Creamy Layer Pudding. It is very rich and so a little too heavy on the stomach. For the same reason, you wouldn't want to have more than a slice or two in a day even though it will be hard to control yourself. 🙂 Hope this dessert will be there on your table this Eid and really hope that you guys will love it. Do let me know.
INGREDIENTS:
Any good cake (I made cake from scratch using betty crocker vanilla cake mix, but you can use store bought ready cake)
For the whipped cream:
250ml whipping cream
1 sachet dream whip powder (whipping cream powder)
1 sachet caramel custard powder
1 tin nestle cream
For the white chocolate cream:
114g white chocolate (3 bars of galaxy white)
1 tin nestle cream
2 cubes kiri cream cheese, softened
For the caramelized nuts:
1 cup almonds/ pistachios/ walnuts
1/2 cup sugar
1 tbsp butter
Extras:
NOTES:
I would recommend making this in small individual serving pudding glasses, as getting a neat cut piece would be a little difficult from a pudding tray.
I had made caramelized pistachios, but my caramel got burnt :(. So I couldn't add it to the pudding. But I would definitely recommend adding it as it will make a huge difference to the pudding.
DIRECTIONS:
To make the whipped cream mix:
In a bowl, pour whipping cream. Whip it up till stiff.
Add dream whip and caramel custard powder. Whip again for a minute.
Add nestle cream and stir gently with a spoon.
To make the white chocolate cream:
Melt the white chocolate by placing in the microwave oven for 10 second bursts. After each 10 second, stir the chocolate and see if melted. You don't want to heat it for long or else the chocolate will harden and will not melt again. Let it cool for a bit.
Add Nestle cream, and kiri cheese to the chocolate and mix well.
To make caramelized nuts:
Dry roast the nuts on very low flame for about 10 minutes. It should be really roasted well. Keep stirring it around.
Take it off the flame and let it cool completely.
In a pan, add the butter and sugar. Let it melt on very low flame. Once it starts changing color (to golden brown, not any darker), add in the nuts. Mix well. Mine got a little too dark, and so it had a slight burnt taste. So don't let it darken so much.
Take it off the heat and spread the caramelised nuts on a flat surface, separate it using fork. Let it cool.
Crush it a bit and use.
To assemble:
(Forgot to click pics)
In a large pudding tray, place the cake slices at the bottom. (Make thin slices of the cake)
Pour half of the whipped cream mix. Spread well.
Add caramelized nuts.
Place the next layer of cake slices.
Pour the white chocolate cream and spread evenly.
Place caramelized nuts.
Place the final layer of cake slices.
Pour the remaining whipped cream mix.
Sprinkle caramelized nuts on top along with grated white chocolate.
Refrigerate for 5-6 hours or overnight.
[yumprint-recipe id='278′]