Flaky and buttery puff pastry wrapped around boiled egg and a Kerala style spicy onion mixture. Perfect snack to have in the evening with a hot cup of chai.
One of the most popular snacks you can find in the bakeries in Kerala are freshly baked spicy Egg Puffs. But I don't have much memories eating it from Kerala, but whenever I have egg puff it takes me back to my Dubai days. My mom makes this mostly during Ramadan and her egg puffs are nothing short of amazing.
Likewise, the egg puffs you see in the pictures here were made during last Ramadan, hehe. I had kept the pictures ready last year, but didn't post it. I completely forgot about it. I was just going through my pictures folder and found these pics. I was so happy as I didn't have any post ready for this week. 🙂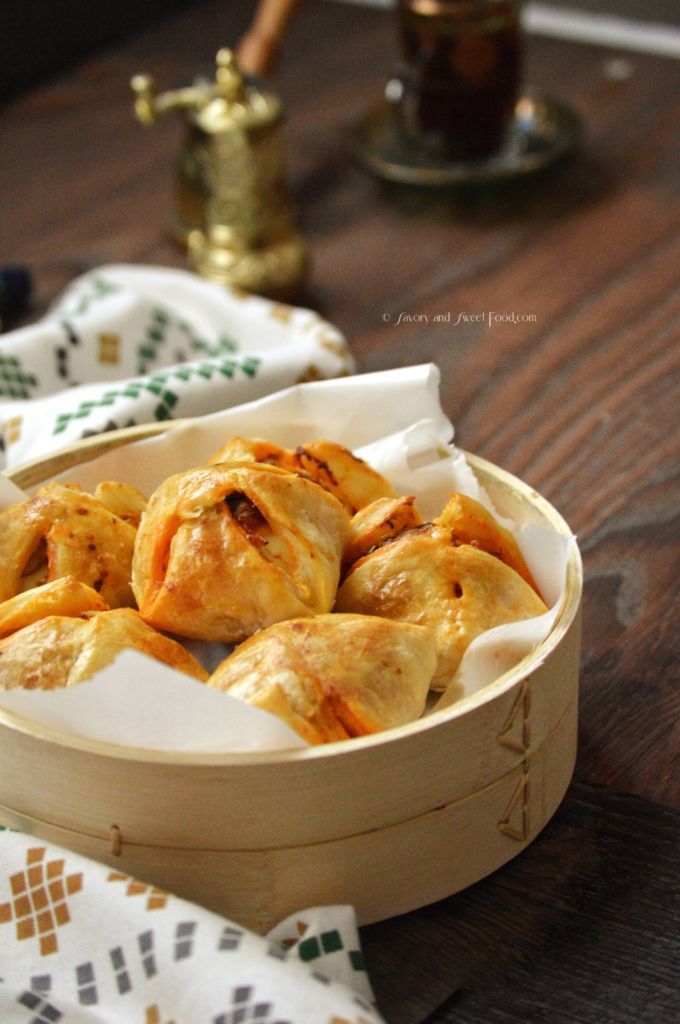 I had got way too many requests to post the recipe of homemade puff pastry. So for this I did make the pastry from scratch at home and it turned out pretty good, but not very perfect. I don't think I would be making it again, because why take all these extra effort when you can easily buy puff pastry from the market. But for those who want to attempt it at home, follow this link
here
. This recipe looks good.
So here it is for you guys, the recipe of perfect Kerala style egg puff.
INGREDIENTS:
3 eggs (hard boiled and cut in half)
Puff pastry squares or sheet
1 egg beaten for egg wash
For the onion masala:
2 medium onions sliced
4 cloves garlic chopped
1/2 inch ginger chopped
1 sprig curry leaves chopped
1/2-1 tsp red chilli powder
1/4 tsp black pepper powder
1/4 tsp turmeric powder
1/4 tsp garam masala powder
2 tsp tomato ketchup
Salt to taste
Oil
DIRECTIONS:
Preheat oven to 180 C.
Thaw the puff pastry by keeping it out at room temperature for 1 hour.
Heat oil in a pan, add onions, ginger, garlic and curry leaves. Sauté till onions turn soft and golden brown in color.
On low heat add the spice powders and cook for a minute.
Add tomato ketchup and mix well, cook on low hear for a minute. Turn off the heat.
Let the masala cool. Divide into 6 parts.
Place the masala on top of each puff pastry squares. Place one half of the egg on top. Then place a little masala on top of egg.
Fold the 4 sides of the pastry and seal the edges well with your finger.
Brush the egg wash on top of the puff pastry.
Bake for 20-30 minutes till the puff pastry turns golden brown, flaky and crisp.
[yumprint-recipe id='269′]