Spicy chicken rolls derived from the classic cinnamon rolls recipe. The same soft and fluffy rolls filled with a spicy homemade tomato sauce and a flavorful chicken filling. Mozzarella cheese is added to make this dish extra rich and definitely yummy.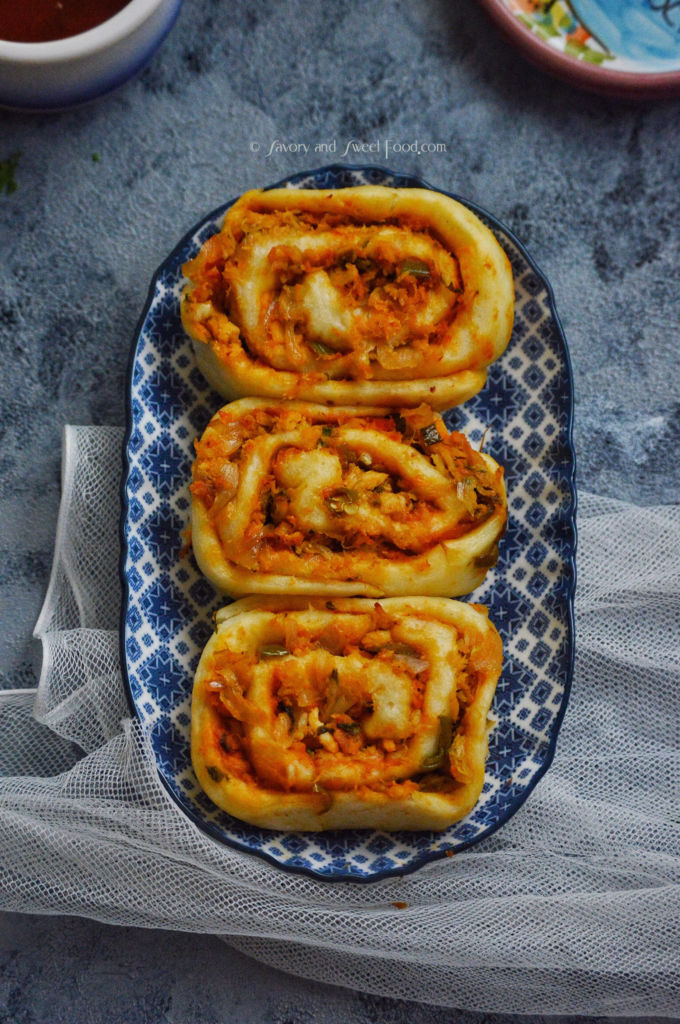 I went missing again for sometime because I had gone out for a mini vacation. And Im sure that you all know me very well by now that I get extremely lazy to blog while on vacation and also few weeks after I get back, hehe. I forced myself to post this today because if I didn't, then this break might extend further for I don't know how many more days or weeks. So here I am with this super delicious Spicy Chicken Rolls.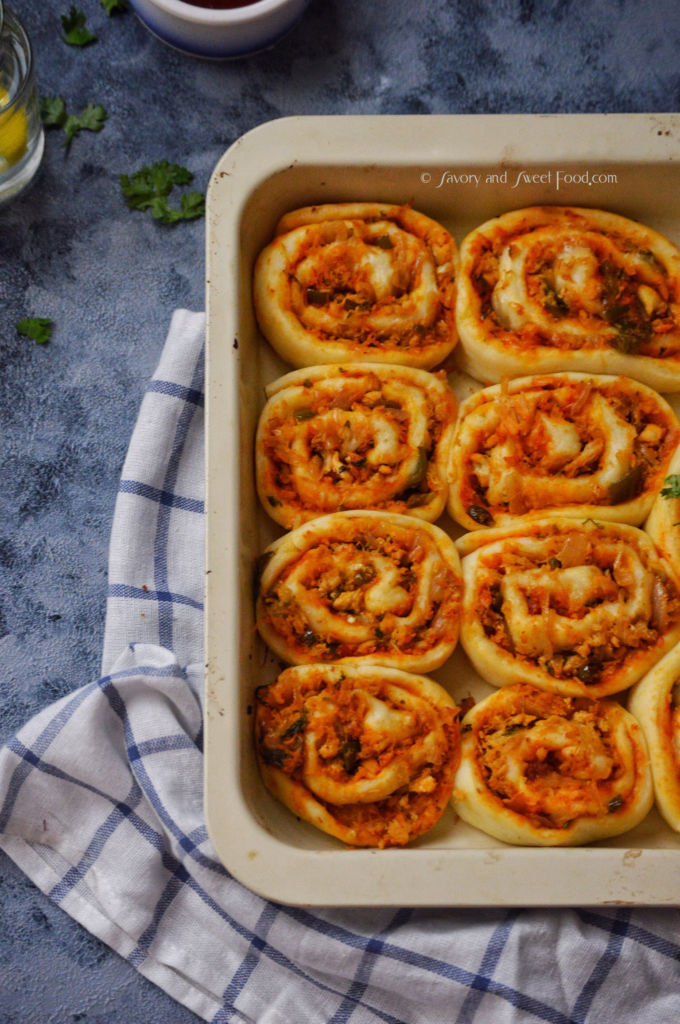 You will want to try these. I hope you try them and let me know if you liked them as much as we did. Oh and by the way, if you can't eat them all in one day they last quite a while in the fridge, even 4 days later, just microwave them for 30 seconds and they taste like you just pulled them out of the oven.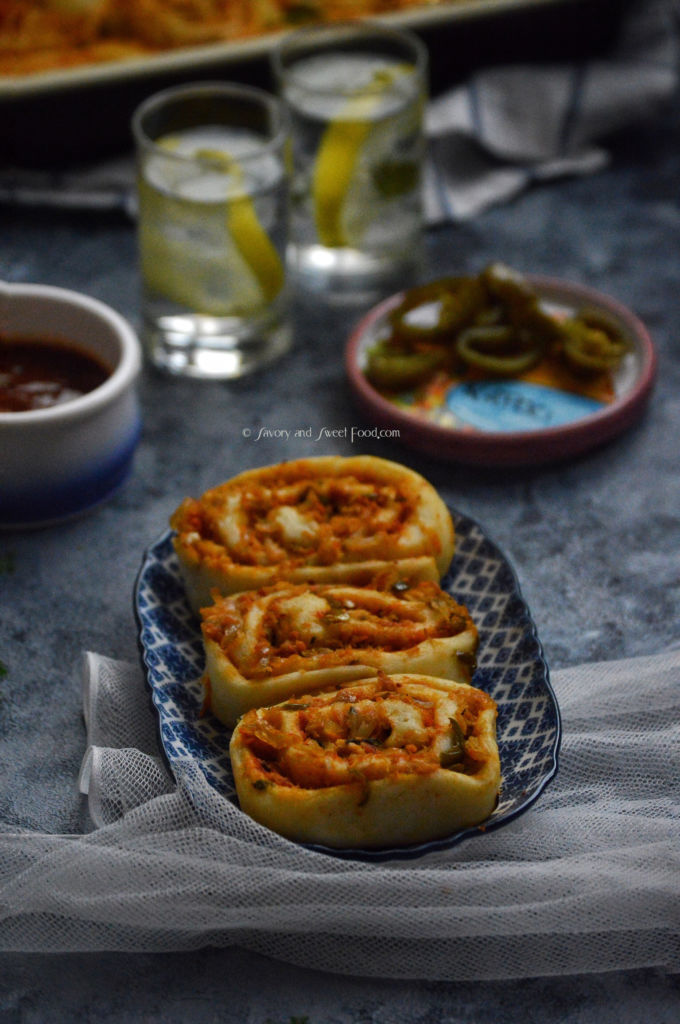 INGREDIENTS:
For the rolls:
240 ml whole milk
1/4 cup vegetable oil
2 tbsp sugar
1 1/4 tsp of active dry yeast
2 cups ( plus 1/4 cup extra, reserved ) all purpose flour
1/4 tsp ( heaping ) baking powder
1/4 tsp baking soda
1/4 tsp ( heaping ) salt
Plenty of melted butter
For the tomato sauce:
2 large tomatoes puréed
1/2 of large onion
4 garlic
4 tbsp tomato paste
1/2 tsp red chilli powder
1 tsp sugar
1 cube chicken stock
1/2 tsp oregano
Coriander leaves
For the chicken filling:
300 g boneless chicken (cooked and shredded)
2 medium onions sliced
3 cloves garlic chopped
1 inch piece ginger chopped
4 green chillies cut into small pieces
1/2 tsp red chilli powder
1/2 tsp cumin powder
2 tbsp hot chilli sauce (not the tabasco hot sauce)
1 tbsp sweet chilli sauce
1 tsp soya sauce
Coriander leaves chopped
Salt to taste
pickled jalapeños
mozzarella cheese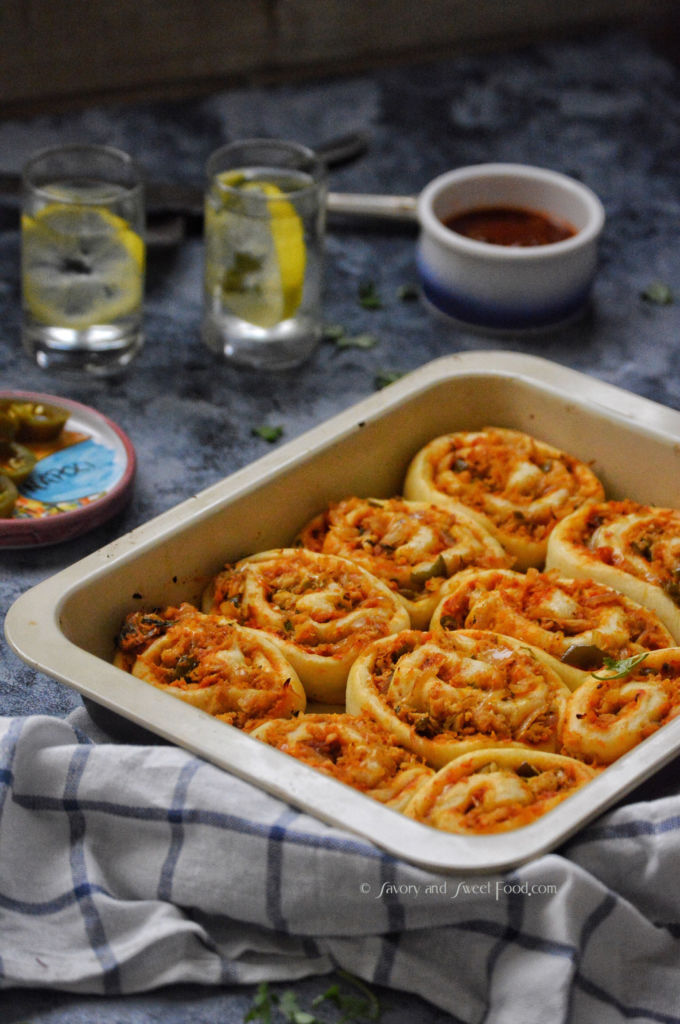 To make the tomato sauce:
In a pan, sauté the onion and garlic till soft.
Pour in the tomatoes purée and paste.
Add in the chicken stock cube and mix well till combined. Let the sauce reduce.
Add red chilli powder, sugar, and oregano. Cook till thick.
Add coriander leaves. Keep aside.
To make the chicken filling:
Sauté the onions, ginger, garlic and green chillies till soft.
Add in the red chilli powder, cumin, hot chilli sauce, soya sauce and salt.
Add in the shredded chicken. Mix well.
Add chopped coriander leaves.
To make the rolls:
Heat the milk, vegetable oil and sugar in a saucepan until a boil ( just below boiling). Remove from flame and let cool to warm.
Sprinkle the yeast on top of the milk mix, cover for 1 minute.
Add in 2 cups of flour. Stir with a wooden spoon until just combined. You don't have to knead with hand. Cover with a kitchen towel, and keep in a warm place for 1 hour.
After 1 hour, remove the towel and add the baking powder, baking soda, salt, and remaining flour. Stir thoroughly to combine. You can use the dough right away, or keep it in a bowl and refrigerate for up to 3 days.
Preheat oven to 375 degree Fahrenheit.
To assemble:
On a floured surface, roll the dough into a large rectangle, about 30 x 10 inches. The dough should be rolled very thin. Brush melted butter evenly.
Spread the tomato sauce on the rolled dough evenly. Sprinkle chopped jalapeños.
Spread the chicken filling.
Add mozzarella cheese. (I made half rolls without cheese)
Now, beginning at the end farthest from you, roll the rectangle tightly towards you. Use both hands and work slowly, being careful to keep the roll tight. Don't worry if the filling oozes as you work. When you reach the end, pinch the seam together and flip the roll so that the seam is face down.
With a sharp knife, make 1/2-inch slices. One "log "will produce approximately 20 rolls. Pour a couple of teaspoons of melted butter on 9 inch baking trays. Place the sliced rolls in the pans, being careful not to overcrowd. (Each pan will hold 7 to 9 rolls.)
Cover all the pans with a kitchen towel and set aside to rise for at least 20 minutes before baking. Remove the towel and bake for 15 to 18 minutes, until golden brown. Don't allow the rolls to become overly brown.
Remove pans from the oven. Brush melted butter all over the roll.
[yumprint-recipe id='265′]