A spicy Prawn Pasta made in Coconut Milk/Cream. This pasta has a strong Indian flavor as it contains several Indian spices. This is so good that you will want to go for seconds.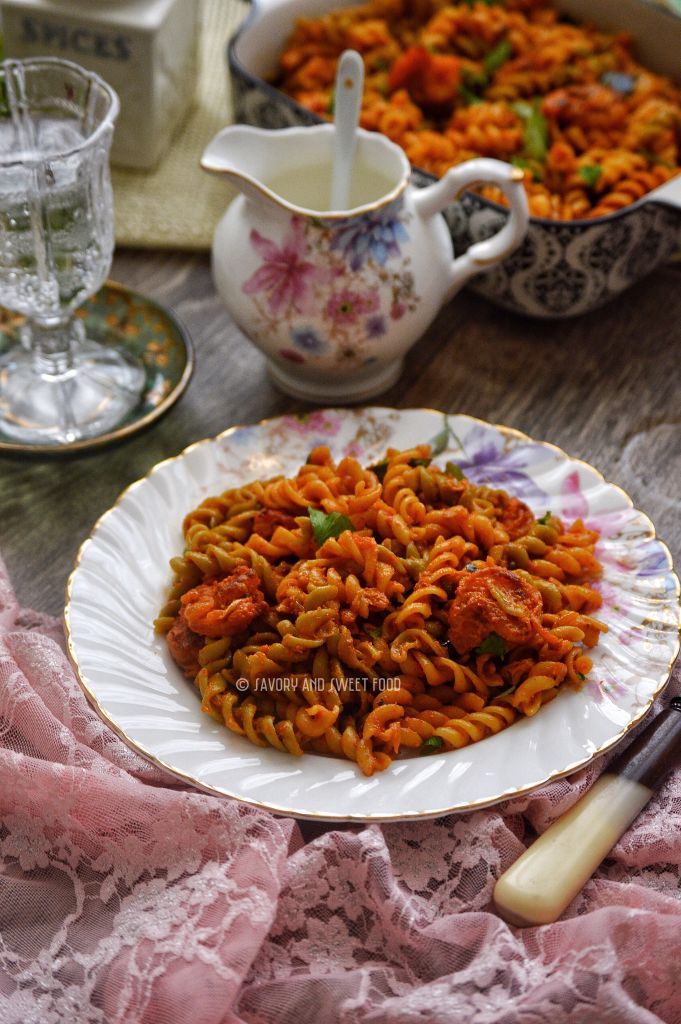 'Prawn Lovers Delight', that is what this is. I love to cook with Prawns and Coconut Milk. Whatever I make with these two ingredients turns out great. And when you combine these two things and add it to pasta, it will definitely be beyond perfection, just like this spicy Prawn Pasta.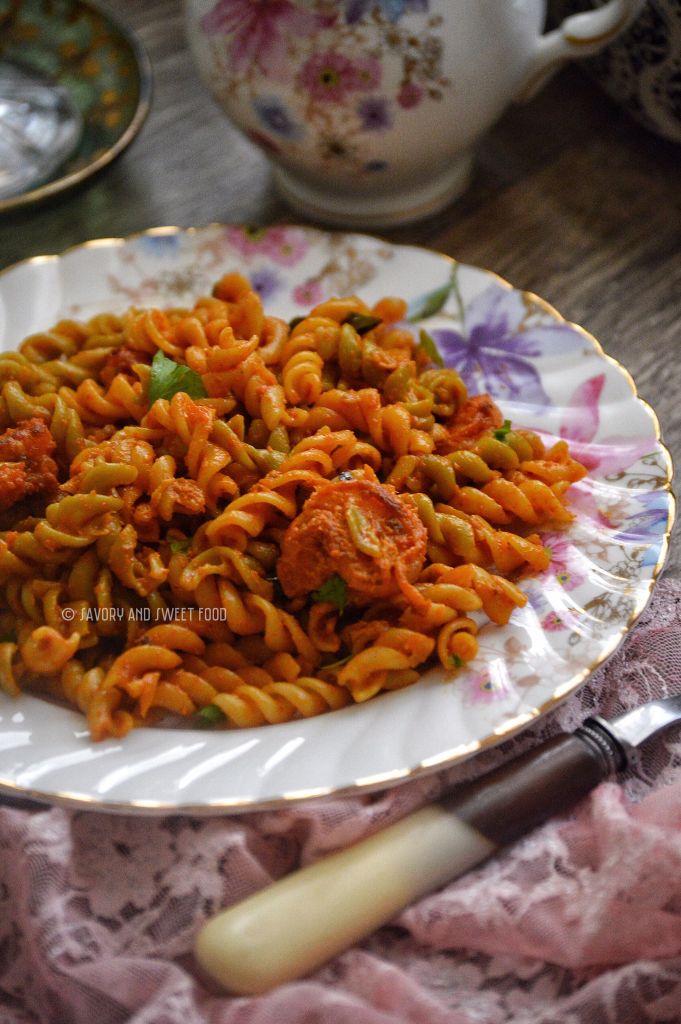 When I am cooking I like to prepare food with flavors from my homeland, Kerala (India). Most of our food are lighter but spicier with the predominant flavors of red chilli, curry leaves and coconut. Whatever I cook, dishes with these flavors and aroma, it gets maximum appreciation from my family.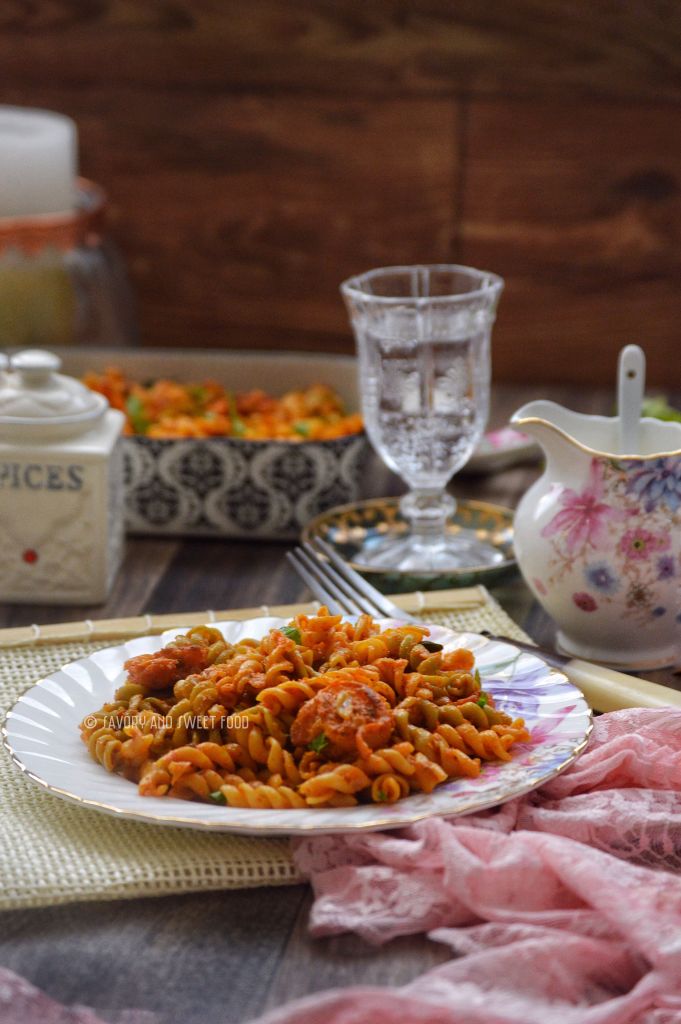 I made the sauce for this pasta in coconut cream. At first I had a plan to make a white sauce with cheese and all that, but then later I changed my mind because I had a doubt if my Indian food lover husband will approve pasta in white sauce, he usually doesn't like white sauce pasta much. So I made up this recipe with all the Indian spices, and coconut cream and I was pleasantly surprised after giving this sauce a taste. I never expected it to be this good. The creaminess from coconut cream, tang from the tomato paste, heat from the red chilli powder and beautiful aroma from the other spices imparted a totally indulgent flavor.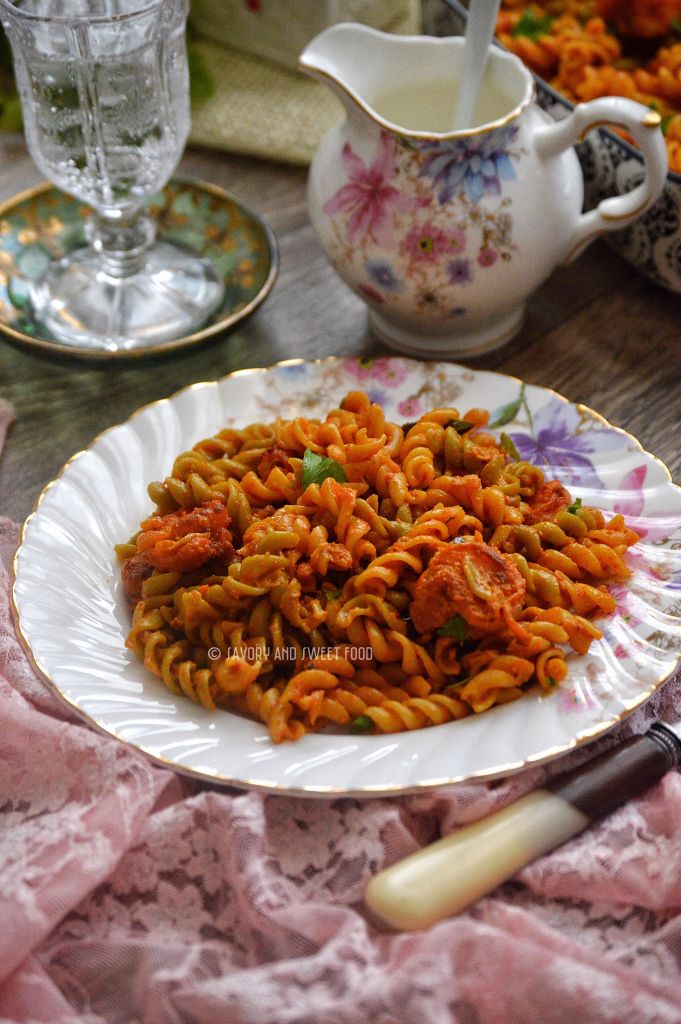 I
This pasta is a family favorite now, why not make it yours too!???
INGREDIENTS:
2 cups pasta
3 tbsp oil
400 grams prawns (shelled and deveined) (Marinate in 1 tsp red chilli powder, 1/4 tsp turmeric powder and salt)
1 medium onion chopped
1 tsp ginger paste
1 tsp garlic paste
2 tbsp tomato paste
1/4 cup water
1 tsp red chilli powder
1 tsp coriander powder
1/4 tsp turmeric powder
1 cube vegetable stock cube mixed in 200 ml hot water (or 200 ml vegetable stock)
1/4 cup coconut cream
1 sprig curry leaves
salt to taste
NOTES:
Be careful while adding extra salt, if the stock contains salt already.
If you don't get coconut cream, use very thick coconut milk instead. But then in the end instead of coconut cream add whipping cream.
DIRECTIONS:
Cook the macaroni as per the package directions. Add salt and a tbsp of oil to the water while cooking the pasta.
Drain and rinse the cooked macaroni in cold water. Keep aside.
Shallow fry the marinated prawns in 2 tbsp oil and keep aside. Reserve the left over oil.
In a pan add oil and sauté the onions till it turns brown in color.
Add the ginger and garlic. Stir around for a minute.
Put the spice powders and mix well on low heat.
Add tomato paste. Cook for 2 minutes.
Pour 1/4 cup water and cook till it reduces.
Pour in the vegetable stock and cook till it reduces completely. Add this point add the reserved oil, which was left over after frying prawns, into the sauce.
Add the curry leaves.
Pour coconut cream. Mix well.
Add the fried prawns. Mix. Cover the pan with the lid and let the sauce simmer on low heat for 5 minutes. Check for salt and add more if needed.
Drop in the cooked macaroni and mix well. After mixing if you want the pasta to be more saucy add more coconut cream.
Serve.
[yumprint-recipe id='220′]