This Pistachio Cake with creamy and rich Rose Water flavored Mascarpone frosting is a true celebration cake. The taste of pistachio in this moist cake and the delectable frosting is just too good.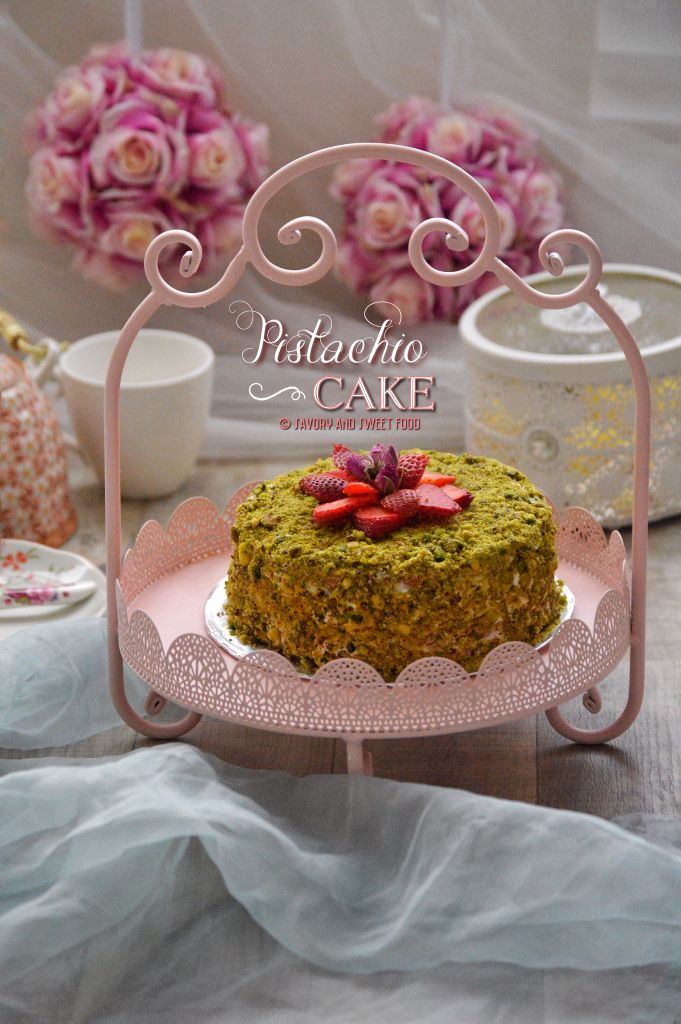 I keep hearing "2017" and feel that it is in like 5 years. But here it is, the countdown ended…fireworks extinguished and the New Year has arrived. Im sure all will be ready for all the positive things that you would want to see accomplished in the coming 12 months. It is that time of the year when everyone starts making resolutions that we're supposed to keep for whole 365 days. I have made some too. Hope I can stick to it.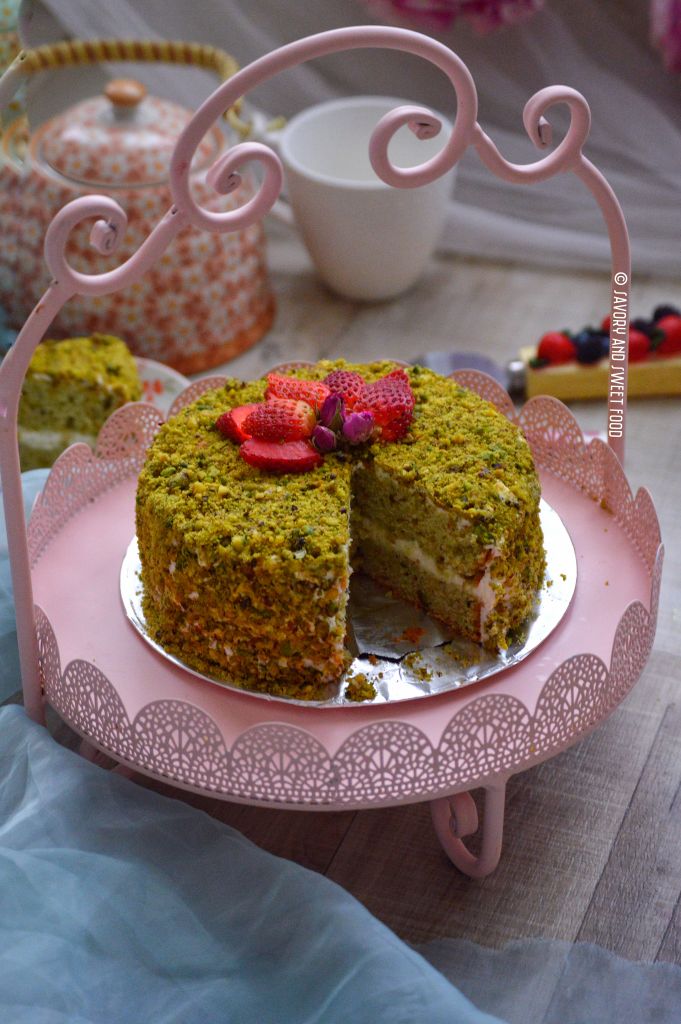 I think I did stick to most of the resolutions I made last year and I am quite happy about that. This year I have decided to do a lot of things with my blog. I have made a list. I feel so excited, hope the excitement lasts throughout the year and I will be able to do most of it successfully with flying colors. 😀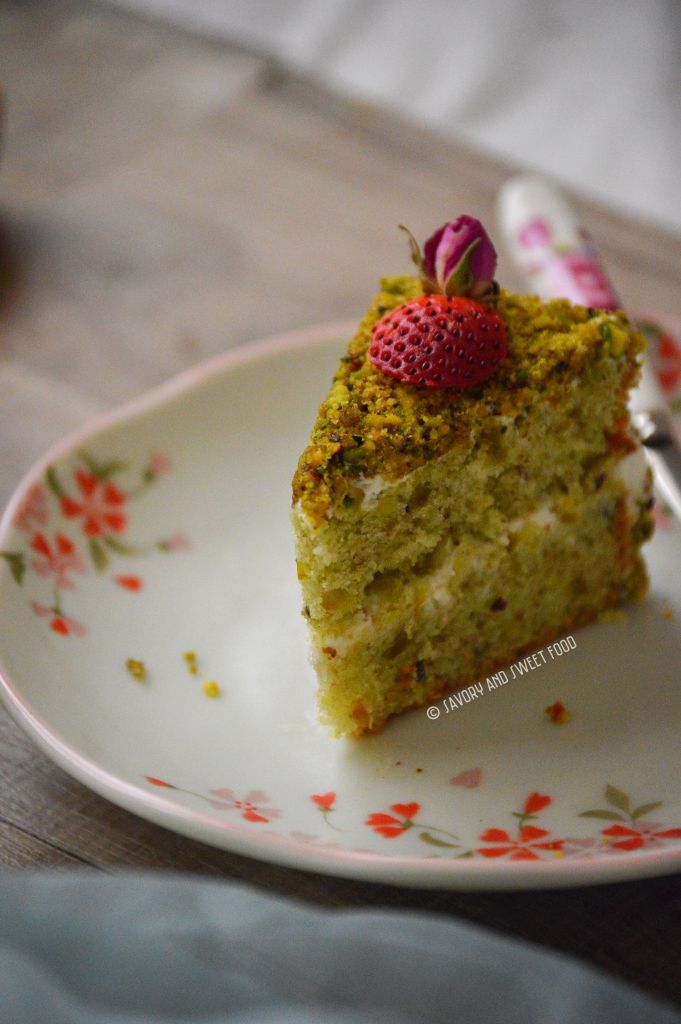 So lets go to todays recipe. This very beautiful cake is a Pistachio cake with Mascarpone- rose water frosting. This is one of the best cakes I have made so far. I had tried this amazing pistachio cake from a bakery here in Kuwait named Mr. Baker and I have been trying to recreate a similar one for sometime now. I did try few other pistachio cake recipes and it didn't come out that well. This cake tastes 90% like the bakery one. I made this cake twice already. It tastes amazing with the frosting but it is equally good without it too.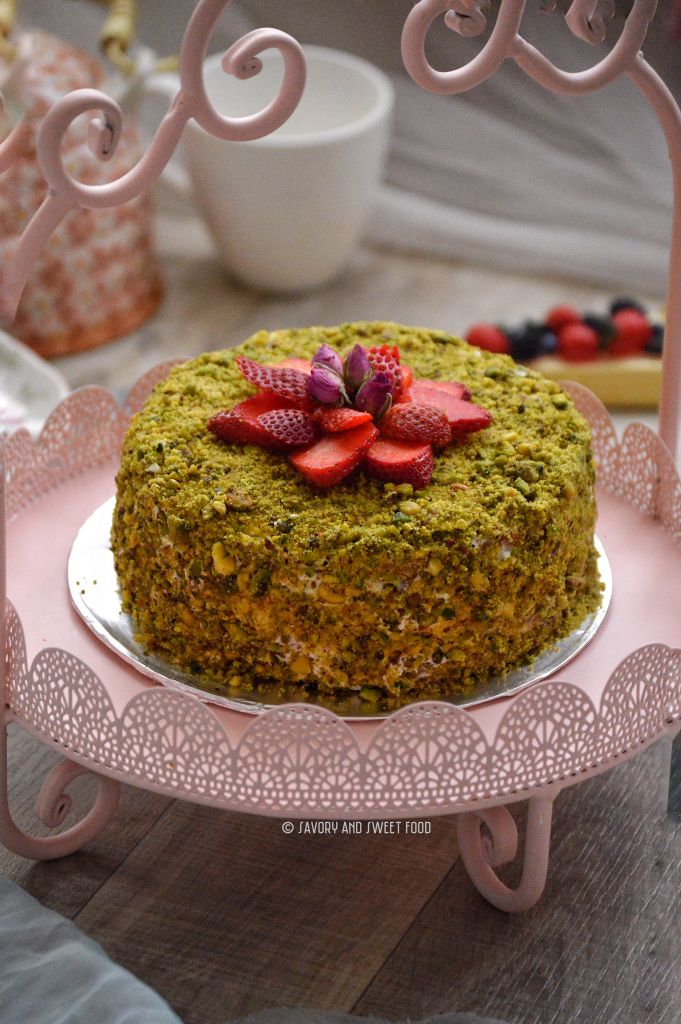 Hope you guys will give this recipe a try. Thank you my lovelies Nimeena and Sonia for the beautiful props. Love you both loots 🙂
For the Cake:
100 grams Caster Sugar
100 grams softened unsalted Butter
100 grams All Purpose Flour
1 tsp Baking Powder
60 grams ground Pistachios (Unsalted)
2 large eggs
4 tbsp milk
Green Food Coloring (Optional)
For the Frosting:
250 ml Heavy Whipping Cream
125 grams Mascarpone Cheese (Softened at room temp)
100 grams Powdered Sugar
1/2 tsp Vanilla essence
1 tsp Rose Water
NOTES:
With this quantity you will get a 6" inch cake. If you are using an 8″ or 9" cake pan, the cake won't be very thick enough to slice it into two halves. But if you do not want to frost the cake, it would be fine.
You can make cupcakes out of it too. This was a cupcake recipe originally.
The baking time will vary depending on the size of pan you are using. For a 6" pan, it will take about 40 minutes. But for a 8-9" pan it will take less time (30-35) minutes. If you are making cupcakes it will done within 17-20 minutes.
If you are making cupcakes then it would be better if you add the frosting to the cake just before serving.
DIRECTIONS:
To make the Cake:
Preheat oven to 170°C/ 325°F. Slightly grease a 6" baking pan with butter. Dust with flour.

Whisk or sieve the flour and baking powder. Add the ground pistachio nuts to it and mix well to combine.

In a bowl beat sugar and butter together until it turns pale and fluffy.

Add in the eggs, one at a time beating well after each addition.

Add green food coloring if using.

Beat in the milk and a spoon full of flour mix.

Fold in the remaining flour mix.

Pour the cake batter into the cake tray.

Bake for 35-40 minutes till the cake gets set and a toothpick inserted comes out clean. If you are using 8″ or 9″ mould read notes.

Allow the cake to cool completely
In a bowl whisk together the heavy cream, mascarpone, powdered sugar, vanilla and roses water for about 3 minutes.

The consistency should be very fluffy. It should hold stiff peaks.

Refrigerate for 2 hours.
To Assemble the Cake and Frosting:
Take cake and cut a thin layer of cake from top, to obtain flat top.

Cut the cake into half.

Spread frosting on top of one half of cake.

Keep the other slice of cake on top.

Spread the frosting on the top and the sides with a spatula.

Make the sides and top frosting smooth with a cake scraper. Refrigerate for 15 minutes.

Take out the cake and once again add frosting to the entire cake (sides and top). Smooth it well.

Decorate the entire cake with powdered pistachios.

Refrigerate and serve.
[yumprint-recipe id='216′]