A popular Indo-Chinese dish – Chicken Manchurian. Deep fried succulent pieces of chicken tossed in a spicy and saucy gravy.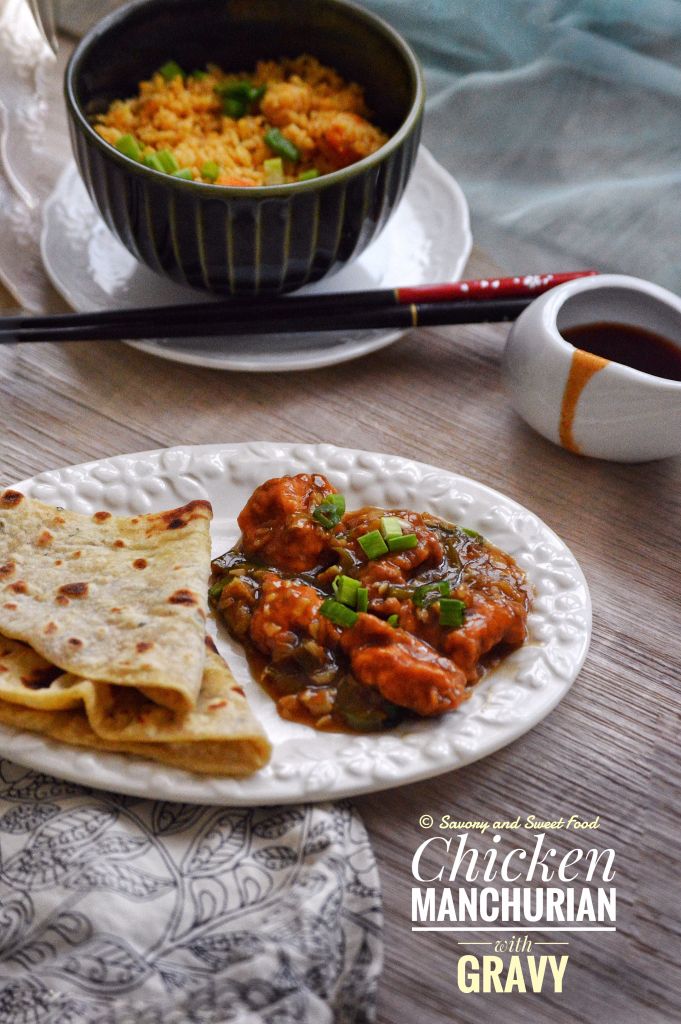 Chicken Manchurian is my all time favorite. I used to love this dish since I was a child. Chicken Manchurian and F
ried Rice
is the ultimate combo. But this tastes great with noodles and plain boiled rice too. I have it with chapathi also.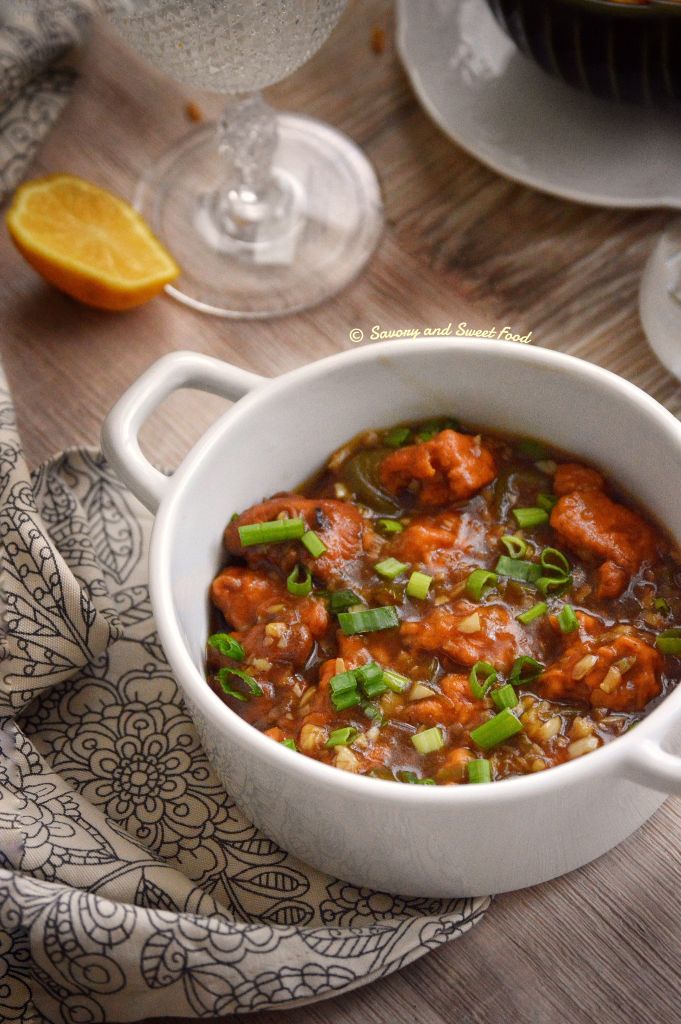 This dish is quintessentially spicy and full of garlic flavor. This dish is served across the world more in Indian restaurants than in Chinese restaurants. This dish was originally a Chinese dish but our Indian chefs modified it by making it more spicy and adding Indian masalas to best suit the Indian tastebuds and oh, boy, it tastes so yum!!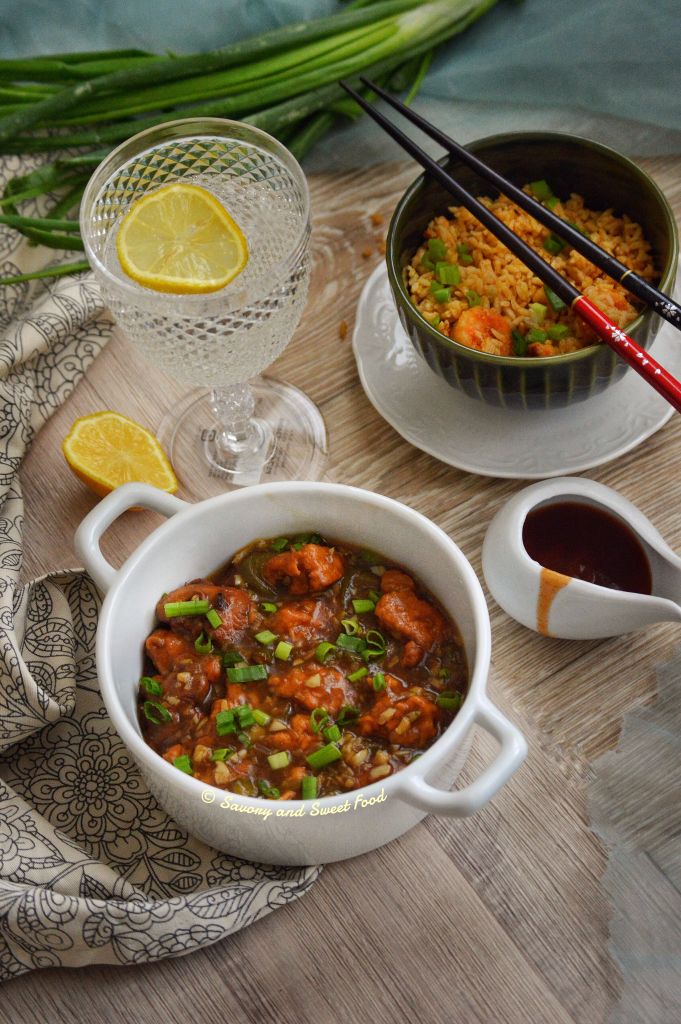 There are many variations of this dish, and I love almost all them, except for those which has tons of cornflour making the gravy a thick blob. That I really don't like. So be very careful while adding cornflour to the gravy, too much of it will spoil your dish.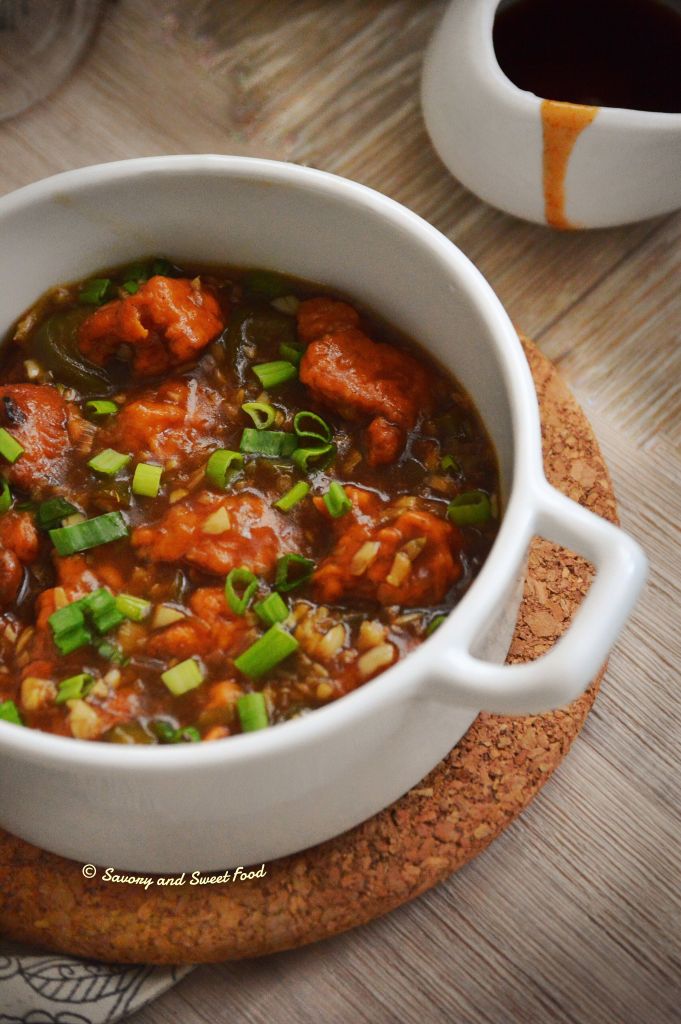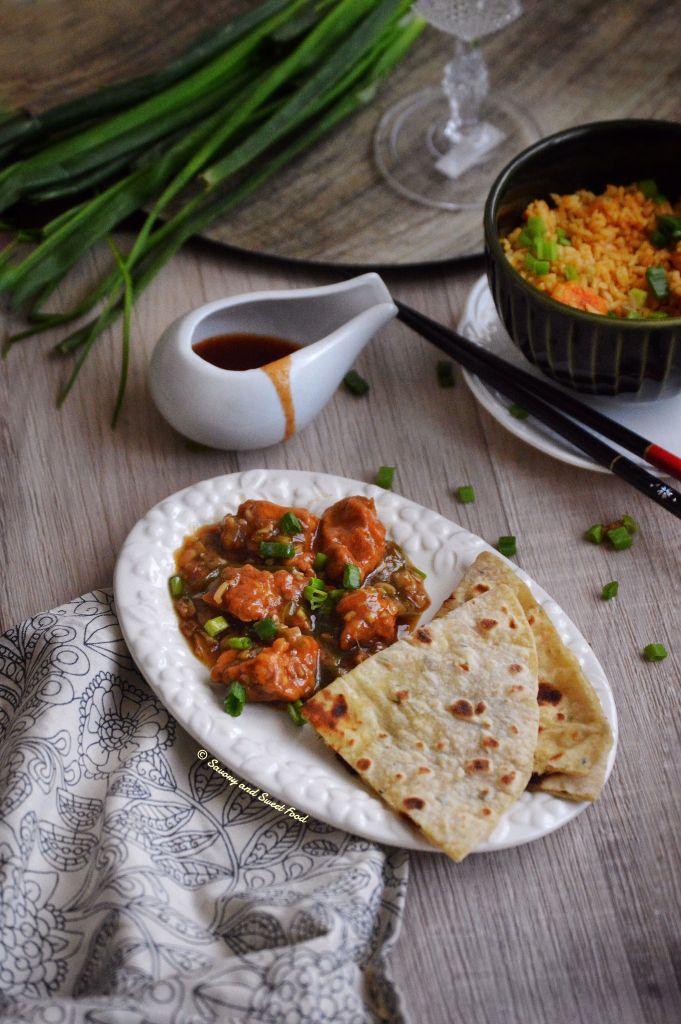 INGREDIENTS:
300 grams boneless chicken cut in cubes
For marinating:
1 tsp red chili powder
1 tsp soya sauce
1 egg
2 tbsp corn flour
2 tbsp maida
1/2 tsp gg paste
Few drops of water if the batter is very thick
Pinch of sugar
Salt to taste
oil for deep frying
For the gravy:
2 tbsp oil
15 cloves garlic chopped
2" piece ginger chopped
1/4 cup spring onion whites sliced
2-3 green chillies (if not using green chili sauce, otherwise 1 will be enough)
1/2 of 1 large green capsicum
1 1/2 cups chicken stock ( 1 cube maggi stock in 1 1/2 cup boiling water)
1 1/2 tbsp dark soya sauce
1 tbsp green chilli sauce-optional ( reduce green chilli if adding this)
1/2 tsp vinegar
a big pinch of sugar
1/2 tsp pepper powder
2 tbsp cornflour mixed in 3 tbsp water
Salt to taste
Spring onion greens for garnishing
NOTES:
If you want to have that dark color to your gravy, you have to use dark soya sauce.
Boneless chicken works best for this.
You can use maggi noodles tastemaker for this gravy instead of the maggi cube. Just mix it in 1 1/2 cups of water.
Adjust the number of green chillies added according to your preference.
DIRECTIONS:
Marinate the cut chicken pieces with the above mentioned ingredients. Keep for 30 minutes.
Deep fry till golden brown in color and till the chicken is completely cooked. This will take only 10 minutes of deep frying, 5 minutes per side. Do not overcook, or the the chicken will turn hard.
To make the gravy:
Heat oil in a saucepan. Sauté the ginger, garlic, green chillies and spring onion whites for 2-3 minutes. It doesn't have to get browned.
Add capsicum and sauté for 2 minutes.
Add the soya sauce and green chilli sauce. Mix around for a minute.
Pour in the chicken stock and vinegar.
Ad a big pinch of sugar. Check for salt and add if needed as the maggi chicken stock and soya sauce will already have salt in it.
Let this come to a boil.
Add cornflour mix to the gravy, a tsp at a time. Keep on adding till you get the desired consistency and thickness to the sauce. Boil for a minute.
Add in the fried chicken and mix. Cover the pan with the lid and let it simmer for 2 minutes. Add 1/2 tsp of pepper powder.
Remove from heat and garnish with spring onions greens.
[yumprint-recipe id='209′]