I just noticed that I have very few rice recipes in my blog. Time to change that, lets start with this delicious, better than take-out SPICY CHICKEN FRIED RICE!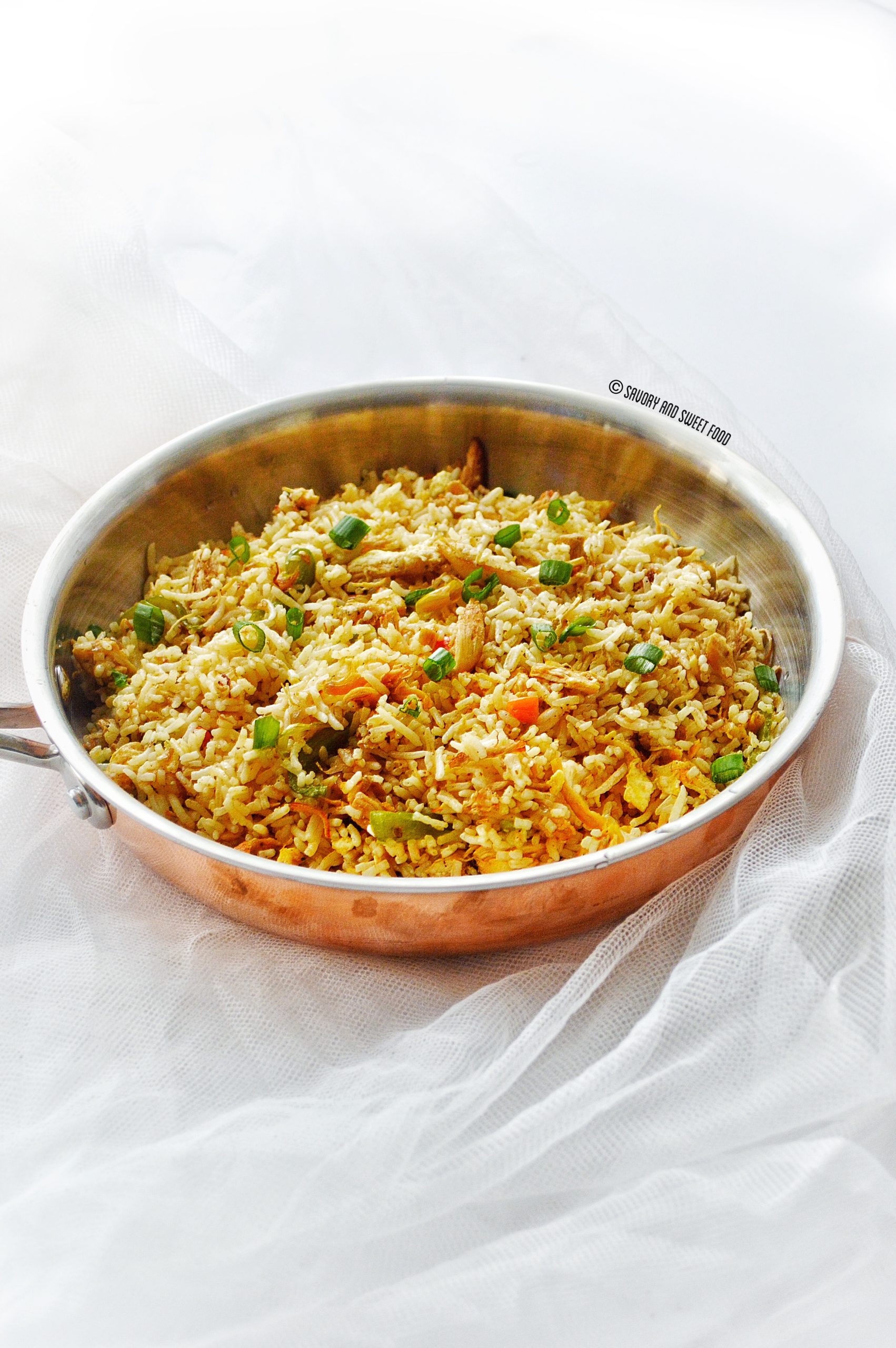 I was craving fried rice so badly, that I finally sat down and did some research on the internet. And there were soo many different types of fried rice that I got very confused which one to choose, and finally i decided to make an Indonesian fried rice, Nasi Goreng because it looked really really good.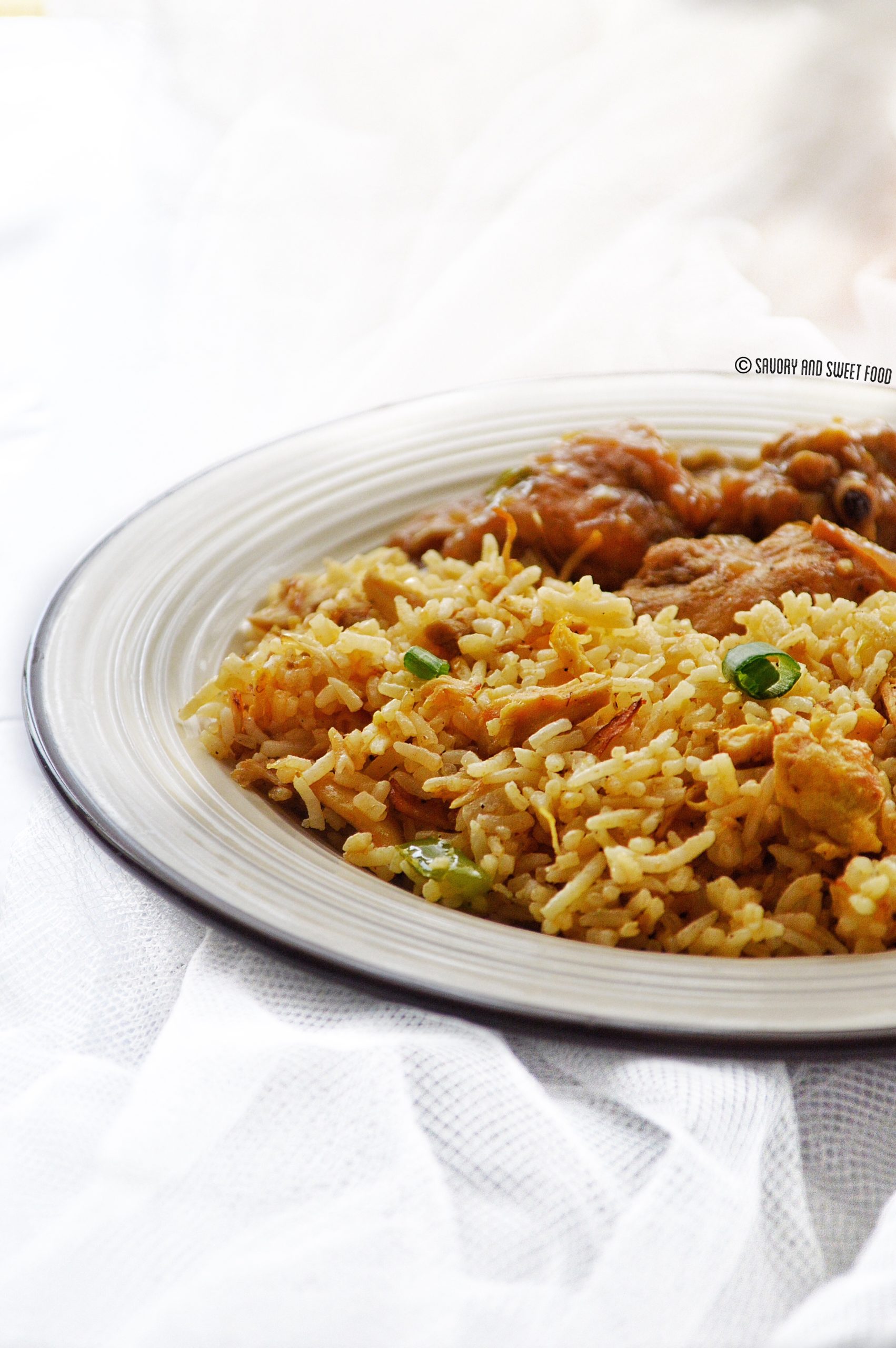 So i started with Nasi Goreng, but I altered the recipe soo much that I finally ended up with an Indo-Chinese type fried rice and I seriously nailed it. And then jumped with joy and promptly ate way too much fried rice with excitement. 😃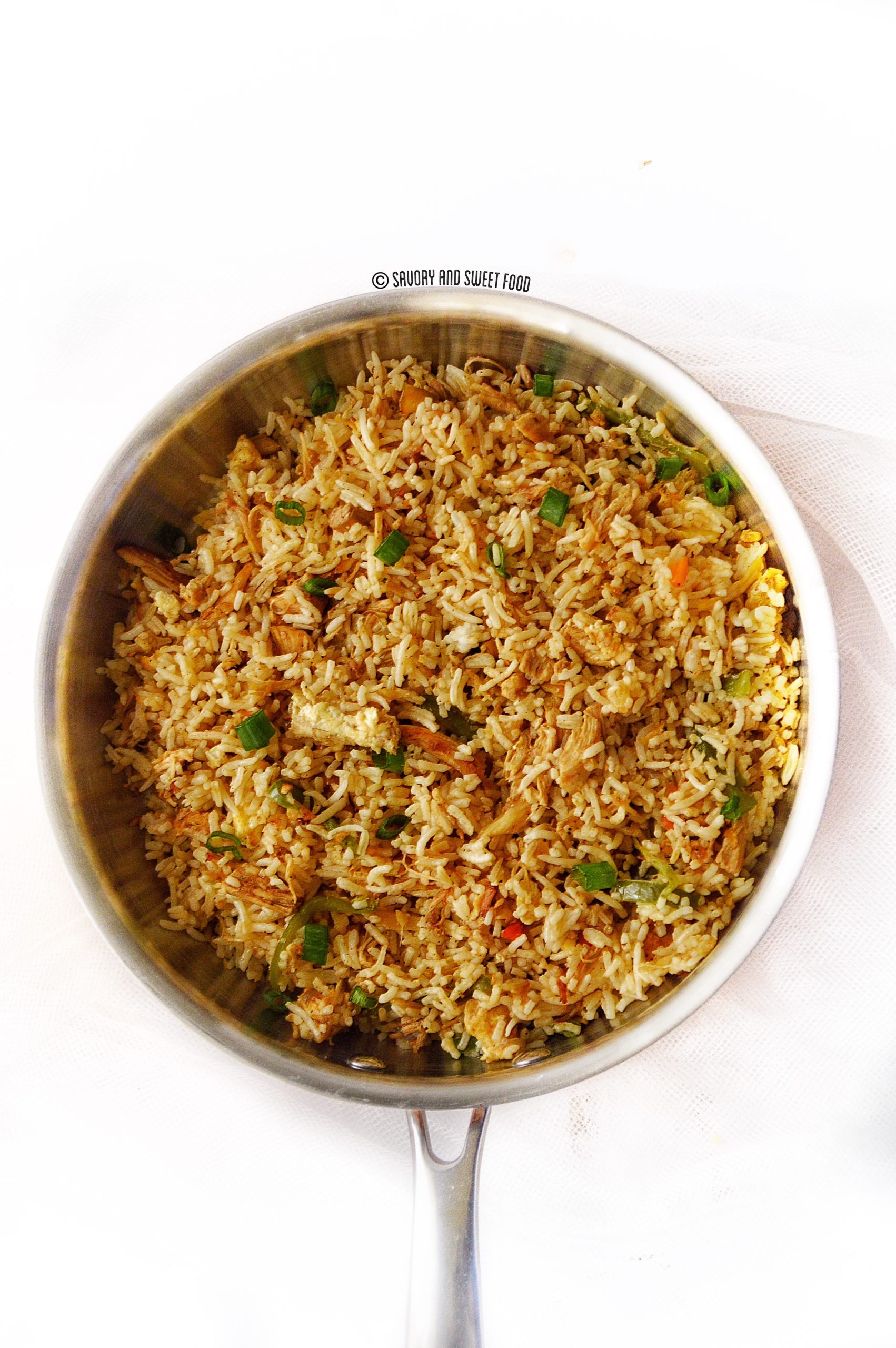 There are some things that you have to keep in mind for making great tasting fried rice.
The most important one is to use cold rice. You will get great fried rice when you use cold left over rice. When the rice is cold it gets stiff and the spices gets stuck onto the rice really well. I made the rice a day before and kept it in the fridge.
Butter is the best kind of fat to use in fried rice. Butter makes a huge difference to the fried rice.
Pour few tablespoons of chicken stock to the fried rice at the end and sauté the rice on high flame for few minutes. This gives a nice texture to the fried rice.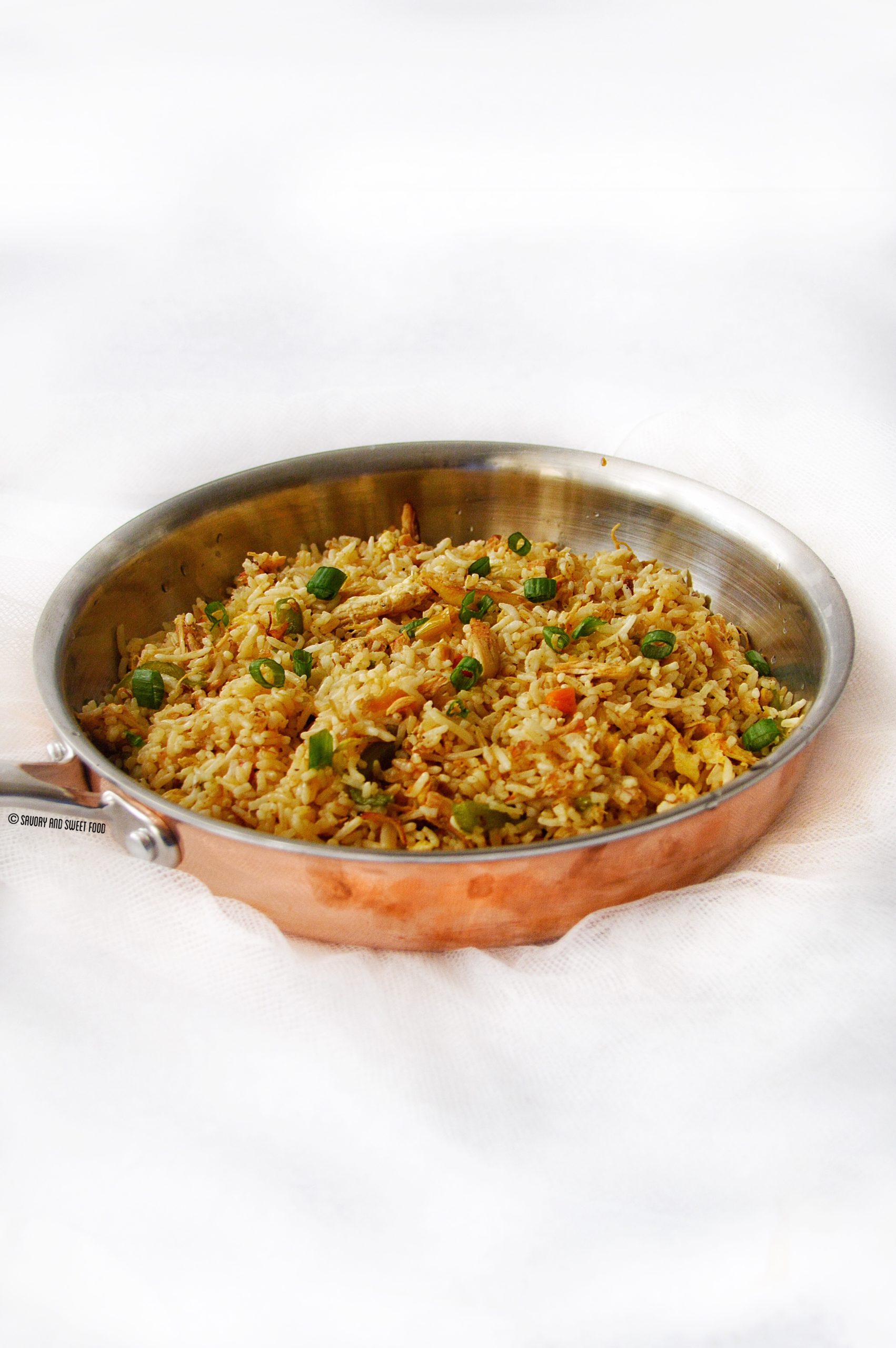 You can add any sort of veggies in your rice, I didn't add much though.
Do try out this recipe and i hope you like it. 😊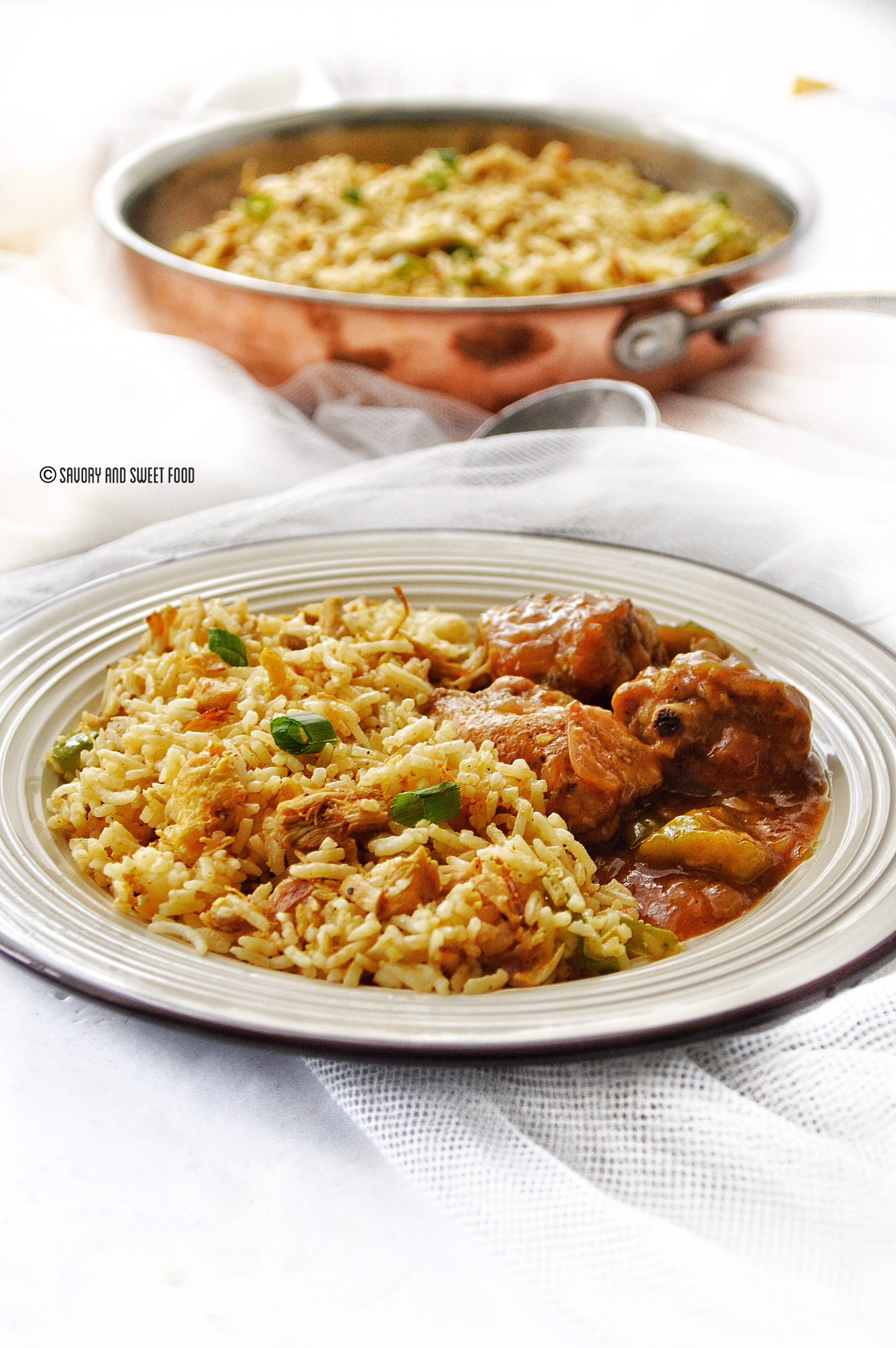 INGREDIENTS:
4 cups cooked plain basmati rice
1 medium red onion chopped
White part of 3 spiring onion
5 garlic chopped
1/2 " ginger chopped
4 red chillies chopped
1/2 of a capsicum
5 tbsp butter
1 1/2 cup cooked shredded chicken
1/4 tsp black pepper powder
1/2 tsp red chilli powder
3 tbsp soya sauce
1-2 tsp honey
1 egg lightly beaten
1/4 cup chicken stock
Salt to taste
NOTES:
✔️ I cooked the chicken with a little salt and pepper. I used the left over stock to add to the rice.
✔️ This fried rice is spicy, you can adjust the heat according to your preference.
✔️ Use cold rice. Make the rice a day ahead and keep in fridge.
✔️ You can add veggies like capsicum, carrot etc.
DIRECTIONS:
Heat 4 tbsp of butter and add in the red and white onion. Sauté for few minutes. When the onions get soft add in ginger and garlic. Sauté for 5 minutes.
Add in the red chillies. Mix for a minute.
Put in the cooked and shredded chicken.
Add pepper and red chilli powder. Fry the chicken till slightly golden, for about 2 minutes.
Add in the capsicum and sauté till slightly soft.
Move the mixture to the side of the pan and pour in the beaten egg. Scramble it. Then mix with the chicken mixture.
Pour in soya sauce and honey. Add salt.
Put in the cooked rice. Mix well.
Pour the chicken stock and sauté on high flame for few minutes. Finally add 1 tbsp of butter.
Garnish with the green part of the spring onion.
[yumprint-recipe id='144′]