A mildly flavored mixed vegetable curry with the goodness of moong seeds and richness of coconut milk.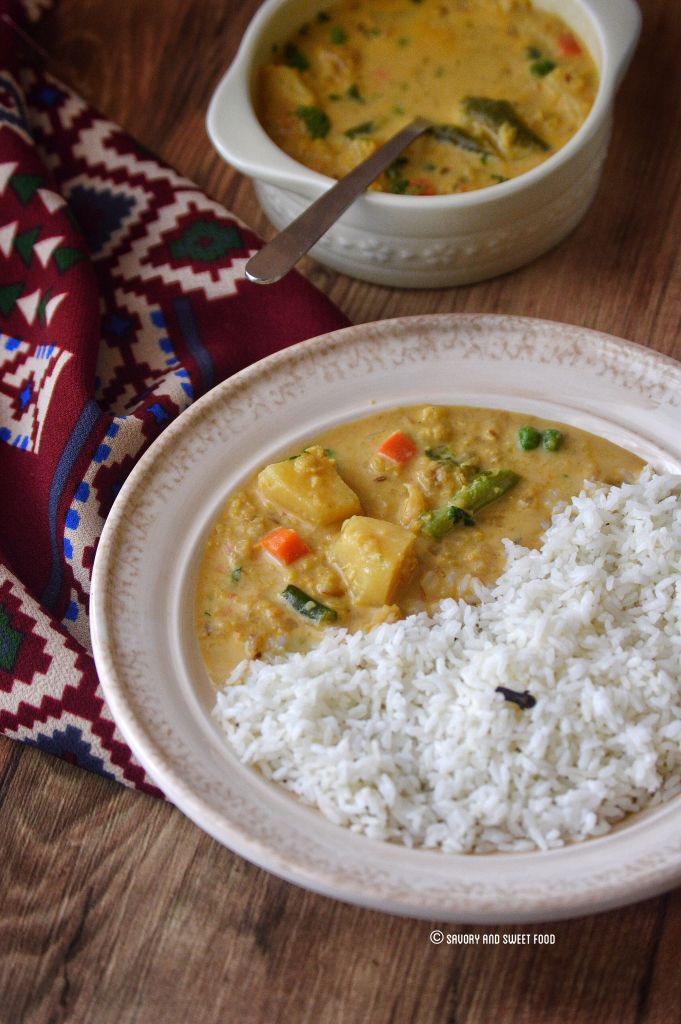 193 posts and only two vegetable curry recipe in the blog. I know, not a good thing. 😐 Since you guys have been requesting for veg recipes for so long and also because there were so many requests for it in the survey, I have decided that I will definitely start posting more such recipes. So here is the first one.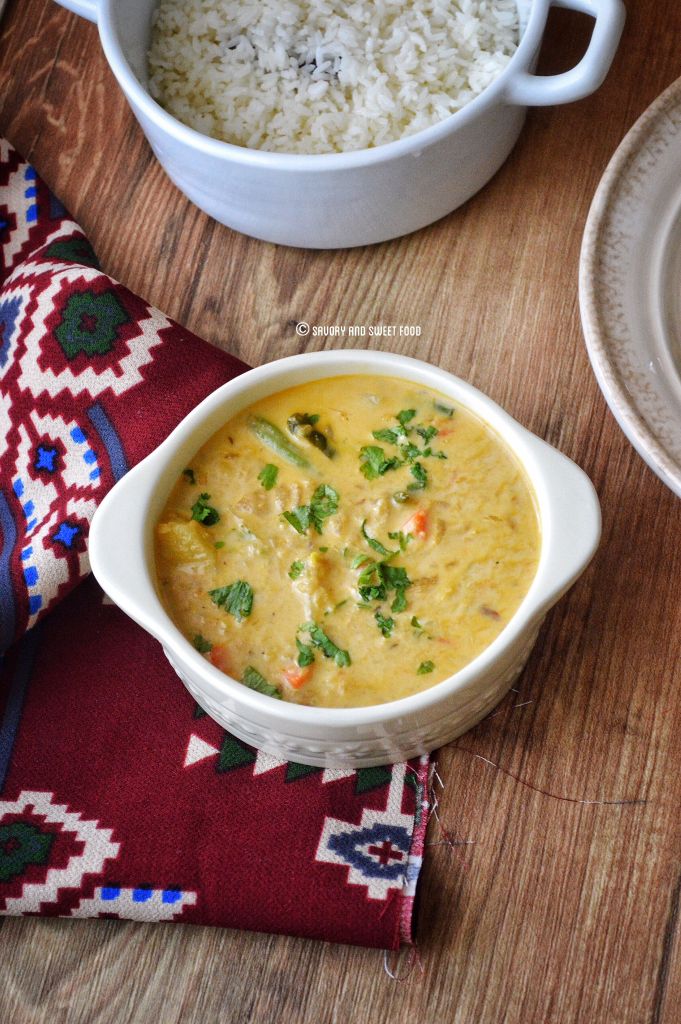 This recipe is my moms. She makes this curry quite a lot at home. It is a mildly spiced, but very flavorful curry. Very light on the stomach and it is good for you too. You can add any veggies you like, but since I had frozen vegetables in my freezer, I used that. It works well in the curry and you don't have to do the extra work of chopping the veggies. The coconut milk added at the end gives the curry a beautiful flavor.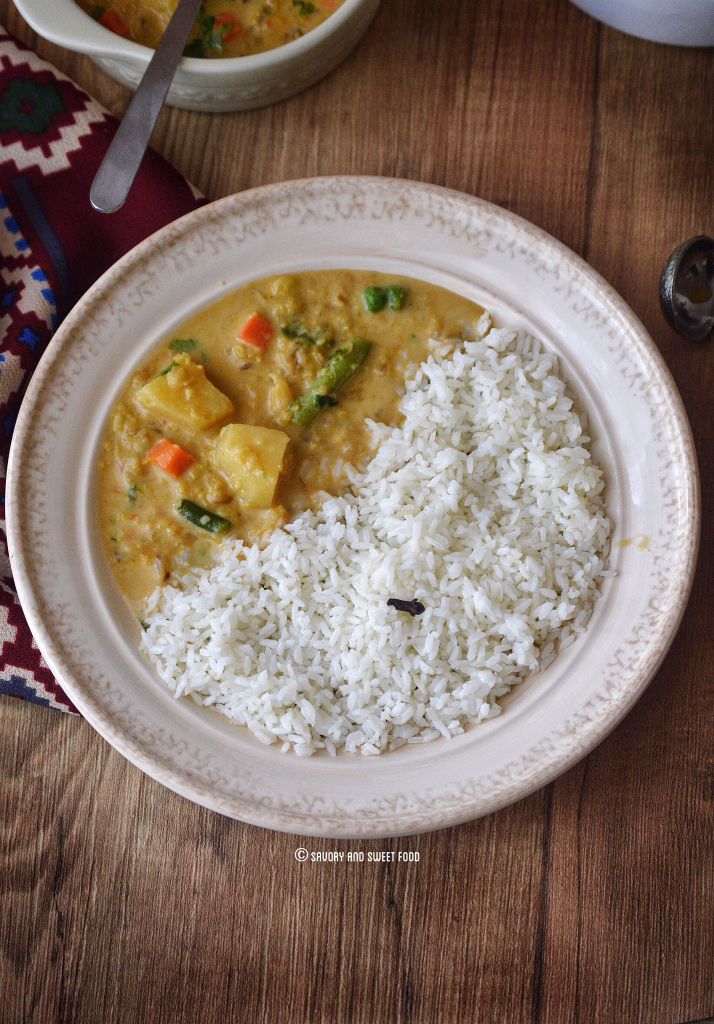 Please do give this recipe a try and hope you will give it a thumbs up. 👍🏻 So here is the recipe.
INGREDIENTS:
1 tbsp vegetable oil
1/4 tsp cumin seeds
1 medium sized onion chopped
1 tsp ginger paste
1 tsp garlic paste
1/2 tsp coriander powder
1/4 tsp garam masala powder
1/4 tsp turmeric powder
2-3 green chillies slit
1/2 of a large tomato/ 1 small tomato chopped
1/4 cup of split moong bean (yellow mung daal)
1/2 of a potato skinned and cut in cubes
1 cup water
1/4 cup of frozen vegetables/ green peas / or cut fresh vegetables like carrot, beans, cauliflower etc
1/4 cup of thick coconut milk (fresh/ prepared by mixing 3 tbsp coconut milk powder in 1/4 cup of warm water)
Salt to taste
Coriander leaves
NOTES:
The curry will be thick. If you want it to be loose, add little water.
DIRECTIONS:
In a pressure cooker, heat oil and add in cumin seeds.
Once the aroma gets released, add the onions. Sauté till translucent and soft.
Add the ginger garlic pastes. Mix well.
On low heat add coriander, garam masala, and turmeric powders. Add salt. Mix.
Add green chillies according to your preference. I used 2 hot green chillies.
Drop in the tomato. Cook till it gets soft.
Add the washed and drained daal and potatoes. If you are using fresh veggies add those at this point too.
Pour in water. Let it come to a boil. Close the cooker lid and let it cook on medium heat for 5 minutes. Switch off flame. Let the pressure get released by itself.
Once the pressure is completely released, open the cooker. If you are using frozen vegetables, add it to the curry now. Cover and cook for 5 minutes.
Pour in the coconut milk and bring it to a boil by stirring continuously to avoid the milk from separating. Once it comes to a boil switch off the flame.
Add coriander leaves.
[yumprint-recipe id='194′]