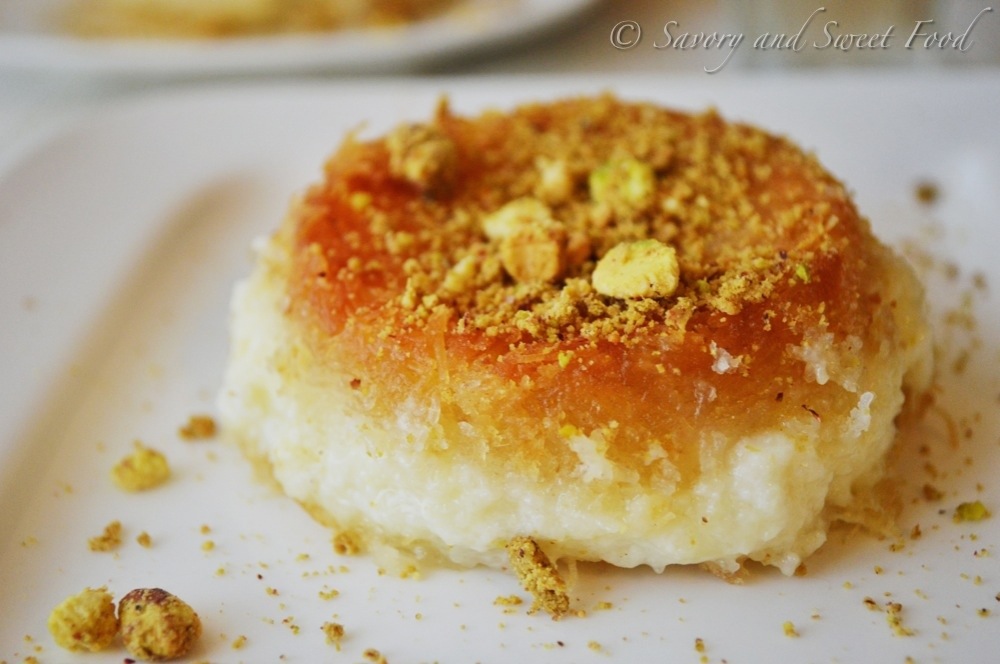 Kanafeh (You might also find it spelled knafe, kunafeh, knafah, konafah, konafeh), is a cheese pastry soaked in sweet sugar-based syrup. It consists of two layers of the shredded phyllo with a cheesy cream filling. It is traditionally served warm with a drizzle of simple syrup. Kanafeh is a speciality especially in Lebanon, Turkey, the Palestinian territories, Syria and northern Egypt. I am in love with this Lebanese dessert "Kanafeh Naame ". Naame means fine. Here the phyllo dough is shredded really fine, thats why the name.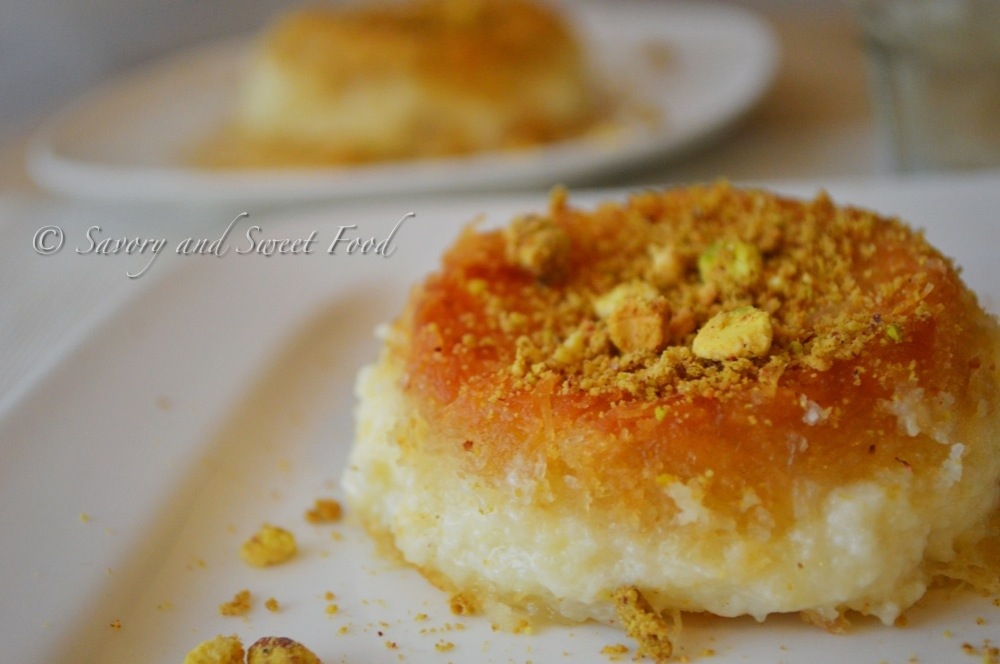 Kanafeh is the middle eastern cheesecake. It is eaten in Lebanon for breakfast as well as a dessert. Like all pastries, it does not contain eggs, it has a mozzarella cheese and semolina filling. Similar to most mediterranian dessert, this one is also not very sweet by itself. It is sweetened by pouring sugar syrup on it after it comes out from the oven, piping hot.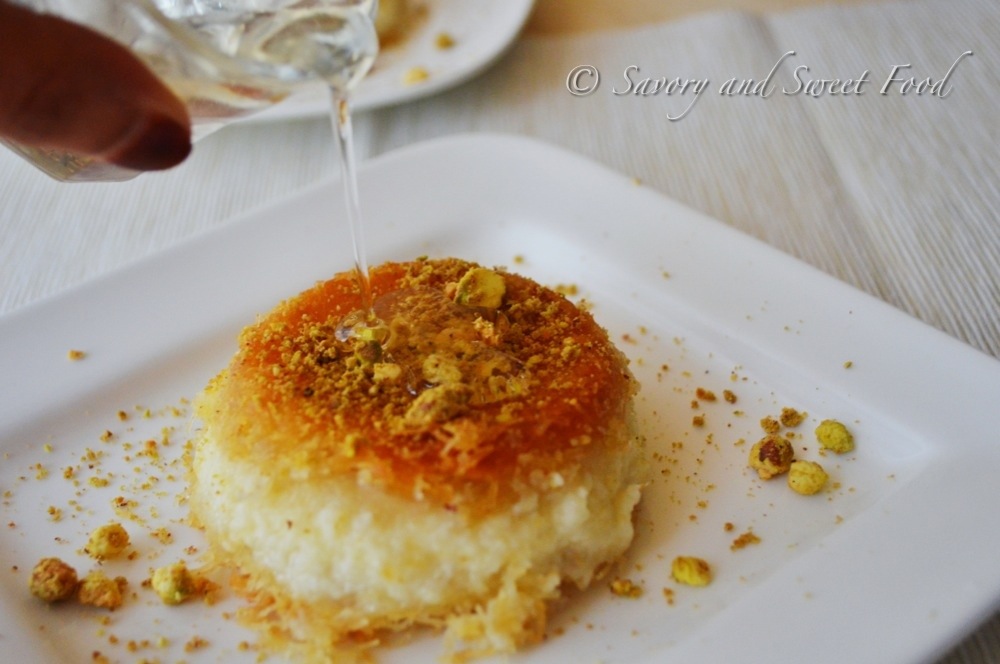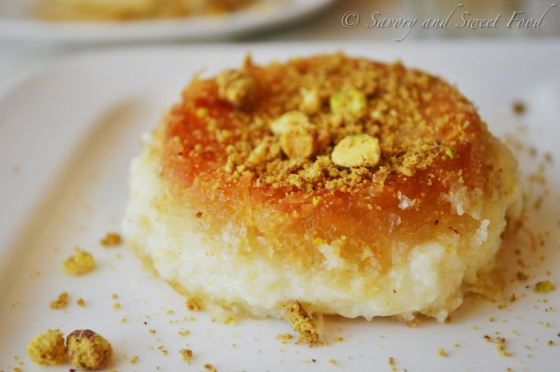 Kanafeh Naame
Ingredients
INGREDIENTS
3

cups

shredded phyllo dough

available in the market

1

cup

plain bread crumbs

1/2

cup

simple syrup

1

cup

clarified butter or ghee

2

cups

fresh mozzarella or akawi cheese

2

cups

milk

1/3

cup

semolina

Syrup

2

cups

sugar

1

cup

water

juice of 1/2 of a lemon

1

tbs

orange blossom water

1

tbs

rose water
Instructions
DIRECTIONS
Preheat the oven to 400 degrees.

Soak the mozzarella in a bowl of water for about 5-6 hours, changing the water every half an hour.

In a food processor, add the phyllo dough and process until very fine into small grain size pieces or cut into small pieces with scissors. Add this into a bowl.

Add bread crumbs, butter and syrup and combine well.

Press half of the dough into the bottom of a 10 inch buttered pan and press down very well.

Remove cheese from bowl and tap dry with a paper towel. Put mozzarella in food processor and blend until the cheese if very fine, or just roughly break it into small pieces with hand. Add this into a bowl.

In a small pot heat milk and then add semolina, cook for about 2 minutes while stirring. Pour the hot milk over the cheese and combine well.

Pour cheese mixture over dough and add the rest of the dough on top.

Place in the oven, cook for about 40 minutes or until crust is golden brown.

Remove from oven and let cool for 10 minutes before flipping it over onto a nice plate.

Decorate with ground pistachio and serve warm with simple syrup.
Syrup
Combine sugar, water and lemon juice in a pot and let simmer over medium heat for 10 minutes then add the rose water and orange blossom water and simmer for another 2-3 minutes.

Remove from heat and let cool completely before serving. Store in a tight jar in the refrigerator for up to 2 months.
Notes
✔ I made this in small individual ramekins.
✔ This dessert is best served warm.