Chocolate cake made with Zucchini/ Koosa and topped with a creamy milk chocolate ganache. Never did I think that I will like a cake with Zucchini, but it is moist, tasty and plain delicious.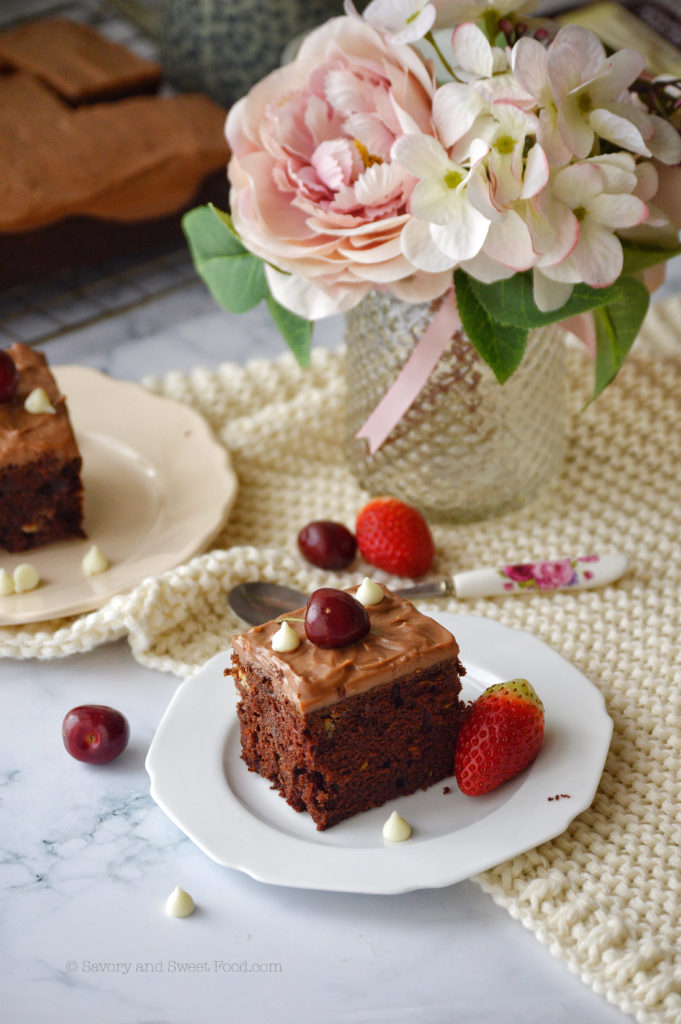 I really loved this cake mainly because nobody can guess that there is a vegetable in the cake. This is a perfect recipe to sneak in veggies if you have a picky eater who is scared of greens like my little boy. And because there is vegetable in it, it is healthy right?! 😉 Well, almost.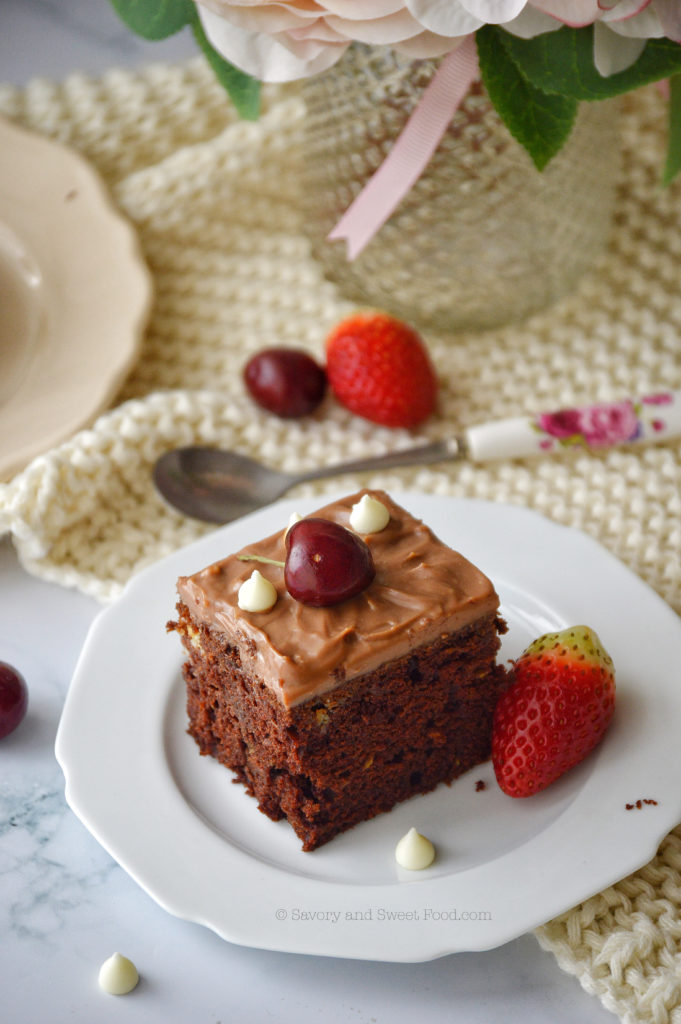 It really is very simple to make this cake. You wouldn't need any mixer for this. All you need is a whisk and a bowl. If you are skeptical about using zucchini in your cake, please don't be. Zucchini does wonders in baked goods. Zucchini is the secret ingredient that makes the cake so moist and yummy. You will never know that there is a vegetable in the cake, I swear.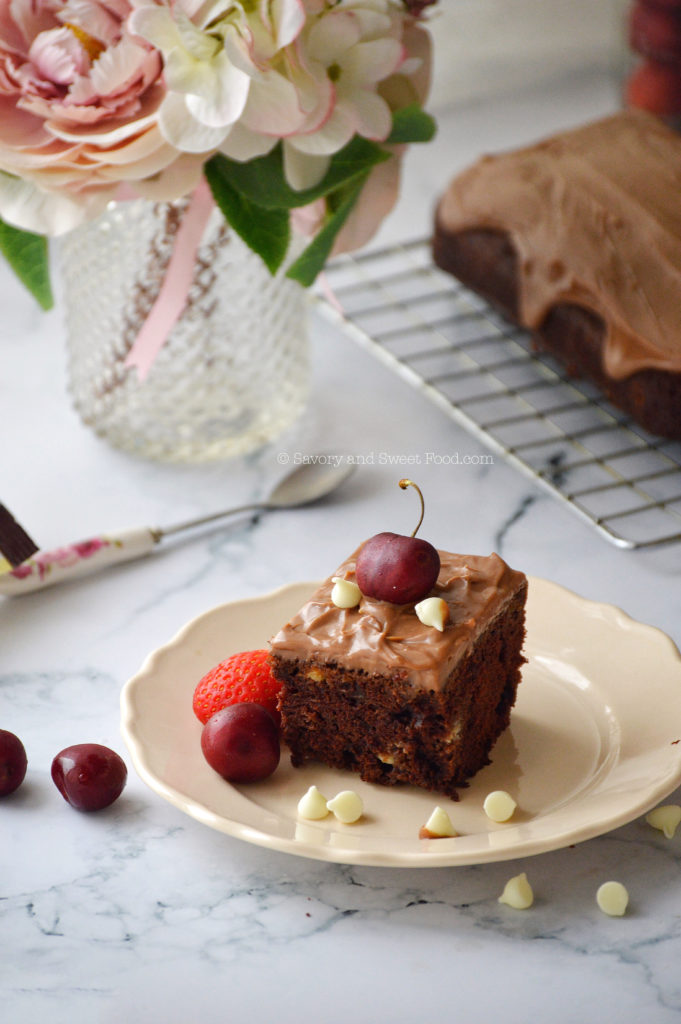 Hope you all will try out this divine cake. Trust me, you won't be disappointed.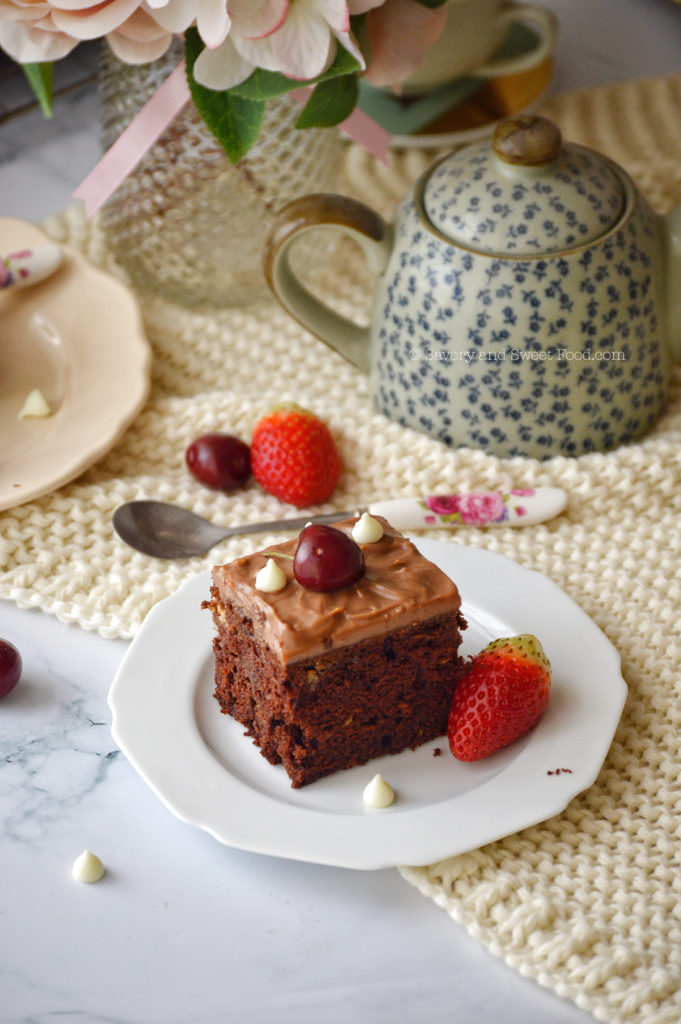 INGREDIENTS:
For the Chocolate Zucchini Cake:
2 cups all purpose flour
1/2 cup cocoa powder sifted (You can add 1 cup if you like a richer chocolate flavor)
2 tsp baking soda
1/4 tsp salt
1 1/2 cups brown sugar
3/4 cup vegetable oil
57g/ 1/4 cup melted unsalted butter cooled to room temperature
1/4 cup buttermilk at room temperature
3 large eggs at room temperature
1 1/2 tsp vanilla essence
2 cups shredded zucchini/koosa (you don't have to peel it)
1 cup chocolate chips
For the Chocolate Ganache:
2 tins nestle cream
1 tbsp butter
140g milk chocolate
DIRECTIONS:
To make chocolate cake:
Preheat oven to 180 C. Grease 9 by 13 inch pan with butter and flour and set aside.
In a bowl, combine flour, cocoa powder, baking soda and salt. Whisk together.
In another large bowl, mix sugar, oil, butter, buttermilk, eggs and vanilla. Whisk until combined.
Gently fold in dry ingredients. Do not over mix.
Gently squeeze out excess moisture from the zucchini. (there should be little moisture in the zucchini but not full of liquid, if you squeeze out all of the liquid, the cake will turn out dry)
Add chocolate chips and stir until just combined.
Pour the cake batter in the pan and smooth out with a spatula. Bake for 25-30 minutes or until a toothpick inserted in the center comes out clean.
Let the cake cool. While the cake is baking make the ganache.
Once the cake is completely cooled and the ganache is thickened, pour it over the cake.
To make the ganache:
In a pan add the nestle cream and butter. Heat it on medium high heat.
Once it reached boiling point, turn off the heat and add the chopped chocolate. Immerse it into the cream.
Cover with lid and let it sit for 3 minutes. Stir it till the chocolate is completely melted.
Refrigerate it till ready to use.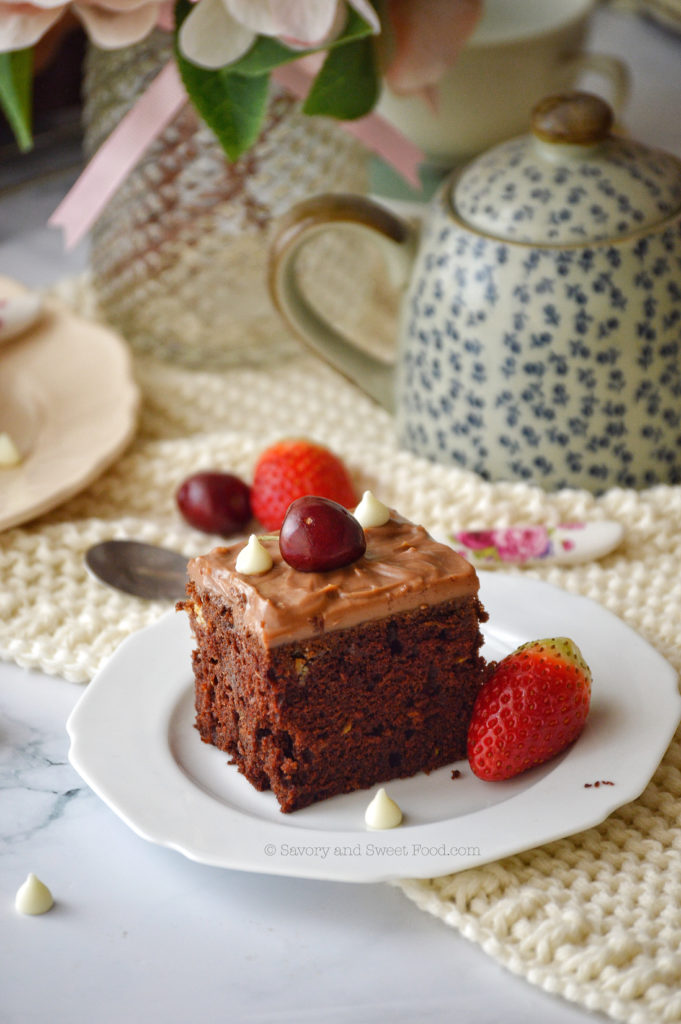 Recipe adapted from two peas & their pod