A creamy, spiced Chicken Korma, consisting of chicken braised with yoghurt and spices to give a thick gravy full of flavors.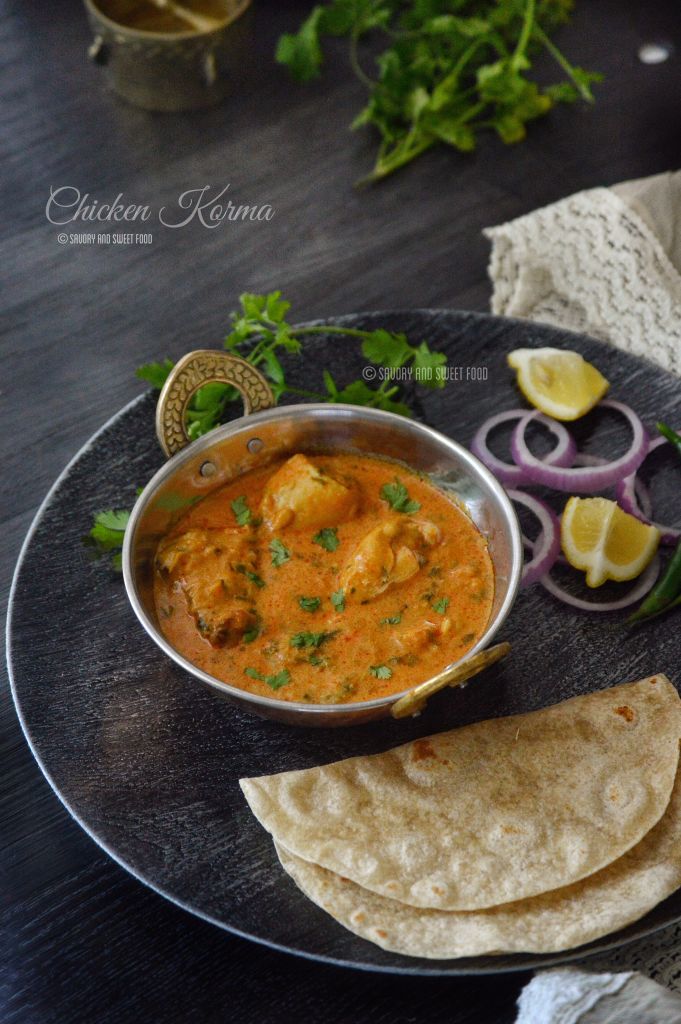 This is my first entry to the Muslim Food Bloggers Challenge. This is the fourth event my dear friend
Rafeeda
is conducting. I missed all the previous challenges and I feel pretty bad about it too. But I am super duper excited to be a part this time and I simply loved the theme, which is "
Cooking from the Scrapbook
".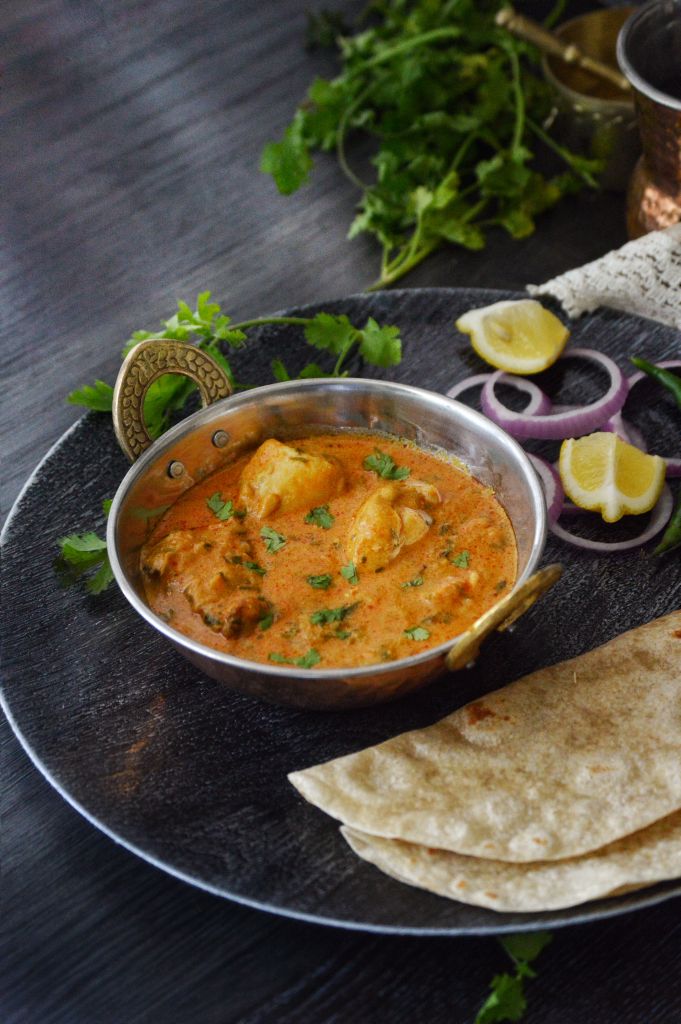 I found this theme interesting because I have a lot of handmade cookery books, a total of 5 books to be exact. Even before I started cooking, I used to arrange all my moms and sisters recipe cut-outs. This was when I was in the 7th or 8th grade. I used to neatly cut them and paste it onto long pretty books. They used to collect recipes from newspapers, the weekly magazines which used to come with the newspapers, from this malayalam magazine named Vanitha (I have a lot of Vanitha cut outs, which are all my moms collections, which is mine now :D) and the scribbles from the cookery shows they see on TV.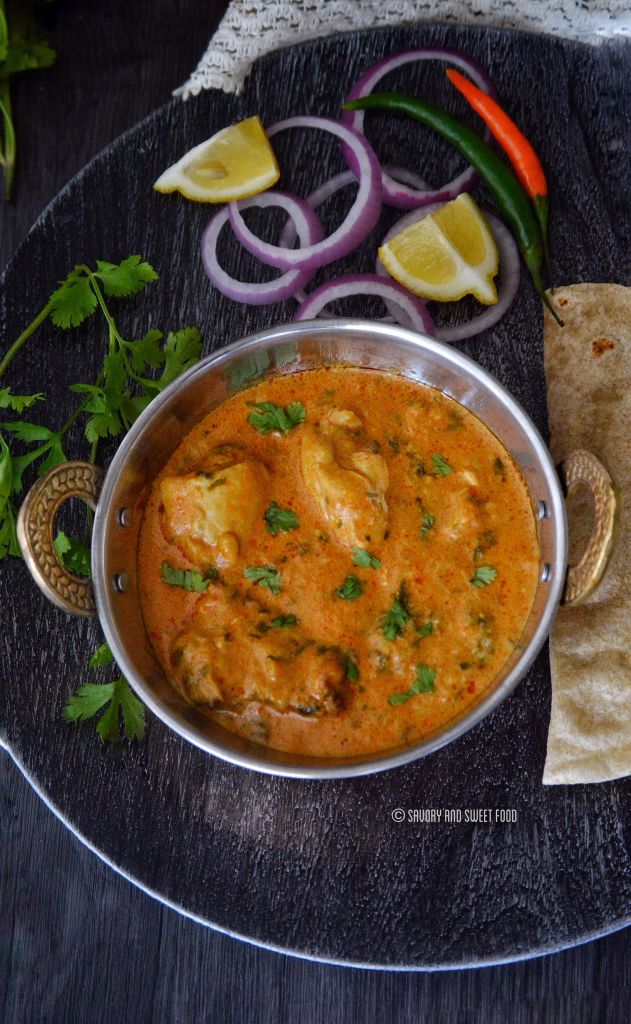 Then later on when I started with my kitchen adventures, I used to save recipes from the internet, print them and God knows why I did this…but I used to sit and write down the recipes again onto my recipe book neatly with nicely drawn designs and stuff on the sides. hahaha! Such a waste of time, but who cares…I enjoyed doing it. Btw I still write down some recipes which randomly comes in my mind nowadays. And yes, those will have designs and patterns too all around the page, I love to bring out the crafty side of me in my cookery books and make my book look all pretty. 🙂
 Todays recipe of Chicken Korma is from the year 2000 issue of Vanitha Magazine. This turned out to be awesome curry. The photos doesn't do much justice to the curry actually. I didn't like it at all, it turned out really bad as I couldn't get good light yesterday. It was gloomy and foggy outside. But I am anyway posting with these pictures as I didn't want to miss the challenge again. In shaa Allah I will try to retake the picture of this curry and update this post.
INGREDIENTS:
500g Chicken
4 tbsp oil
2 cloves
1 inch stick cinnamon
2 cardamom
1 medium large onion chopped (1/2 cup)
1 tsp crushed ginger
7-8 cloves of garlic crushed
4 green chillies, slit
2 tsp coriander powder
1 tsp red chilli powder
1/4 cup yoghurt
1 tbsp lemon juice
3 tbsp coriander leaves
1/2 cup milk
1 tsp all purpose flour
salt to taste
NOTES:
The gravy thicken as it sits, at the time of serving you can add 2-3 tbsps of water.
DIRECTIONS:
In a small bowl mix together red chili powder and coriander powder with 2-3 tbsp water and keep aside.
Heat oil in a pan, add the whole garam masalas.
Add in the onions and sauté till it turns very soft and translucent.
Add the ginger, garlic and green chillies. Mix till the raw smell disappears.
Put the prepared spices paste and mix well for 2-3 minutes.
Add in the chicken along with the yoghurt and salt. Pour in half a cup of water and cook the chicken on medium low heat till it is 3/4th done.
Open the lid and add lemon juice and coriander leaves.
In a bowl mix together flour and milk. Keep aside.
Let the chicken get cooked completely. Once the gravy gets reduced to half, add in the flour and milk mix. Bring the gravy to a boil and let it thicken. Remove from flame and serve.
[yumprint-recipe id='226′]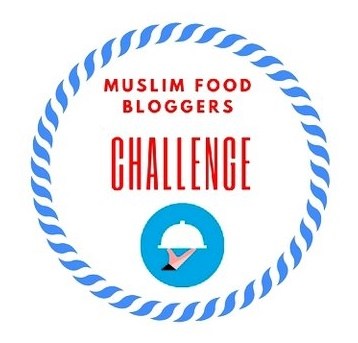 [inlinkz_linkup id=696954 mode=1]