This really is a do nothing cake because this is too easy. All you have to do is mix up all the ingredients with a spoon and bake. Then pour a rich buttery sauce over the hot cake. No beating, or sifting needed and it tastes and looks so good as if you have spent hours making this cake.
Isn't the name of the cake very catchy? We all love recipes where we don't have to do much right? The easy peasy ones. I was so fascinated by this recipe when I saw this on Pinterest in a website named Flavorite, few years back. Yes that long back. But I was hesitant to try this one out because it had pineapples in it. I don't like that fruit at all for some reason, unless you put some chopped green chillies, sugar, lemon juice, salt and coriander leaves on top of it. 😀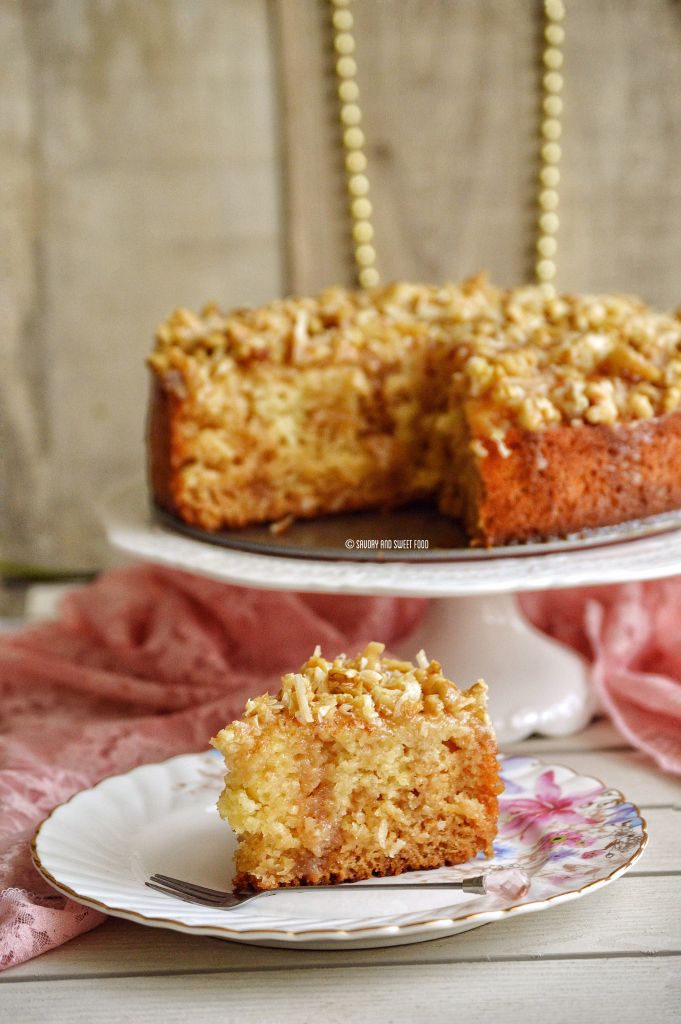 Then my cake specialist sister, Sabeena told me that she tried this and it tasted awesome. If my darling sister said its good, it has to be REALLY good. So I didn't have to think twice and I made this. And seriously, it turned out to be one of the moistest cake I made ever. I think its because of the pineapples. The best part being, the cake didn't have the taste of pineapples at all.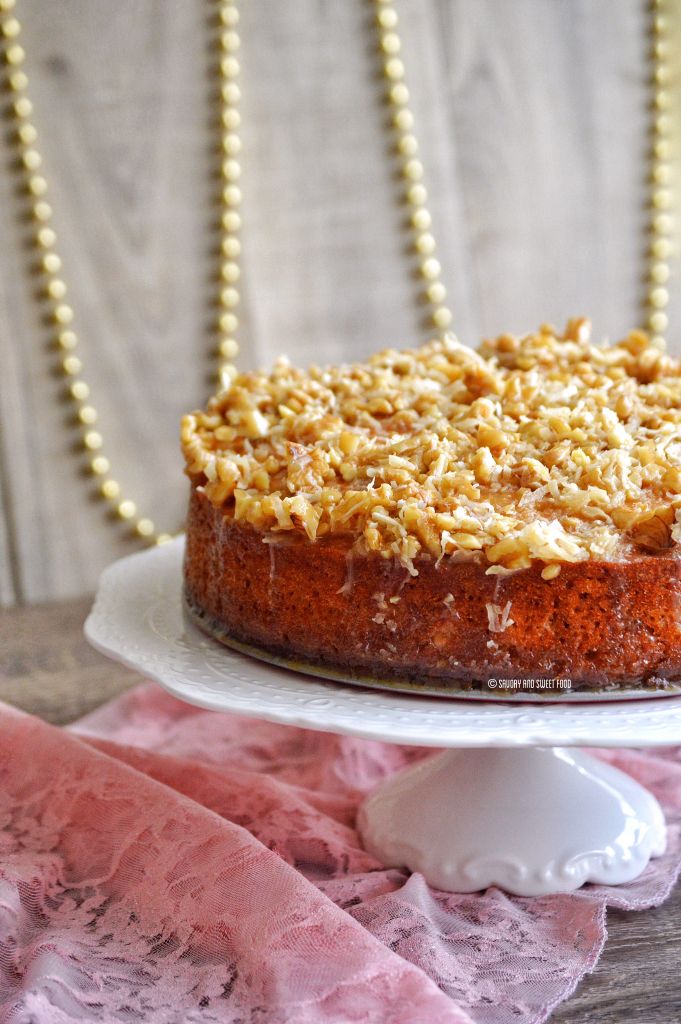 The icing which is poured on top of the cake makes the cake even more moist. The walnuts and the coconut and the butter…all of these characters plays their role really well in the icing. 🙂 Ok, one thing I will have to tell you is that this cake is not dry and crumbly, its more of a sticky and super moist cake. Please do try it. Im sure you will like it. 🙂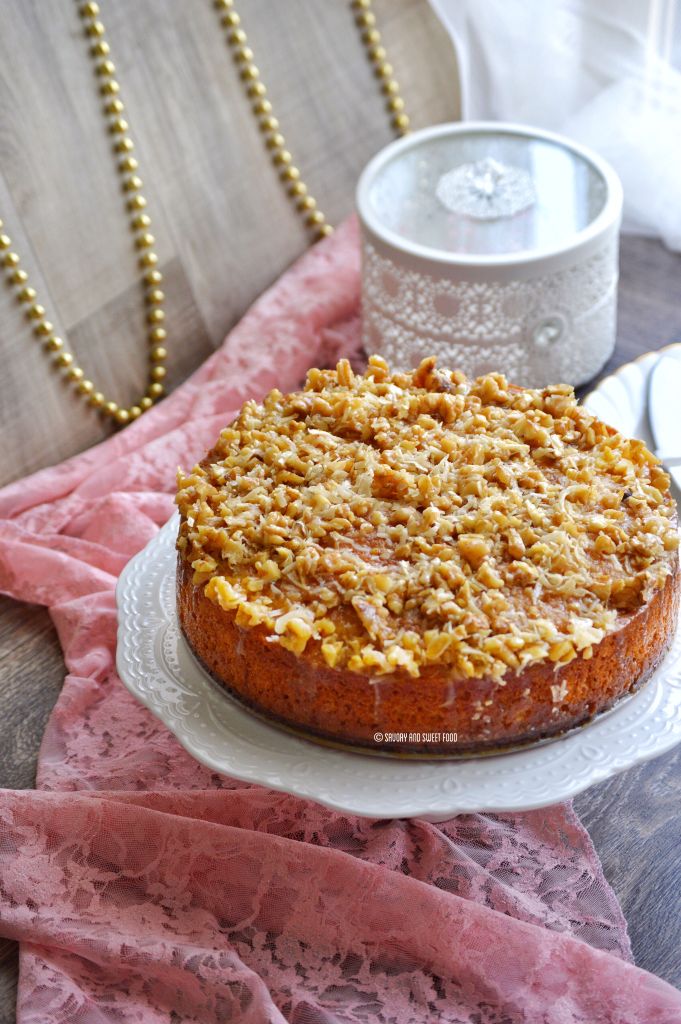 INGREDIENTS:
For the cake:
1 cup sugar
1 cup all purpose flour
1 large egg
1/2 tsp baking soda
1/2 tsp vanilla essence
225 grams crushed pineapple, undrained (you have to use the water in the can, do not discard it)
For the icing:
1/2 cup unsalted butter
1/2 cup sugar
3/4 cup evaporated milk
1/4 – 1/2 cup coconut
3/4 cup walnuts roughly chopped into medium sized pieces
1/2 tsp vanilla essence
NOTES:
I used sweetened coconut fo this. But you can use regular coconut too.
Make sure that you use the juice in the pineapple can too, do not discard it.
Do not use fresh pineapple. You have to use the canned one with the liquid in it. Only then you will get a moist cake.
In the actual recipe, the measurement of ingredients for the cake is double the amount of what is mentioned here. I had made it with that way. But I preferred a thinner cake which is why I have halved the recipe for cake here. If you want to make with double the amount use a 9 by 13 inch baking tray and not a 9 inch round tray or else the cake would be a little too thick and the icing wouldn't penetrate well. In that case the measurement for the icing will be different too.
I used sweetened coconut for this. But you can use regular coconut too.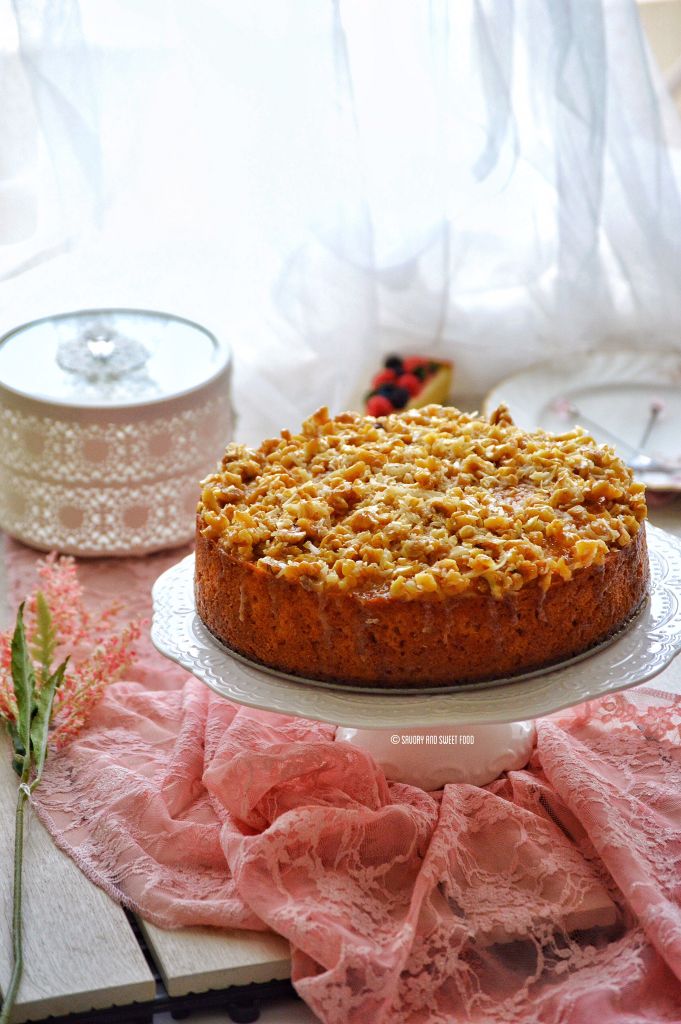 DIRECTIONS:
To make the cake:
If you gets ready crushed pineapple use it just like that. If you got diced pineapples, drain it and then process it well in a food processor. Reserve the liquid for use in the cake batter.
Combine all the ingredients for the cake in a bowl. Mix well till it is blended with a spoon or a whisk. (Don't forget to add the water in the pineapple can too)
Pour into a well greased 6 or 8 inch baking pan.
Bake at 350°F for 35-40 minutes till a toothpick inserted comes out clean. Start checking from 30 minutes onwards.
To make the icing:
Mix together butter, sugar, and evaporated milk together and cook over medium heat until thickened. ( For about 5 minutes)
Remove from heat and add in the remaining ingredients.
Poke holes with a tooth pick all over the cake.
Pour the icing over hot cake.
[yumprint-recipe id='187′]