A curry flavoured creamy chicken filling stuffed inside crispy bread pockets.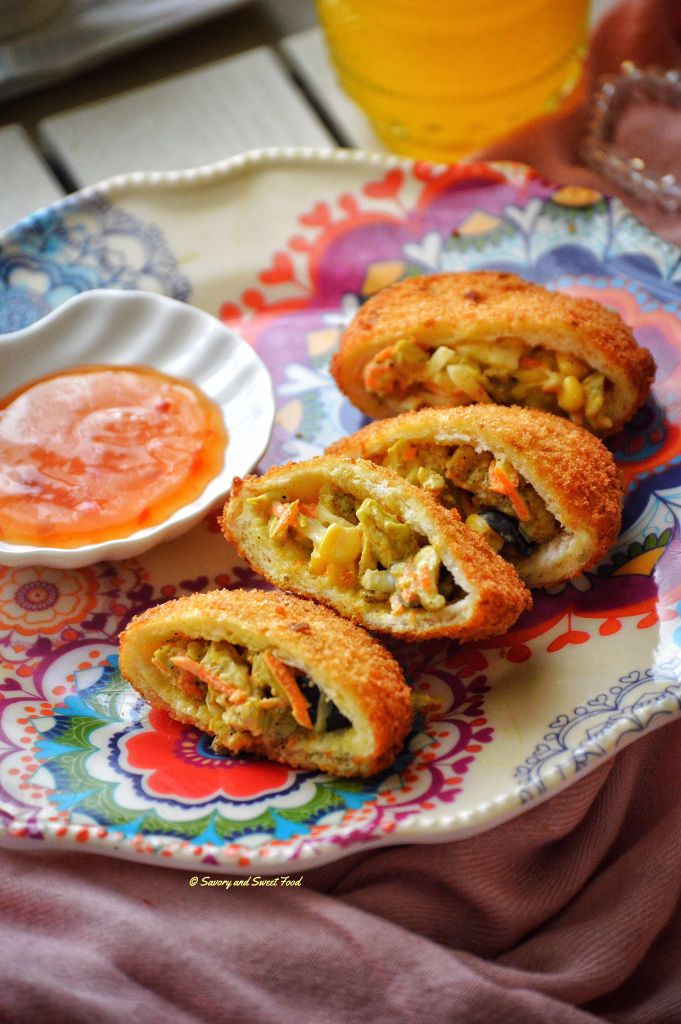 Ramadan is coming to an end and so is my Ramadan series. This is going to be my last post for Ramadan this year. Had a great time posting different recipes of appetizers and thank you sooo much guys for the huge response you all gave. It really means a lot.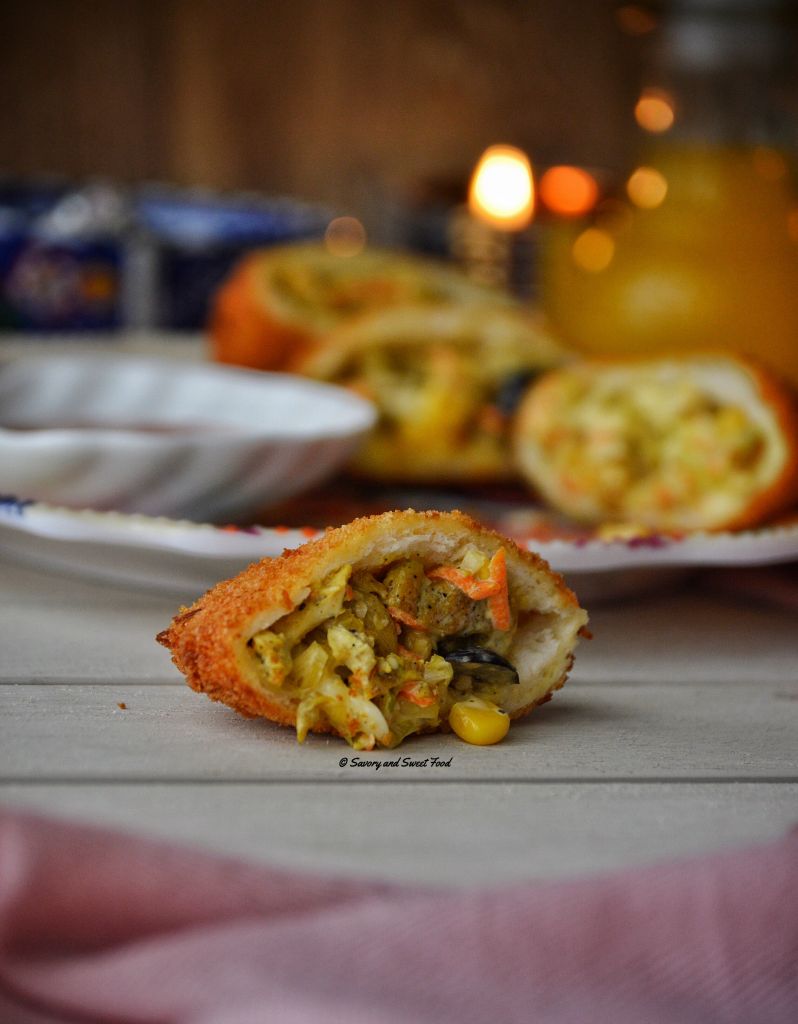 I am closing this series with curry chicken bread pockets. This is a very easy, no-fail recipe. I am sure many of you have made this one a million times already, but I made it for the first time recently and it was awesome.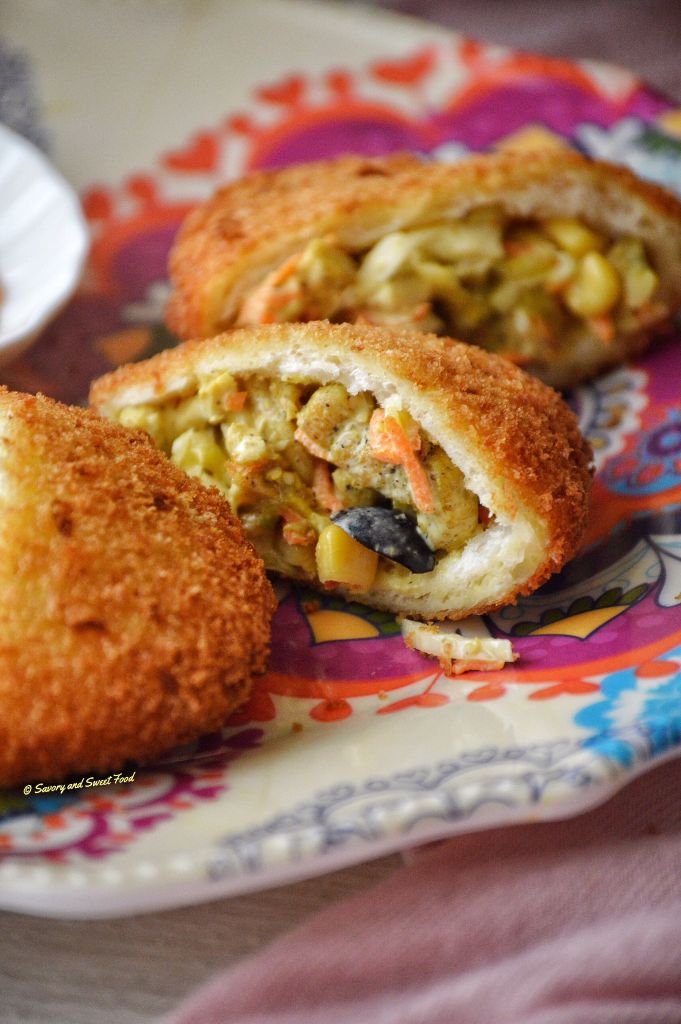 Ramadan has reached its grand finale and these last ten days of Ramadan are even more blessed than the other days. In it is a night (Lailatul Qadr) that Quran tells us is better than a thousand months (yes, you read it right months, not days) The blessed Laylatul Qadr can be found in any of the last 10 nights of Ramadan, which are the most blessed nights of the year. We should increase our worship and devotion during this period.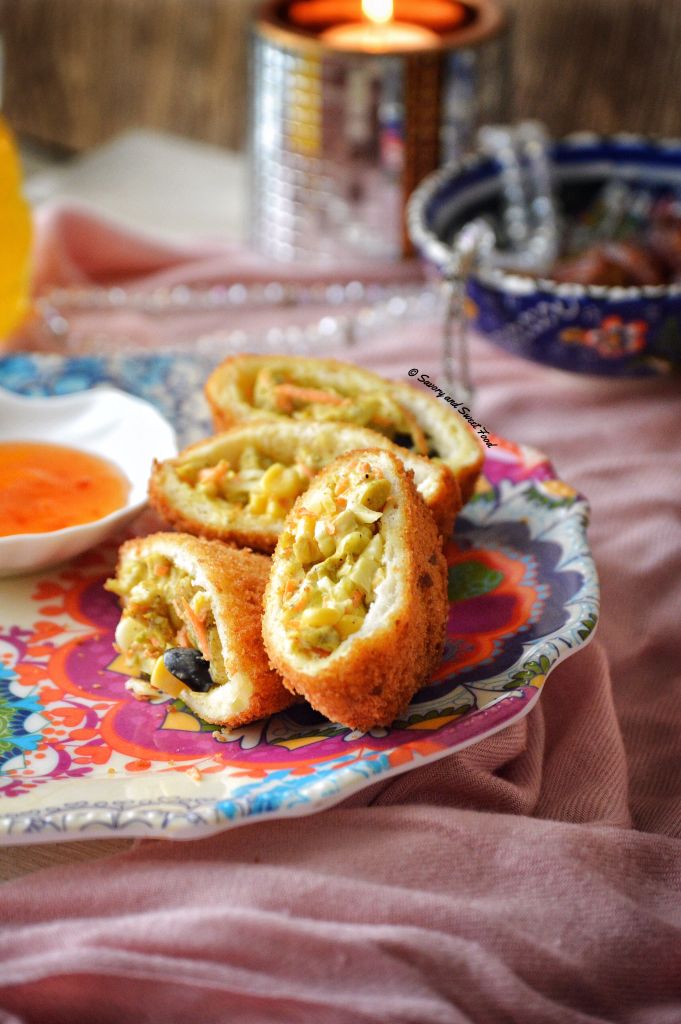 The Messenger of Allah (peace and blessings of Allah be upon him) said:
There has come to you Ramadan, a blessed month which Allah has enjoined you to fast, during which the gates of heaven are opened and the gates of Hell are closed, and the rebellious devils are chained up. In it there is a night which is better than a thousand months, and whoever is deprived of its goodness is indeed deprived." Narrated by al-Nasa'i, 2106; Ahmad, 8769. classed as saheeh by al-Albani in Saheeh al-Targheeb, 999.
Allah (SWT) says in the Qur'an: The Night of Decree is better than a thousand months. The angels and the Spirit descend therein by permission of their Lord for every matter. Peace it is until the emergence of dawn. [
Qur'an: 97:3-5
]
The Prophet Muhamed (PBUH) also said: "Whoever stands (in the voluntary night prayer of) Ramadan out of faith and in the hope of reward, his previous sins will be forgiven. And whoever spends the night of Lailatul-Qadr in prayer out of faith and in the hope of reward, his previous sins will be forgiven."
Such immense rewards are to be gained during these blessed 10 nights. How can we afford to miss out on them. Hope we can utilize this time maximum to multiply our good deeds.
INGREDIENTS:
250 grams boneless chicken breasts
3/4 tsp pepper powder

1/2 tsp curry powder
1/4 tsp turmeric powder
Salt to taste
1/4 cup sliced cabbage

1/4 cup grated carrot
1/4 cup sliced lettuce
Few black olives sliced
1/4 cup sweet corn
1/4 cup mayonnaise
2 tbsp milk/ buttermilk
2 tsp sugar
1 tsp vinegar
salt to taste (not much needed)
8 slices bread
bread crumbs
2 eggs beaten
Once you assemble the filling inside bread, serve it immediately or else the bread will get soggy.
Cut the chicken breast in thin strips. Add all the ingredients for marination into this. Shallow fry till cooked.
After frying, cut the chicken into smaller pieces.
Add in all the veggies into this.
In a bowl mix together mayonnaise, milk, sugar and vinegar and salt.
Add this sauce into the chicken and veggies. Mix well.
Refrigerate for 1 hour
Keep two slices of bread together. Cut it with a round cutter. Press the edges of the bread really well.
Dip in egg. Then cover it with breadcrumbs.
Deep fry till golden in color.
Cut the bread disc in half and you will get a pocket.
Fill with the chicken filling and serve immediately.
[yumprint-recipe id='183′]