This is my second guest post and this time it is for my blogger friend, Dhanya who is the owner of the amazing blog the spice adventuress. To start off, lemme me thank Dhanya for the request of the guest post in her space. It's definitely an honor which I couldn't turn down because I value my friendship with fellow foodies. I am so excited to write this post for her wonderful blog. When you visit her blog, you can find an amazing variety of scrumptious dishes, explained in a very easy manner.
Dhanya, the talent behind this blog is a scientist by education, a freelance scientific writer, content manager for a parenting website, recipe developer and yes, of course, a food blogger. 🙂 It was a few months back that i discovered Dhanya's blog through a forum in Facebook. And i am so glad that i did.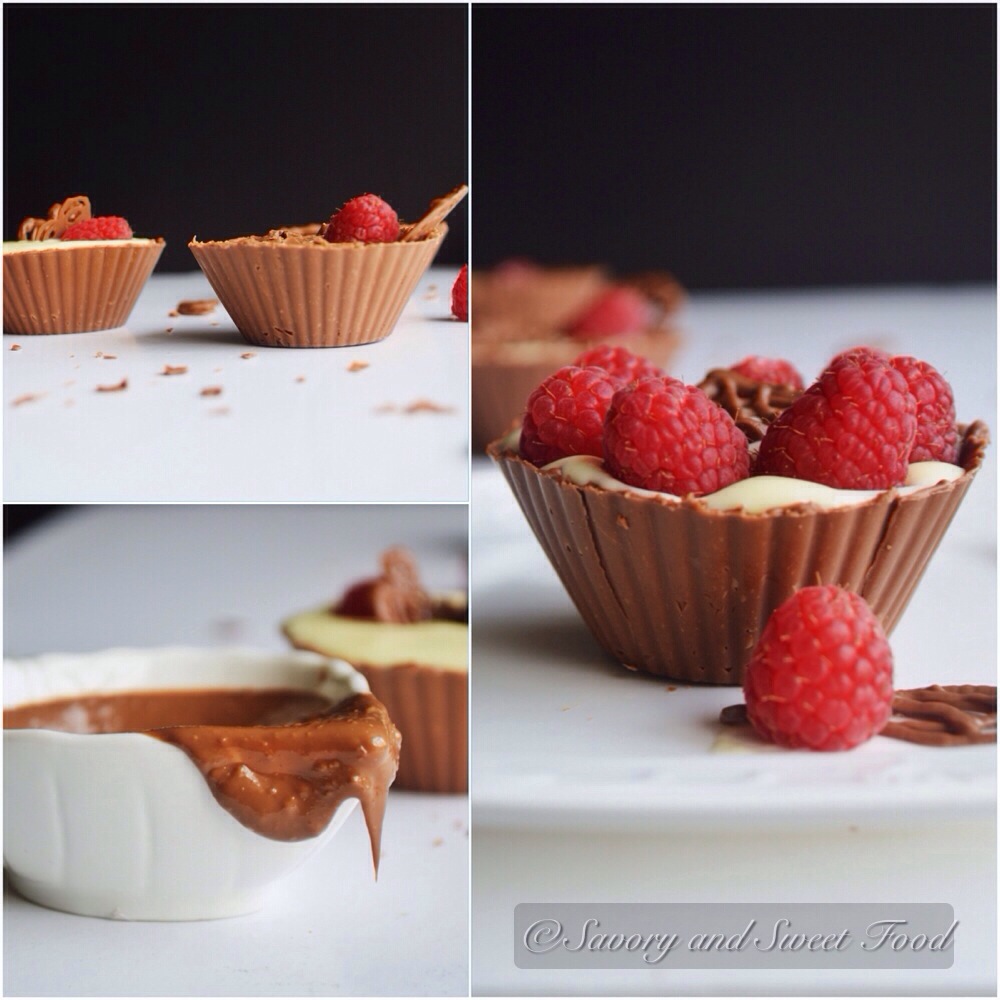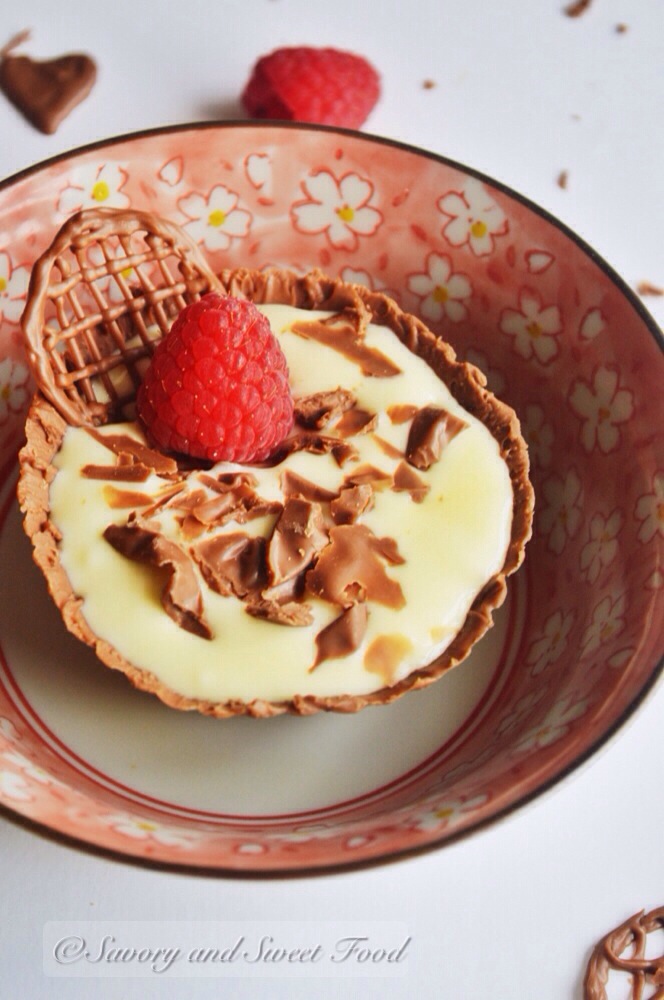 As Dhanya preferred some sweet treat recipe, I have decided to share the recipe of this mini bite-size dessert with edible chocolate wrappers, which is white chocolate mousse in chocolate cups. I have used a super, super easy mousse recipe that requires just a little bit of heating, stirring, whipping and folding.I am sure that you all will love this. You can break the monotony of the usual mousse by serving them in these gorgeous looking chocolate cups.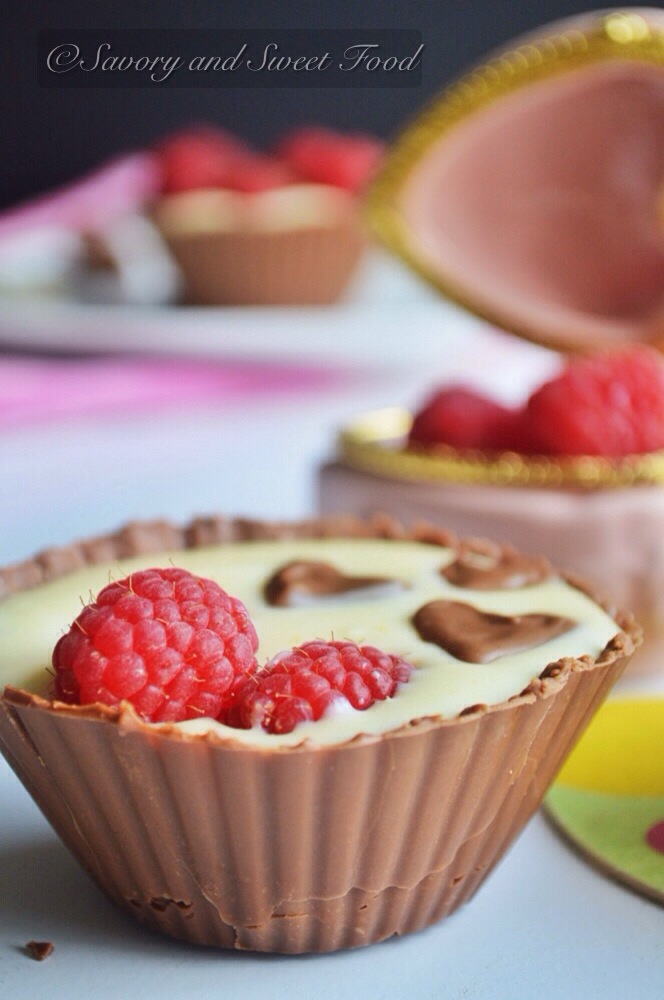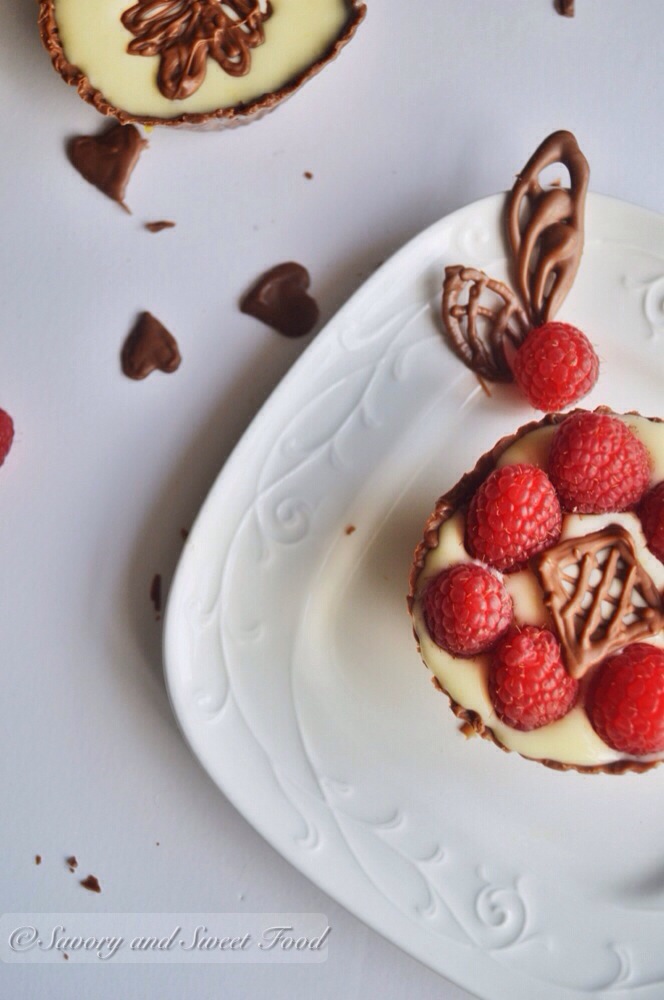 Over here, i have used tempered chocolate for making the chocolate cups and also for the chocolate decorations. Whenever you make fancy chocolate decorations, you need to temper your chocolate first. There are several ways to temper chocolate, i have used the microwave method.
Okay if you ask, why should we temper chocolate? Well, the answer is if you don't temper your chocolate, while decorating it will get unmanageable. It might stick to your molds, and the most important thing is that the decorations will melt away after sometime in room temperature, especially when you hold it. Pls don't skip this step if you want a properly hardened and shiny appearance to the chocolate cups. And other thing to keep in mind, it is best that you use silicon cup cases so that you can take off the chocolate cups easily without breaking it.
This simple dessert is an elegant, rich, and needs to be made ahead of time, so perfect for entertaining.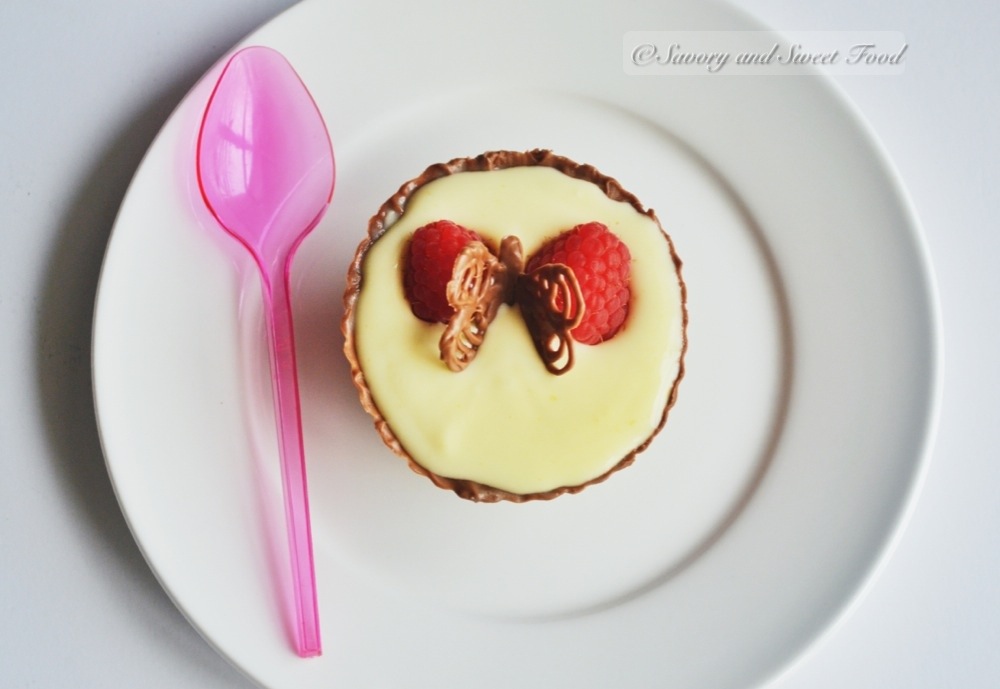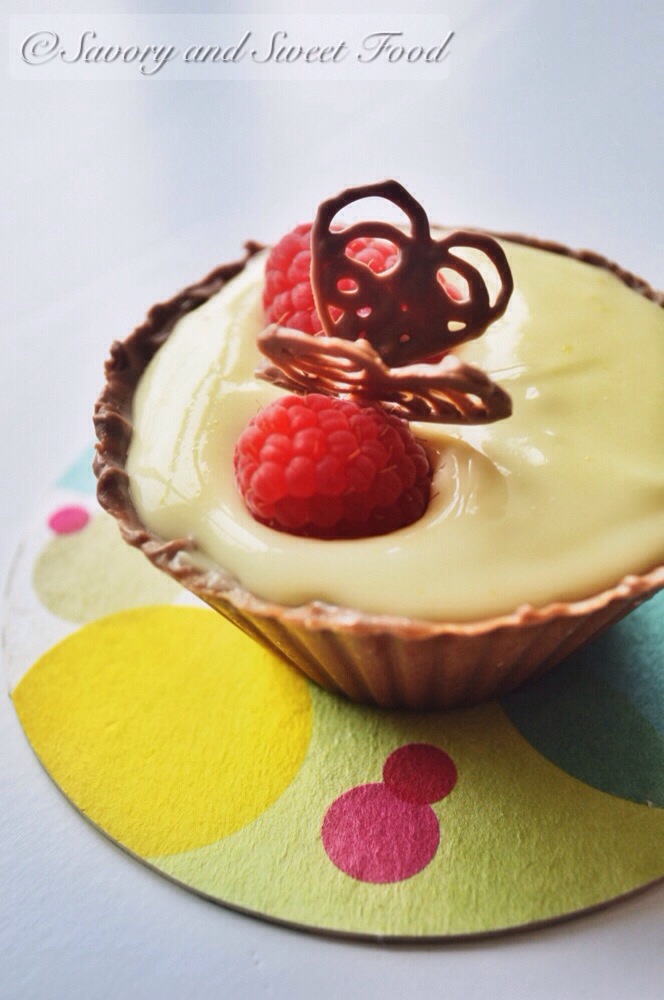 Hungry for more? Hop over to Dhanya's place for the step by step pics and the recipe. . And don't forget to check out her other wonderful recipes.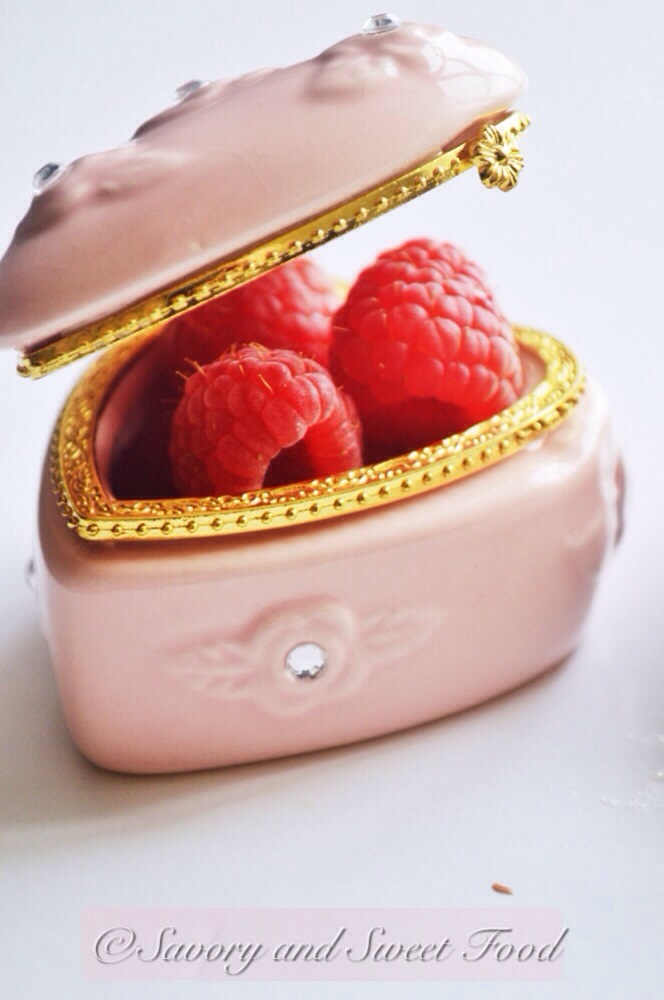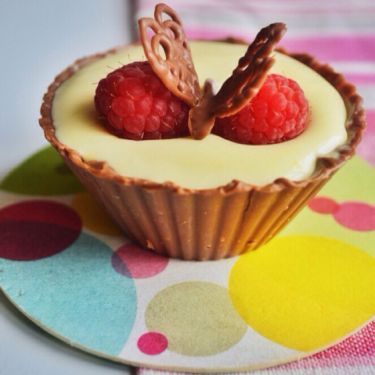 White Chocolate Mousse in Chocolate Cups
Ingredients
For the chocolate cups
1/3

+ 2/3 cups grated chocolate

By grating the chocolate, it becomes easier to melt it at low temperature
For the chocolate mousse
Recipe courtesy: zai of sanjeevkapoorkhazana

http://youtu.be/ueF1W64syv0

1

cup

chopped white chocolate

3

eggs

2 1/2

tsp

castor sugar

1/3

cup

milk

3/4

cup

thick cream or whipping cream
Instructions
For the chocolate cups
1. Put the grated chocolate in a microwave safe bowl. (Do not use glass bowl)

2. Add 2/3rd of chocolate in the bowl, and reserve the remaining 1/3rd. Microwave the chocolate in 10 second bursts, i.e. 10 seconds, stir then again 10 sec, stir until it is melted. I had to keep for six 10 second bursts. Remember, that you do not have to overheat it.

3. Add in the reserved chocolate into the melted chocolate and stir well. Keep in the microwave for another 5 sec. By then you will have the nicely melted and tempered chocolate.

4. Spoon a teaspoon of chocolate into each liner. Using a small pastry brush, evenly spread chocolate up the sides and along the bottom. Repeat with remaining liners. Put the chocolate cups in the freezer for 1/2 an hour, to harden. Apply a second chocolate coat to the cups and freeze for another 1/2 an hours. Peel the liners away from the chocolate.

If you want to see the video tutorial on tempering, check HOW TO COOK THAT.NET (http://www.howtocookthat.net/public_html/how-to-temper-chocolate-in-the-microwave/)
For the chocolate mousse
Separate egg yolks from whites and place yolks in a bowl.

Add the castor sugar and mix lightly.

Heat sufficient water in a deep non-stick pan. Place the bowl over it and cook, stirring continuously, till thick or till the mixture coats the back of the spoon. Switch off the heat and remove the bowl from the pan.

Heat milk in a pan, do not boil. Add the milk, little by little to the egg mixture and mix well.

Add the chopped chocolate to the milk-egg mixture and mix till the chocolate melts.

Beat the whipping cream lightly till soft peaks form and fold it into the chocolate mixture, stirring lightly. But if you are using thick cream just mix it lightly, do not beat as you don't want a runny mousse. Refrigerate for 4-5 hrs or preferably overnight.

Fill the chocolate cups with this mixture and garnish with raspberries, strawberries, chocolate shavings or chocolate decorations.
Notes
Notes:
1. I used thick cream for the mousse instead of the whipping cream. Because of that, the mousse was a teeny little runny. But if you use whipping cream it will set perfectly.
2. Use glass bowl while double boiling, I used a plastic one and it took forever to get thick.